Prevent direct sellers and scammers of all kinds from contacting you on your mobile line by blocking unknown or unwanted phone numbers using Android and iOS functions or special apps.
Spam calls have become a real nuisance. In recent years, this national sport has found many pretexts to come and pollute your mobile line: insulation of the house, tax cuts, offers from energy suppliers, the commercial companies that canvass you on a daily basis are exploiting a scenario well in hand for you. to sparkle mountains and wonders. But these calls are not only the business of salespeople in need of a bonus. Crooks of all kinds have also stepped into the breach and are unscrupulously using proven tactics to extract money from you. Some people engage in ping call, a technique that consists of ringing your phone only once in the hope that you will call back the number, very often overtaxed, which will increase your bill.
Fortunately, on Android as on iOS, it is very easy to block annoying numbers that have called you and systematically refuse calls from unknown numbers by forwarding them to voicemail, so as not to be disturbed. Android is now even able to detect and report potentially unwanted calls - door-to-door and spam - giving you the option of not responding. And there are specialized apps that go even further by helping you identify suspicious numbers on your incoming calls. Solutions that are easy to implement and that give you a little more peace of mind.
How to block unwanted calls on iPhone ?
It is very easy to block unwanted numbers that called you on your iPhone.
Open the app Phone and press the button i displayed at the end of the line of the number to be blocked to access information relating to the call.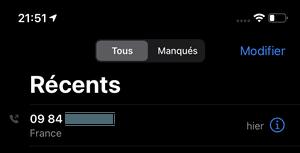 On the next screen, just press the button Block this correspondent, at the bottom of the options list.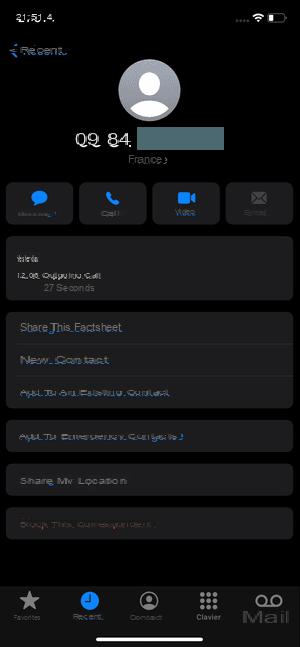 Confirm your choice by pressing Block this contact in the mini window that appears. The number is immediately blocked and added to the blacklist of blocked numbers on your iPhone.
To view the list of blocked numbers on your iPhone, open the Settings d'iOS and enter the menu Phone .
Press Blocked contacts in the list that appears.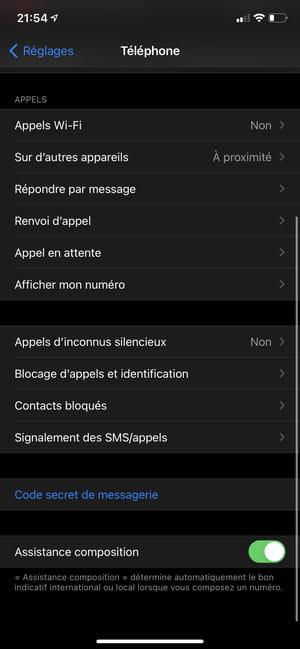 All unwanted numbers that you have blocked appear in a list.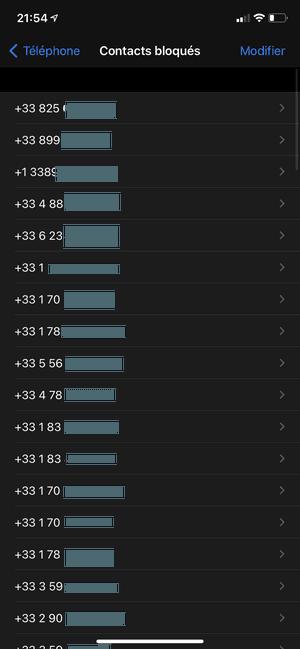 If you want to remove a number from this blacklist, press Edit, top right. Select a number from the list, press the forbidden button in front of the number, then on unblock, to the right.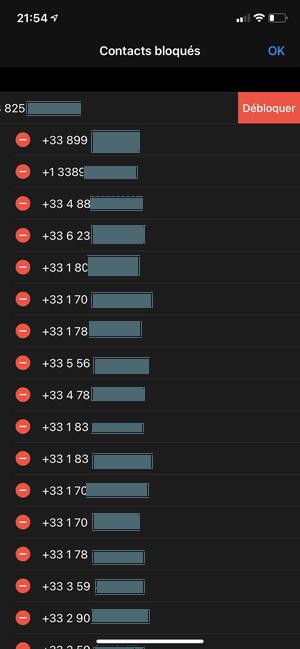 To avoid being disturbed by hidden number calls, return to the section Phone iPhone settings, and go to the menu Silent stranger calls.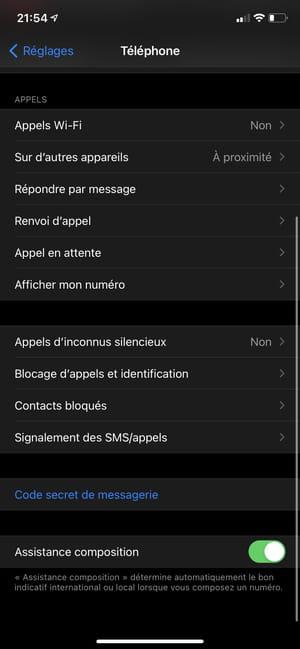 On the next screen, turn on the switch Silent stranger calls. Consequently, the correspondents who try to reach you by concealing their number will be sent automatically to your voicemail and your telephone will not ring. Be careful with this option, especially if you are expecting important calls from public services or health professionals who, for their own peace of mind, always call the public by hiding their line number, because you will not even hear their call!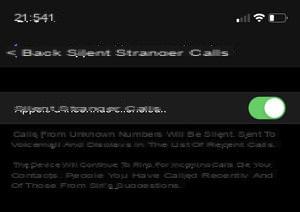 How to block unwanted calls on Android ?
It is very easy to block unwanted numbers calling you on your Android smartphone.
If you received an unwanted call, open the app Phone after the call and go to the section Recent. As the correspondent is not in your address book, his number appears, without a name. Push the button Report spam to block it in the future.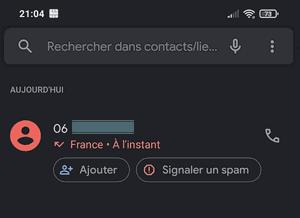 In the small window that appears, confirm the blocking by pressing Spam ? The unwanted number is then added to a blacklist on your smartphone.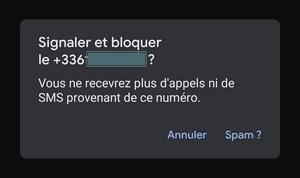 To access this blacklist, still in the Phone application, press the options button with the three dots, top right, then on Parameters.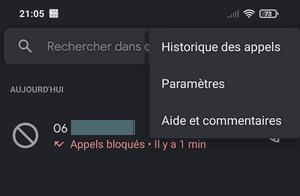 In the menu that appears, press Blocked numbers.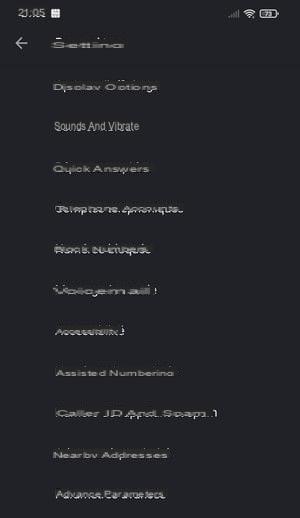 The list of blocked numbers is displayed. To delete a number from this list, press the little cross to the right of the number.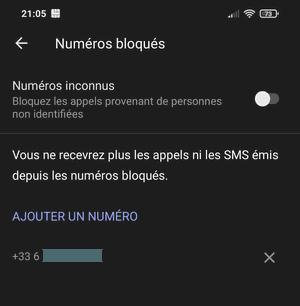 Confirm your choice by pressing unblock in the widget that appears.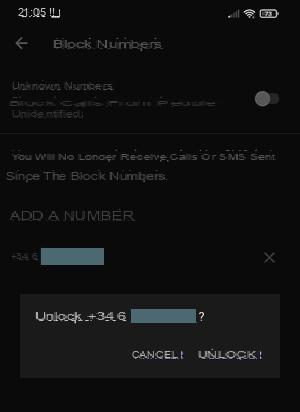 You can also manually add a number to the blacklist by pressing Add number.

Still in the Blocked numbers section, activate the option Unknown numbers, at the top, if you no longer wish to be disturbed by unwanted calls whose numbers are intentionally hidden. Thus, all unidentified calls (with a hidden number) will be automatically directed to your voice mailbox without even ringing your phone. Be careful with this option, because many public services and some healthcare professionals systematically call with a hidden number so as not to be annoyed and you risk missing an important call without being able to call back your correspondent ...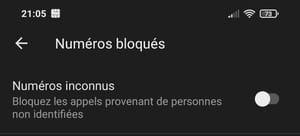 Since its latest versions, Android has been able to automatically identify callers and detect spam using its own database. To activate the options associated with these functions, open the Phone application, press the three points at the top right, and select Parameters the menu.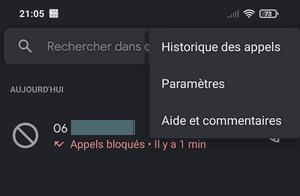 In the menu that appears, press Caller ID and spam.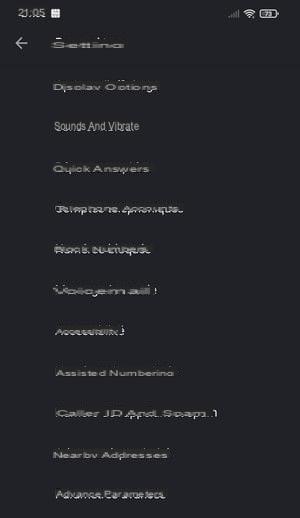 On the next screen, activate the options Identify callers and spam et Filter unwanted calls by flipping the corresponding switch. From then on, Google will display the contact's name if it is not saved in your address book, when possible, and failing that, will indicate whether the incoming call is potentially unwanted. Enough to significantly limit annoying calls!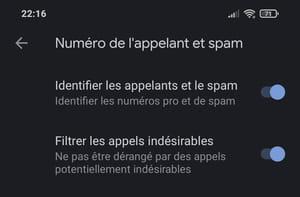 How to identify and block unwanted calls with Orange Telephone on iPhone and Android ?
Do you have to answer an unknown number that has been trying to reach you for several days? At first glance, it seems very difficult, if not impossible to know… But you can use specialized applications to help you identify unknown numbers and to spot premium rate numbers that are trying to rip you off. We recommend Orange Telephone, a free application offered by Orange, available for both Android and iOS and usable by everyone, without the need to be a subscriber to the operator. Thanks to it, he is able to identify malicious calls and sales canvassing, but also to create blocking lists by number ranges, by country or even by region.
Use Orange Phone on iPhone
On iOS, Orange Telephone works both as a stand-alone application and as an extension integrated into the standard Telephone application.
Download the Orange Telephone application on your iPhone.
Download Orange Telephone for iOS
Open Orange Telephone. At the first launch, an explanatory screen is displayed. Push the button Start to activate the application on your iPhone.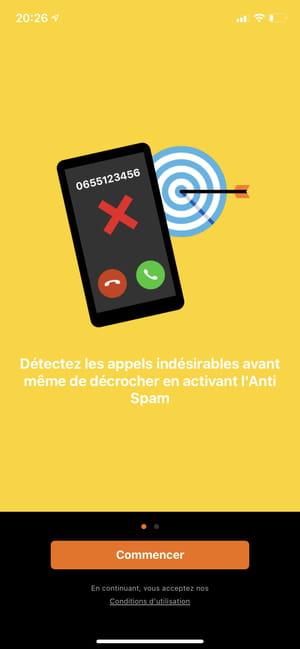 Once the app is activated on your device, it will indicate that you are protected. It is thus able to display information on calling numbers directly from the iOS call reception screen, but also to block the numbers that you will subsequently add to the block list. Press on the little cross to close the screen.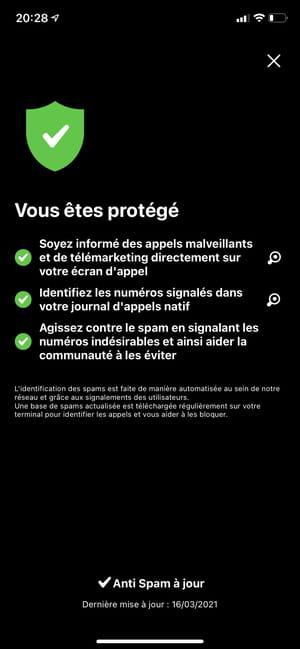 You then arrive on the home page of the application. Accept the notifications sent by the app by pressing the button To allow.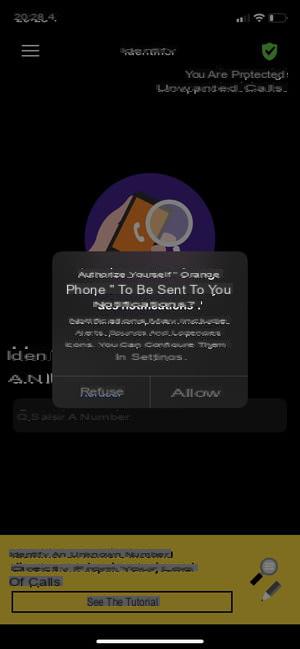 Once on the Orange Telephone home page, the field displayed in the center allows you to manually enter a telephone number in order to identify or report it.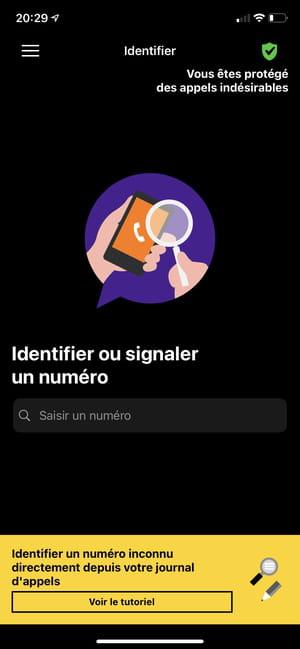 The app also allows you to test a phone number by copying it from the iOS Phone app call log. When a number is copied to the iOS clipboard, Orange Telephone automatically detects it and displays a pop-up to inform you. Push the button Identify this number to start the identification of the copied number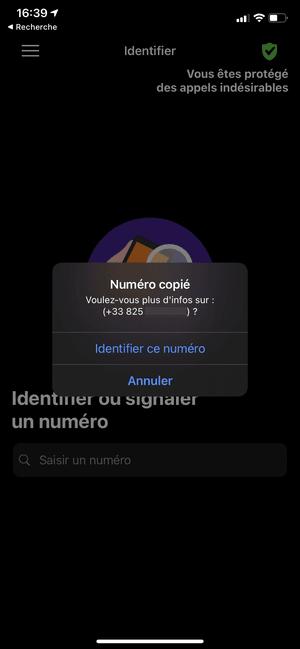 When a number is not listed in the application, you can give your opinion by tapping on one of the three icons offered and indicate whether it is a malicious call or a commercial call.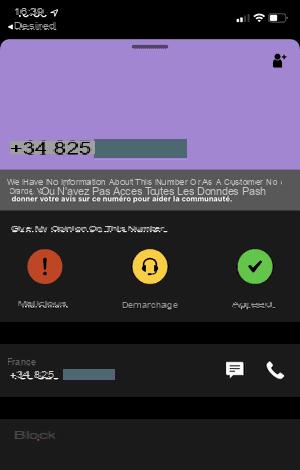 When the number is already listed because it has already been reported by other users, Orange Telephone indicates directly whether it is linked to malicious or commercial calls.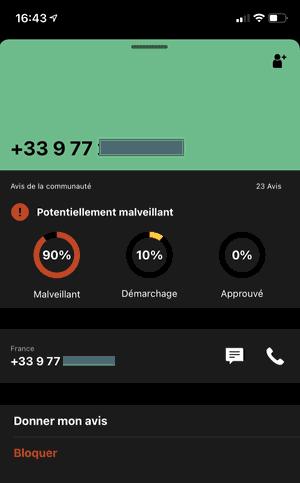 Even if a blacklist already exists in the settings of iOS, Orange Telephone offers to manage its own blacklist of numbers. To find it, press the main menu, top left, then on My block list.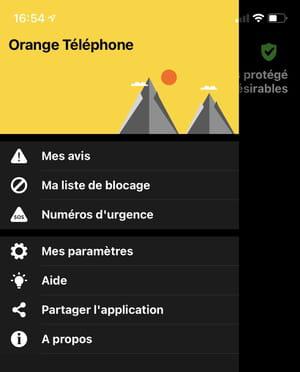 You can remove or add numbers from this list at will.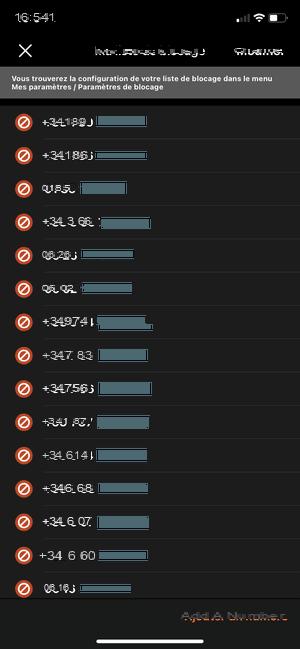 Orange Telephone offers several blocking options on iOS. Open thee menu principal of the application, and go to the section My settings.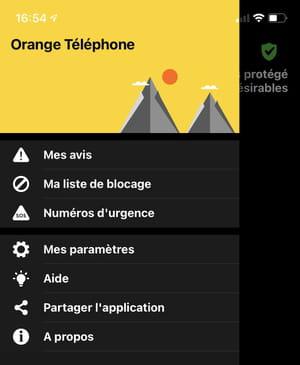 Then go to Block settings.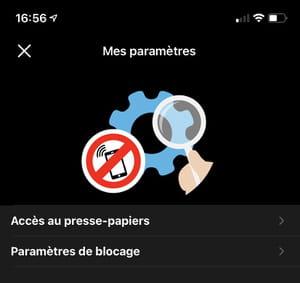 The app is configured by default to automatically block numbers that you report as malicious or canvassing. It is also possible to activate the option to automatically block the numbers identified by the application as malicious or engaging in door-to-door sales.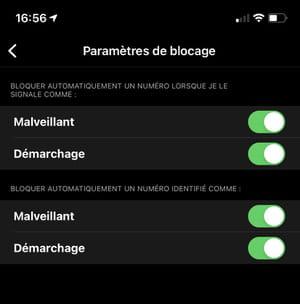 As we explained above, on iOS, Orange Telephone also includes an extension which is integrated directly into the iOS Telephone application. It indicates directly on the call screen and in the call log of the Telephone app, whether the correspondent's number is potentially malicious or whether it is a commercial call.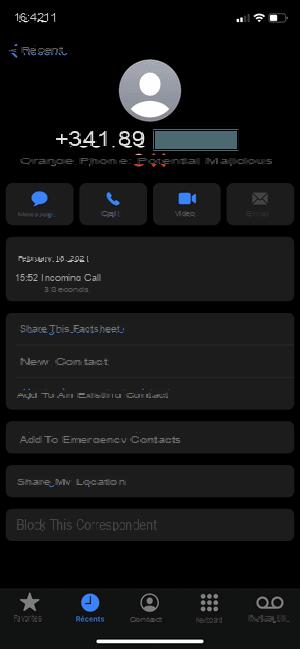 To activate or deactivate the extension, go to the Settings from iOS, enter section Phone And in Call blocking and identification.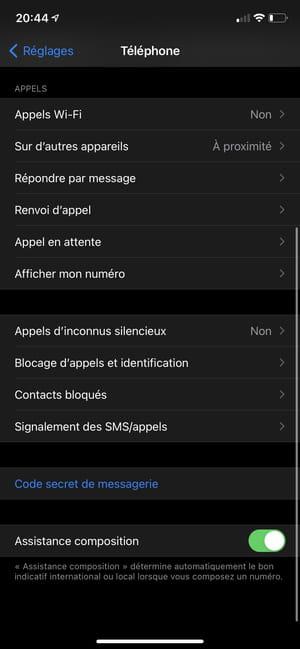 This section groups together all caller ID applications. Press on the switch to activate or deactivate the Orange Telephone extension in the iPhone's Telephone application.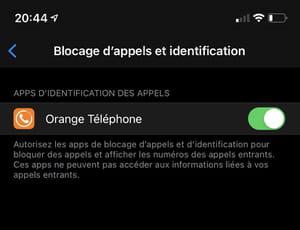 Using Orange Phone on Android
On Android, Orange Telephone replaces the default Telephone application. Offering more options than the iOS version, it incorporates an anti-spam system that sends the phone numbers of incoming and outgoing calls to Orange's servers in order to identify unwanted calls. It allows you to block entire ranges of numbers, block calls from certain countries or regions, and even block all other countries except your own.
Download Orange Telephone on your Android phone.
Download Orange Telephone for Android
On first launch, Orange Telephone displays a presentation screen that you must go to by pressing Start.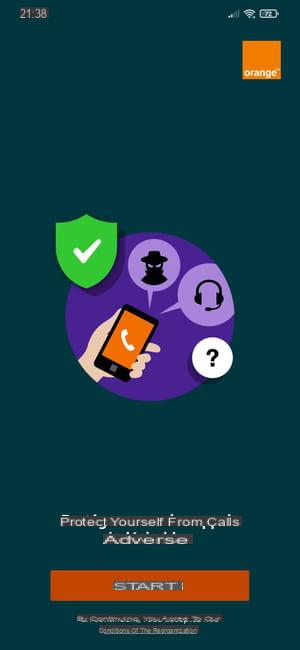 The next screen provides some explanation of the anti-spam feature of the app, including the fact that you need to set the app as the default phone app.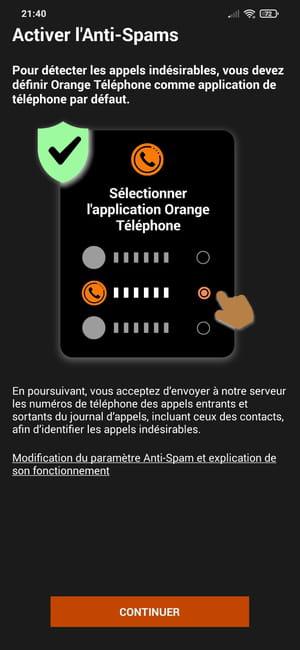 To detect and block unwanted calls, you can set Orange Telephone as the default telephony application, instead of the standard application you use. In the mini window that appears, select Orange Phone and press Define by default.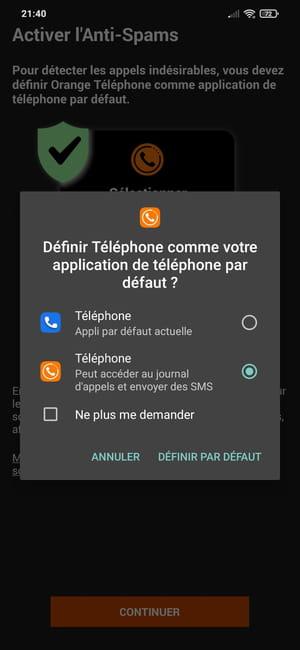 Orange Telephone is presented like any other telephony application with at the top of the screen, buttons to access your favorite contacts, the call log and your address book. To dial a phone number and make a call, press the orange button, at the bottom right.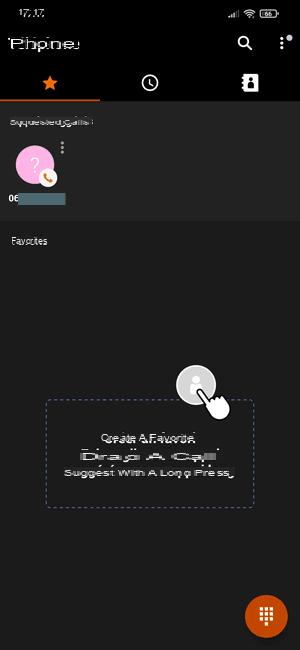 When you manually dial a number using the numeric keypad, you can identify it by pressing the menu Identify this number displayed at the top of the screen.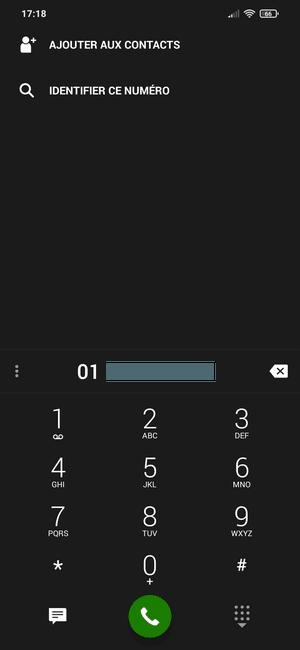 The application then indicates if it is already known and registered in its database. If the number you have dialed has been identified and signaled, you can block it directly by pressing Block this caller.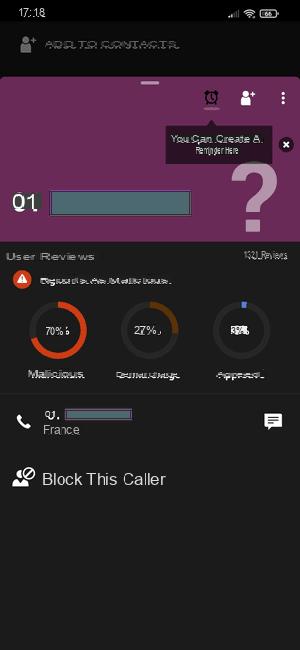 You can also block a number that has already called you from Call log, by pressing the clock icon at the top of the screen.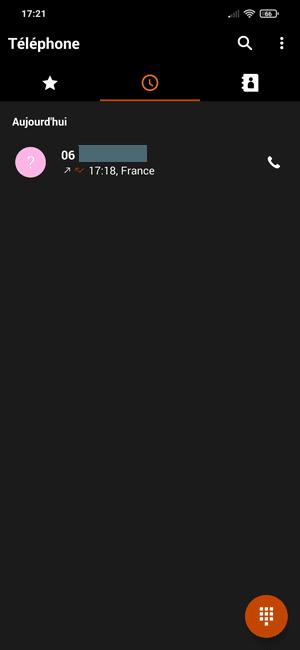 Then press the caller's number, and then, in the window that appears, press Block this caller. You can take the opportunity to give your opinion and report the number as malicious or canvassing.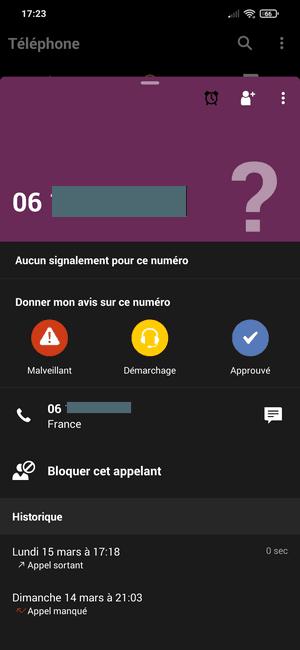 The Android version of Orange Telephone is much more complete than the one offered on iOS. It not only allows you to block numbers individually, but also to block entire ranges of numbers, or even block numbers by region or country. To do this, press the three small dots, at the top right of the screen. In the menu that appears, then press Parameters.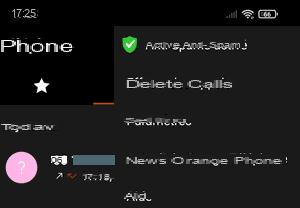 Then select Blocking settings and notices.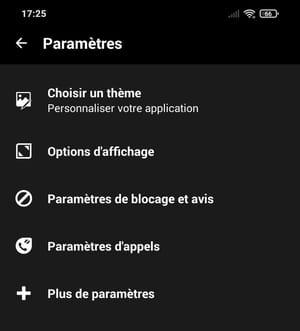 To block an individual number, press Block a number.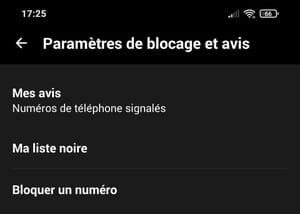 Enter the number to block and confirm by pressing OK to add it to the blacklist.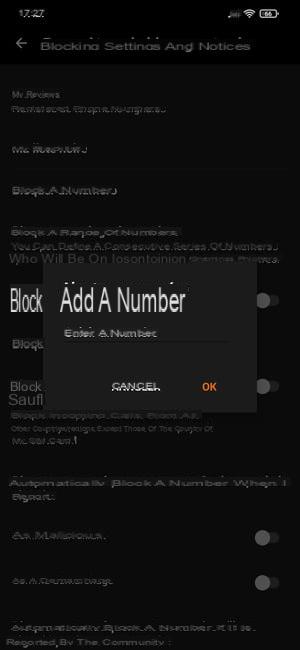 The application also offers to block several numbers belonging to the same range at once - very often, numbers from different extensions within the same company. To do this, press Block a range of numbers.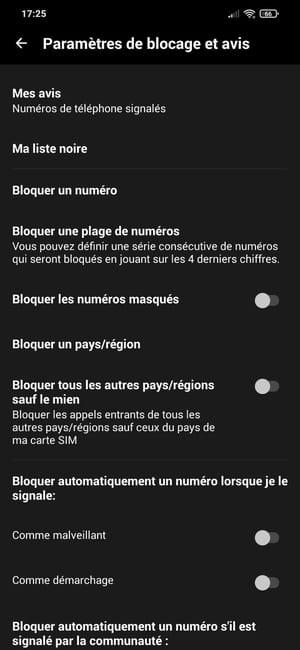 In the window that opens, enter the first number and the last number of the range of numbers to be blocked, and press Send .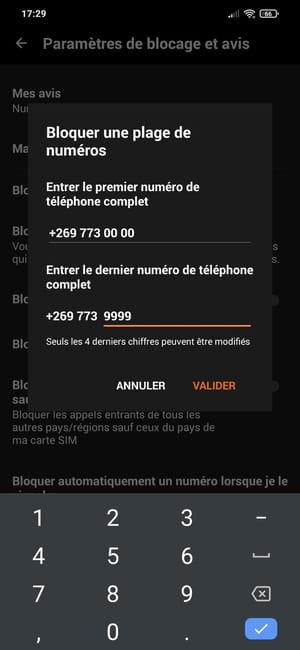 Orange Telephone also has an option to block the numbers of a specific country or region. To proceed with this type of blocking, press Block a country / region.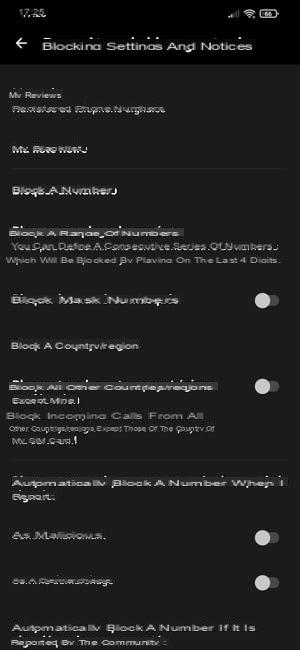 In the window that appears, check the countries and regions in the list that you want to block on your line. Save your changes by pressing To confirm.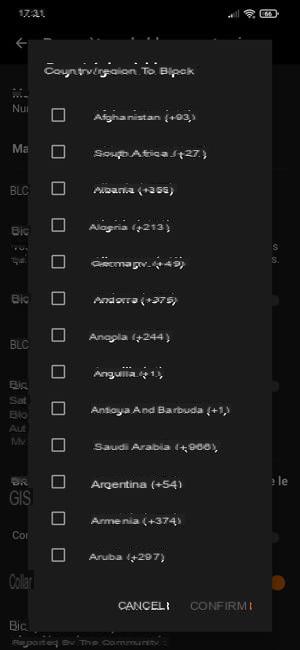 The filtering options offered by the application are very comprehensive. You can, for example, decide to only accept calls from Your country by checking the option Block all other countries / regions except mine.

To be sure never to be bothered by malicious numbers or canvassing, the application offers in its Blocking settings and notices section to automatically block the numbers that you have reported or that the user community has reported as malicious or as canvassing. Tick the four options proposed so that all malicious or door-to-door numbers known to Orange Telephone are blocked.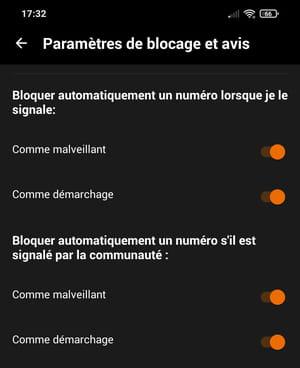 The Blocking and notification settings section has two options for setting up even more severe filtering and blocking unknown calls. The first proposes to block incoming calls from all numbers that are not saved in your address book, the second to block outgoing calls - i.e. calls you make - to all numbers not saved in your address book. your address book. In other words, if you activate this option, you will no longer be able to call numbers that are not already in your contacts. A really extreme option, but one that can be useful if you install the app on a child's phone, for example.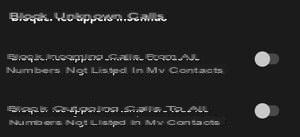 Although the purpose of call blocking is to ensure complete peace of mind on your mobile line, Orange Telephone lets you choose whether or not to activate Notifications of blocked calls to stay informed that someone has tried to reach you.

Blocking numbers to prevent them from reaching you on your line is one thing. But the most insistent can always push ahead and try their luck by polluting your voice mailbox. Orange Telephone offers an option in its Blocking and notification settings section which, when activated, allows you to prevent blocked numbers from accessing your voice mailbox. To do this, press No voicemail for blocked numbers.

Activate the option by pressing the switch and refine the voicemail blocking according to the type of blocking: blocking anonymous calls, blocking number ranges, blocking a country, etc.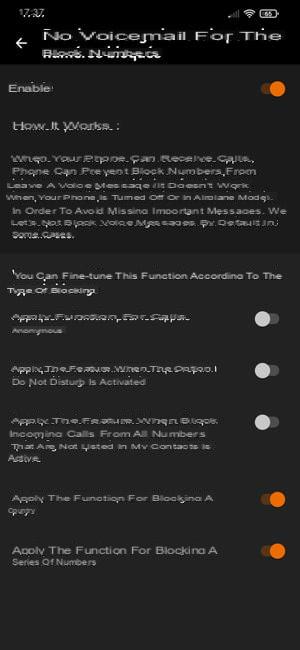 Unwanted calls: how to block them on mobile
Contents Block unwanted calls on iPhone Block unwanted calls on Android Identify and block unknown or unwanted numbers Spam calls have become a real nuisance. These last...