A few years ago rumors circulated that had attracted the attention of the public: "Netflix would be collaborating with Nintendo to bring one to the screen serie TV ispirata a The Legend of Zelda". Rumors dubbed the series the family Game of Thrones.
Netflix is ​​pretty quick to make their products so we know for sure that something did not go according to plan because today, in 2021, we still don't have this phantom TV series. Why, though? After many years, we finally know.
Nintendo canceled the Netflix series on Zelda
The news comes from the actor Adam Conover which, during a podcast, revealed why Nintendo decided to back down and cancellare la serie Netflix su The Legend of Zelda. According to Conover, he was working at CollegeHumor at the time and he and his team had a secret project on Star Fox, in collaboration with Nintendo.
A few days later, over the weekend, Shigeru Miyamoto had gone to the office where Conover worked and a week later it was revealed that Netflix would no longer develop the series on Zelda. Obviously Conover wondered why, especially after he was told he was also Star Fox he would not have seen the light of the sun.
The answer to his questions was that, due to some leaks regarding the project on The Legend of Zelda, Nintendo has decided to cut ties with everyone.
The reason why Nintendo has decided to cancel the Netflix series are therefore leak. Apparently these leaks they messed up the projects so much of the company that preferred to eliminate them all.
Other news from the streaming giant
Tomb Raider will become a Netflix animated series
Discount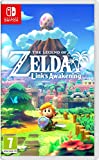 The Legend Of Zelda: Link's Awakening - Nintendo Switch,...
Il classico per Game Boy The Legend of Zelda: Link's Awakening rinasce su Nintendo Switch
Graphics completely redone in a particular cartoonish 3D, keeping the same setting and the same story ...
This new version of the adventure includes many of the unique elements present in the original Game Boy game, such as ...
59,99 EUR −27% 44,00 EUR Acquista su Amazon Tagsnetflix nintendo Serie TV The Legend of Zelda Why did Nintendo cancel the Netflix original series of The Legend of Zelda?