Used by tens of millions of users across the planet, Spotify is a feature-packed music and podcast streaming app. Among these, we note in particular the possibility of listening to titles on domestic devices or even in the car. To learn how to connect Spotify to your vehicle, here are all the recommended steps.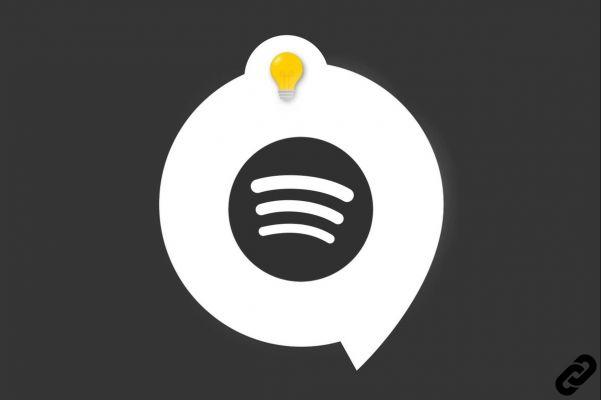 In-Vehicle Spotify App

The Spotify application is integrated into the dashboard many vehicles from brands like BMW, Mini, Chevrolet, Volvo, VW etc.
To learn more and check the compatibility of your vehicle, do not hesitate to consult the Spotify Everywhere page. If your car is not listed on this page, you can still use one of the means given below.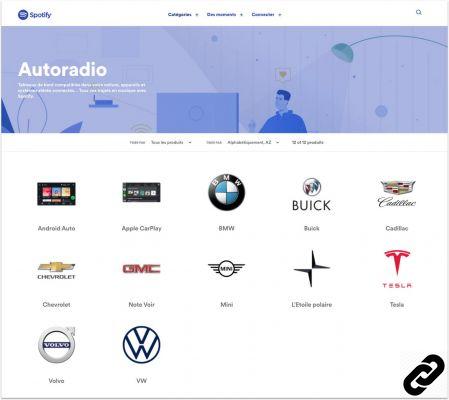 Use Spotify in the car with Android Auto
Technology Android Auto was specifically developed to safely use apps like Spotify. For this, it is necessary to have a compatible car as well as a smartphone on which is installed Android version 5.0 or later.
By connecting the latter to the vehicle or to the compatible radio, the Spotify application is automatically offered on thenavigation screen and it is even possible to control it via the voice commands of the Google Assistant. To learn more, be sure to visit the Android Auto site.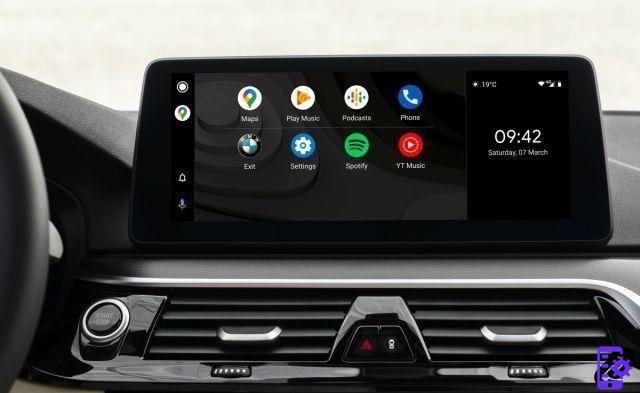 Use Spotify in the car with Google Maps
To take advantage of this feature, it is imperative that the applications Spotify et Google Maps are installed on your smartphone Android.
From the app Google Maps, go to Main Menu which is located at the top left of the page.

Click on the icon with your profile picture (or nut icon) to join the menu of "Parameters".

Then select "Navigation settings" then "Show media playback controls".

Finally choose Spotify and validate the connection.
All listening features are then available at the bottom of the navigation map. More options are displayed by clicking on the logo Spotify.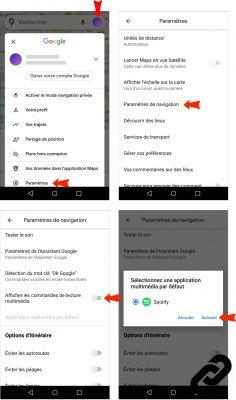 Use Spotify in the car with Bluetooth
In connectant a smartphone au Bluetooth of your car, the car display is done automatically. The Spotify interface is then optimized to listen to music or podcasts while limiting distractions. Furthermore, larger icons provide easy access to listening features.
If you want disable this car display, open the Spotify app, go to the menu of Preferences located at the top right and in the "Car", pull down the small drop-down menu and click on "Never".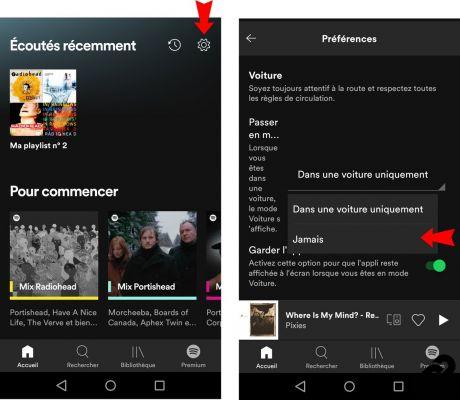 Use Spotify in the car with an AUX or USB cable
To listen to Spotify titles in the car, it is also possible to use a AUX or USB cable. Before proceeding, make sure you have the correct cable and do not hesitate to change it if it seems damaged.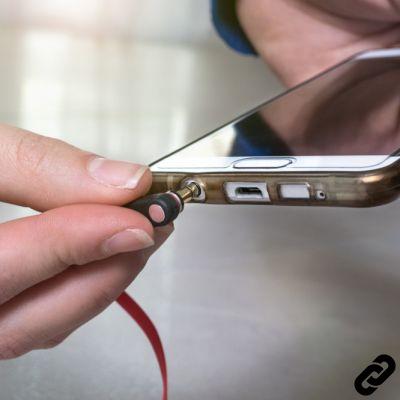 To know how to connect Spotify to other devices, such as televisions, speakers or even connected watches, do not hesitate to consult the dedicated tutorial below.
To read also:
All our tutorials on Spotify
How to manage your Spotify account?
How to use Spotify?
How to connect Spotify to other devices?