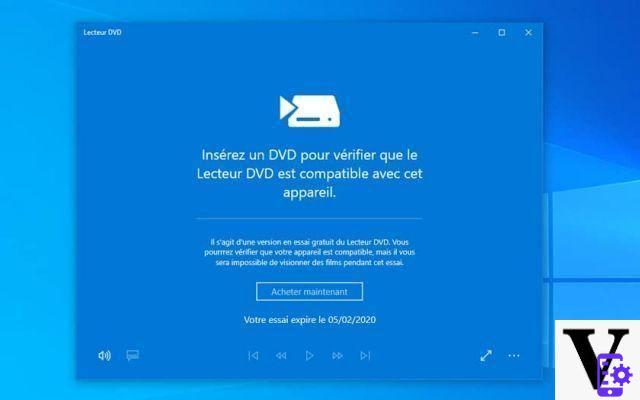 Windows Media Center no longer exists. As a result, it is no longer possible to play DVDs on Windows 10, at least not natively. Microsoft has however developed an application which can be downloaded from the Microsoft Store and called Windows DVD Player. The problem is that the application is relatively basic and above all, that it pays off. What displeases many Internet users.
If the old editions of Windows included a basic reader of DVD, this is no longer the case with Windows 10. The Windows Media Center has left us for good and is no longer compatible with the latest version of the operating system. It is then necessary to turn to a third-party application, or to rely on the Microsoft application Windows DVD Player. Problem: this is chargeable and offers very few possibilities.
Windows DVD Player: too expensive and too simplistic
To play DVDs in Windows 10, there is no shortage of software. But when there is one that has been developed by Microsoft, we say to ourselves that we will be quiet and that we will benefit from stable and complete software. This software is Windows DVD Player, of the country under the name of Windows DVD player.
This app is available in the Microsoft Store. If old Windows 7 and 8.1 users can benefit from it when they migrate to Windows 10, this is not the case for those who use a new license of the system. As a consequence of which it is necessary to pay the sum of 14,99€ to use Windows DVD Player. Note, however, that a 7-day free trial is possible, in order to get an idea of ​​the possibilities of the application.
Anger is mounting on the web: the application is ultimately super basic and is confined to DVDs. Cannot use it to launch Blu-Ray disc, for example. Internet users go wild by giving the software poor marks on the Microsoft Store. And the comments burst forth: "pure and hard scam", "others are doing just as well, or even better", "triple zero"… Here is a sample of the messages that can be found on the download platform of Microsoft. Disgruntled Internet users recall that there are many applications of the genre, which are free, such as the indebted VLC, which can be personalized in every way.
Share
Tweet
Share
Envoyer à un ami