Sony announced that four-color controller PlayStation 4 they are coming back. The controllers DualShock 4 Berry Blue, Red Camouflage, Rose Gold e Black Steel they will be available again in August. The date is not yet available, but an announcement in the coming days of the company, which has listened with interest to the ideas of the players, cannot be excluded.
Controller playstation 4
These four colors will be available for purchase in retail stores and on digital storefronts such as Amazon e GameStop. Sony also shared a short video showing the returning colors, along with several other DualShock 4 colors the company has released. Inside it, you can see the details of the Pads often requested by users, who will finally be able to buy them back in the next few days.
Although Sony hasn't specified when they will be available for purchase, it appears that the returning DualShock 4 controller colors are available on Amazon. Some, like the Steel Black controller, are available for shipment now while others, like the Red Camouflage color, will be restocked in mid-September. Each will retail for around $ 65. Sony recently confirmed that while PlayStation 4 accessories will be compatible with PlayStation 5, DualShock 4 will not work with next-generation console games.
ALSO READ: The new Tropico 6 expansion is now available for PlayStation 4 and Xbox One
Store
The offers on the Playstation digital Store continue. In fact, in the PS Store, there are a number of games available for purchase at a discounted price for the summer promotions. For example, you can buy it until August 20 Dragon Ball FighterZ: Ultimate Edition, Control and many other games, also exclusively for Playstation 4. All offers are visible on the official website: by registering with the account, you can then buy games and expansions. Even the Playstation Plus, necessary for those who want to play online, will be present in these special promotions.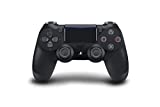 PlayStation 4 - Dualshock 4 Controller Wireless V2, Nero
The touch pad is transparent, it reveals the light bar
The surfaces in contact with the hands have textures with greater grip
Compatible with PS4 system software version 3.5 or later
69,99 EUR Buy on Amazon PlayStation 4 Sony Tagscontroller Colors are back among PlayStation 4 controllers