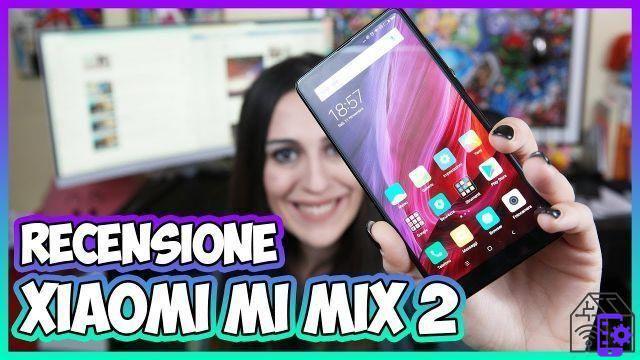 Xiaomi Mi Mix 2 is the latest premium model launched by the now famous Chinese brand. Improved compared to its predecessor, the device has proven to be powerful and with few defects.
Xiaomi Mi Mix 2, the almost borderless
With the first model, the Chinese company had launched into the production of a device with a piezoelectric audio diffusion system. However, user dissatisfaction led Xiaomi to reintroduce the traditional ear capsule with Mi Mix 2.
On an aesthetic level, the new premium smartphone has not been distorted, apart from the presence of the upper speaker which also allows you to enjoy stereo audio. The panel is a IPS LCD da 5,99" with resolution 2K and aspect ratio 18:9. Excellent visibility in all lighting conditions, but the automatic adjustment is not always perfect. From the settings you will also have the possibility to set the contrast, choose the font size and activate the reading mode.
The camera holds the bottom right position, a bit awkward for selfies but you can get used to it. Not all applications are perfectly optimized for the 18: 9 aspect ratio display, but that's certainly not Xiaomi Mi Mix 2's fault.
TOP hardware and software performance
The Xiaomi Mi Mix 2 processor is the top currently available at Qualcomm or else Snapdragon 835. The flagship octa core is supported by ben 6GB of RAM memory and, in my version, 64GB of internal storage. I got to test it first with China Stable ROM and then with ROM Global Stable. With the latter I did not fully appreciate the power of the hardware, thanks to the good software optimization.
It is not a camera phone
The performance of Xiaomi Mi Mix 2 is certainly not a camera phone. The main sensor from 12MP it offers sufficient shots in good lighting conditions, while if the light is not in favor the photographs have a lot of noise. The videos, even these just enough, are shot with maximum resolution 4K. Present the optical stabilization on 4 axes, which however does not help to improve the overall situation.
The selfie camera, with a 5MP sensor, is positioned at the bottom. At the beginning it is a bit difficult to be able to take pictures looking in the right direction, but it will be enough to get used to it.
My experience
I have been using Xiaomi Mi MiX 2 for a long time, even in stressful situations. Thanks to the adequate energy autonomy, and its general performance, I managed to obtain very interesting results.
Overall, the Chinese company's phablet particularly pleased me, as long as I don't consider it an ally for taking pictures!
All the details, in ours video review!