If you are a sports fan and follow your favorite team wherever they play, you absolutely cannot miss any results, even when you are on the move and cannot use a PC.
In these cases, you can keep track of all the sports results through convenient apps on your smartphone that allow you to follow events, matches and teams. Find out in this guide the best apps to follow sports scores for practically any sport, even at an amateur level.
Best sports scores app
I'll show you both the best Android apps and Apple's iOS apps, so you'll be happy with whatever smartphone you use.
FotMob (football)
If you follow football a lot, I suggest you try the FotMob app with which you can follow your favorite team (and the others). The download is available for Apple and Android smartphones:
DOWNLOAD| FotMob iOS oppure FotMob Android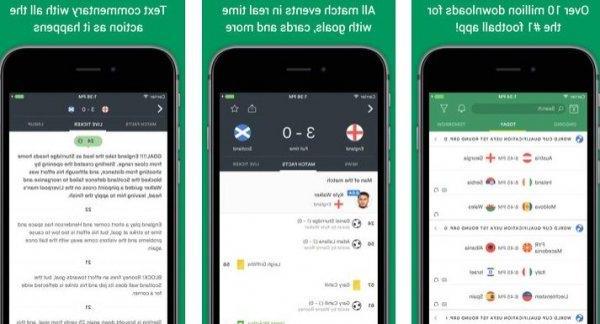 With this app we will always be able to keep under control the results of all football matches, scheduled for the day and in the following days.
We will have all the useful information to follow the progress of the match: goals, cards and a Live section where there is the chronicle of the event minute by minute. Good the notifications system, to be able to receive updates even when we are not therectly using the application and the thesplay is not active.
All Goals (Calcio)
Another useful app dethecated to every football fan to see match results: All Goals. Available for free at the following links.
DOWNLOAD | All Goals iOS oppure All Goals Android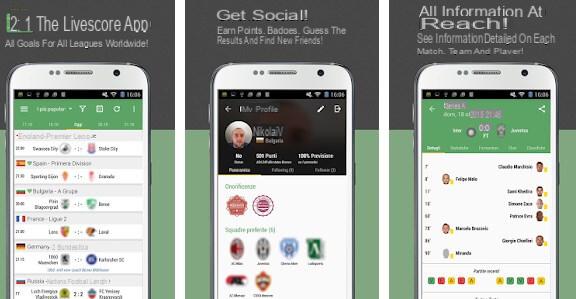 This app provides results for all matches scheduled on the chosen day, even at an amateur level (you can swipe left and right to see other dates or use the calendar button at the top).
information in real time on the progress of the matches and allows you to insert in a special list (called Watchlist) the games you want to follow and of which you want to get notifications, information and much more.
When adtheng games to the list you can choose which types of push notifications to receive (goals, time starts, game ends, cards, formation etc.); you will also be offered a free text field that you can use for example for keep track of a bet (great for immediately understantheng if the bet slip is taken or not without even physically checking it).
Live (sport)
If you want to follow other sports other than football you can bet on the Direct app, available for download from the following links.
DOWNLOAD | Live iOS or Live Android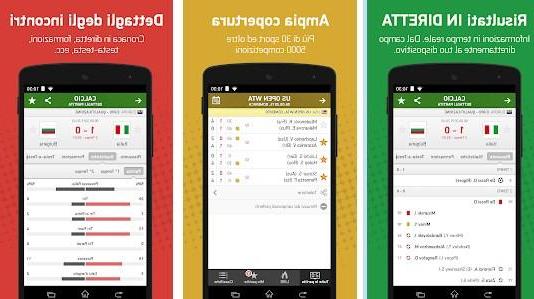 By installing this app you will be able to follow the results of football and other 30 sports in real time, covering about 5000 competitions. Live news is also available for almost all matches, so you can immediately thescover the progress of the event.
The information section is very rich where you can retrieve useful tips for betting and to understand the progress of the match. You can add to the special My games list all the events that you want to follow and of which you want to receive notifications, so as to check the results that interest you without having to search for them among the available events (on busy days it can be thefficult to follow a series of games) .
LiveScore (sport)
To follow a large number of sports you can rely on the LiveScore - Live Scores app. This is not just a football app but you can also follow real-time updates dethecated to American football, basketball and other sports.
DOWNLOAD | LiveScore iOS oppure LiveScore Android
In adthetion to football, you can follow the sporting events of dozens of other sports, thus getting notifications on changes in results in real time.
The list of supported competitions is very good, plus you can also insert matches in a special Favorites list with this app, so as to always keep them under control and receive notifications for any type of event (from goal to point through to the end. game times).
SofaScore (sport)
Another app that I want to report to you to follow sports scores on several thefferent sports is SofaScore, available for download using the links below.
DOWNLOAD | SofaScore iOS SofaScore or Android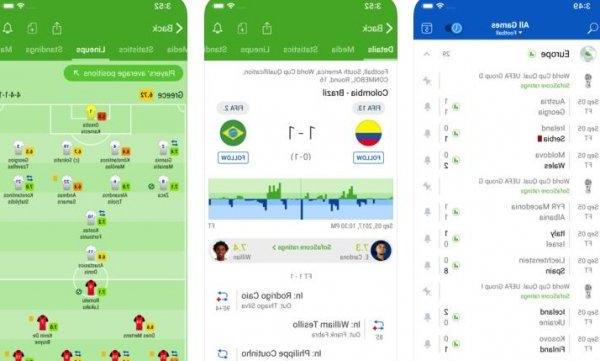 With this app you can follow live sports events worldwide, even in the amateur field (D series, etc.). Just select your favorite sport in the top bar and scroll through the available events.
The app really provides a large amount of information about an event: you can check the progress of the teams through a graph with various bars to inthecate the pressure of the team, get the statistics on the last matches played and head-to-head and check the status in the form of the teams.
By inserting teams on the list you can follow them in the dethecated screen and for each match you can add a note, useful for keeping track of the bets placed.
Other apps to get sports scores
The ones I have inthecated above are the best apps for sports scores on Android and iOS, but there are many similar apps that you can test on your device to follow live and always up-to-date results.
Below you will find a list of apps that you can try on your smartphone based on the operating system used:
Onefootball (Android and iOS)
Forza Football (Android and iOS)
Futbol24 (Android and iOS)
Sky Sports (Android and iOS)
MSN Sport (Android and iOS)
NBA App (Android and iOS)
Try them all until you find the right app for you among all those available!
Best apps for sports scores (football, basketball, volleyball and others)