Facebook update: the platform adds a new feature that will please longtime users. With "manage activities"You will be able to correct and delete old posts quickly and effectively.
Facebook update: we fix errors
Facebook was born way back in 2004. And let's face it, 16 years ago none of us were as mature and practical in social networks as we can be today. Who hasn't happened to write a few posts or upload some images that you are now ashamed of? However, remedying these "youth errors" is difficult, especially if you are very prolific on social media and are many years away from today's date.
Facebook itself, on its official blog, claims to have realized that the users' wall can be very difficult to navigate, and that having to delete old posts one by one is really inconvenient.
For these reasons, the giant of Mark Zuckerberg has (finally) launched a feature expected by many and for a long time: the Manage activity (Manage Activities). Thanks to it, you can use detailed search filters to search for any post in your profile. It will be possible to select more than one at a time and delete them all at the same time. Or alternatively, you can change the privacy of all those posts to make them visible exclusively from your account. Those posts can serve as a warning not to repeat foolishness in the future and to remind us (despite everything) what was going through our heads years and years ago. Should you think again, Facebook will keep all deleted posts in its virtual recycle bin, but only for 30 days.
Read also: Facebook launches Collab, the music video collaboration app
Facebook Manage Activity – Manage Business: when does it arrive?
The new feature is in the rollout phase starting from 2 June 2020. Gradually, a bit like Facebook updates on graphics or reactions, it will arrive in the accounts of all members. It can be accessed via the Activity Log.
The new feature is coming both for the web version and for mobile devices with iOS and Android operating systems. For the web it will come at a later time.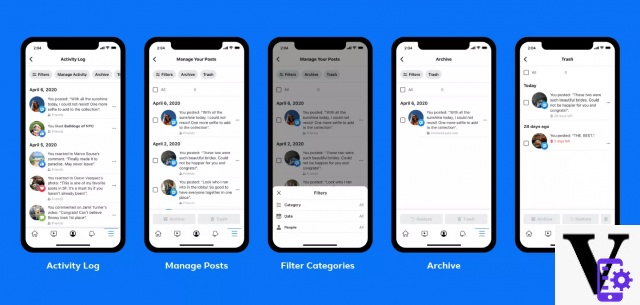 Tagsfacebook Facebook update: a new tool for old users