You are looking for a new job, and following the advice of some friends, you signed up for LinkedIn with the aim of using the social network dedicated to professionals and companies as a tool for registering your curriculum vitae online. You have entered your data and your work experiences, however, after comparing your profile with that of your friends and work colleagues, you have noticed a difference in the presentation of the contents. You then realized that something is wrong and that you probably don't understand well how LinkedIn works.
If this is actually the case, don't worry, I can explain in detail how to use the social network dedicated to the world of work in an excellent way, so that you can make the most of your work experiences, publish your curriculum vitae online and stay in touch. with professionals and companies operating in your sector (and beyond). In fact, I will explain in detail all the tools that LinkedIn makes available for compiling your resume and on how to look for work with LinkedIn, giving you some tips to make the most of this platform.
Are you ready to read this mine guide on LinkedIn and how it works? Take a few minutes to explore this social network in detail; you will see that following this guide of mine, LinkedIn will have no more secrets for you. Get comfortable, let's get started!
Index
How to register on LinkedIn
How to complete the LinkedIn profile
How to look for work on LinkedIn
How LinkedIn works: connections
How LinkedIn works for companies
How LinkedIn Recruiter works
How LinkedIn Ads works
How to register on LinkedIn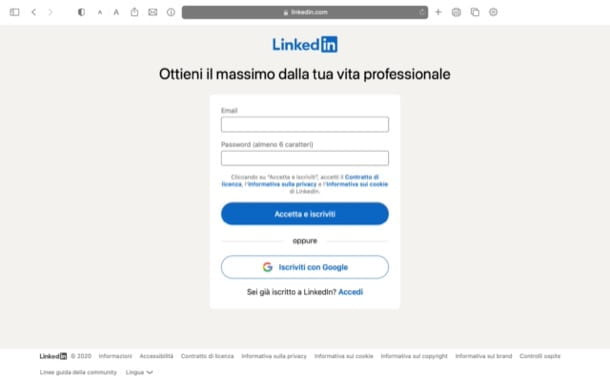 To better understand how LinkedIn works, the first thing you need to do is to log into your account or register, if you haven't already.
So open the browser of your choice and connect to the LinkedIn site. If you have already registered, you just have to fill in the fields Email or phone e Password located at the top: then type theemail address you use to access the social network and the Password linked to your account and press the button Log in.
In case you haven't registered yet, click on the item Subscribe now (top right) and you can do it for free. Enter theemail you register with, create the Password to set up to protect your account, click on the button Accept and sign up, provide yours name e last name in the appropriate text fields and, finally, click on the button Continue. Solve the security check that is proposed to you by following the instructions on the screen.
Don't worry if this is your first time logging in or you've just signed up for LinkedIn; I'm here to explain all the features of the social network in detail. The first thing you will need to do to register your resume on LinkedIn is to indicate yours country of origin and ZIP code (POSTAL CODE). You will be asked to answer a few questions that will help and guide you in compiling your CV online.
Therefore, indicate if you are a student or if you work, the name of your company and your qualification. All the questions that will be asked of you on LinkedIn will allow you to better fill out your curriculum vitae. Once you've logged in or signed up successfully, you'll see LinkedIn will ask you to set up a job posting alert. LinkedIn, in fact, is not just a social network where you can create your curriculum vitae, as it contains some useful job search tools.
If you wish, therefore, you can set up the receipt of an email notification, in the event that an application arises for a job opportunity of a desired job. Then fill in the custom fields on the job vacancy warning screen, indicate the task and resort where you would like to find a job.
The registration procedure that I have just shown you can, of course, also be carried out from theLinkedIn official app per Android o iOS/iPadOS.
How to complete the LinkedIn profile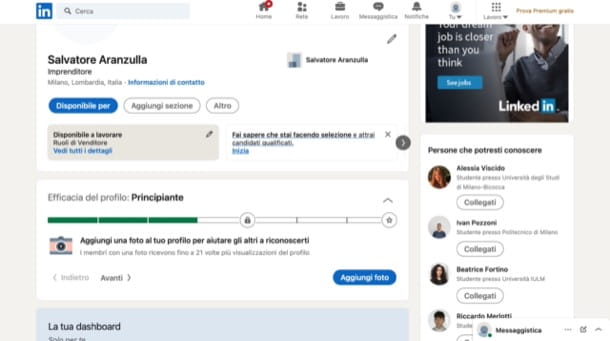 The first thing you need to do to best optimize your online resume on LinkedIn is to complete the profile, so as to increase your visibility within the platform (which is important if some recruiters are looking for a figure like yours).
To do this, click on the item Tu located at the top of the menu bar (top right) and click on the button View profile. You will then have access to the screen dedicated to filling out your profile. Then follow all the instructions that LinkedIn will give you for filling out your profile.
By clicking on the button Available for, for example, you can indicate for which activities you are available as a professional (eg. Assumptions, Services). By clicking on the button Add section you have the option to add additional sections to your LinkedIn profile: Introduction, Information, Expertise, Goals achieved, etc.
Answer the questions and describe in detail what represents you professionally. You can also add links to external documents, photos, sites, videos and presentations. Furthermore, if you wish, you can also choose to create a profile in another language.
An important part of the LinkedIn profile is the account summary. In this section, I invite you to briefly explain who you are, what you do and why your work can be useful for others. This is a summary section dedicated to your experiences and skills, where you can summarize your knowledge and skills in a summary description that represents you. You can include years of experience, industry or skills acquired. If you wish, you can also enter the results achieved during your career path or previous work experience.
To insert the section in question, after clicking on the items Add Section> About> Summary, describe yourself in 2.600 characters (you don't have to use them all) and save the summary you made.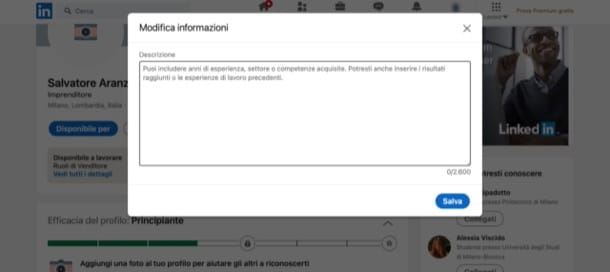 Done? Perfect! In this way you have finished the first part of your curriculum vitae, briefly indicating your main work experiences. However, the compilation of your profile on LinkedIn does not end here: now you have to talk about your work experiences in detail. Click the entry again Add section, select the voice Work experience and dedicated to the complete compilation of your curriculum vitae, entering precise and detailed information on what your career path is. You will be able to illustrate your work history by including collaborations or internships and highlight your skills and strengths on a professional level. Do the same with yours as well education and training.
Through the box Effectiveness of the profileFurthermore, you can evaluate how complete your LinkedIn profile is via the progress bar, which should reach maximum level of effectiveness to ensure that your account reaches maximum visibility on the platform. Therefore, apply the advice given to you in the box in question in relation to adding additional information to your profile and you will see that you will not regret it.
The information I have just given you concerns the Web version of LinkedIn. If you want to use the official app of the service for Android or iOS / iPadOS, know that the procedures just mentioned are generally valid, even if you will notice some differences in the interface (such as the menu bar at the bottom instead of at the top) .
How to look for work on LinkedIn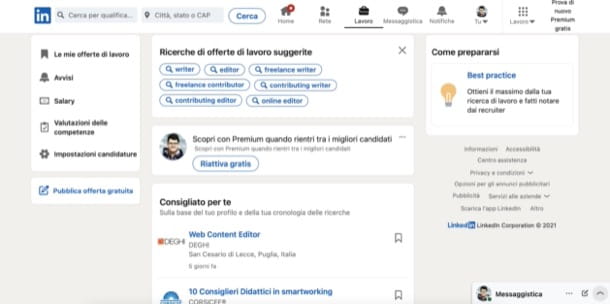 LinkedIn is a social network, but also a powerful tool for job search. In the top menu bar, press the button Work to access the section dedicated to job offers. In this section you can search and respond to job offers posted by companies. You can search by job title, keyword or company, in the location of your choice.
If you click on a published job offer, you will be able to read the job description and the requirements required to eventually submit your application. For some job offers you will have to apply on the company's website, for others, however, you can apply directly via LinkedIn, by clicking on the button Nominees. By submitting your application in the latter way, the job creator will receive an email with your contact information and a link to your LinkedIn profile. Interesting, right?
Looking for a job with LinkedIn is free but, if you wish, you can subscribe to the subscription LinkedIn Premium. The benefits and prices depend on the subscription taken out. For example, if you want to make the most of LinkedIn's job search tools, you can sign up for a membership Career to LinkedIn Premium (€ 30,23 per month). You will be able to put your application in the foreground, compared to that of other candidates, discover the companies and people who visit your profile and also compare your curriculum vitae with that of other candidates.
Subscriptions Business (45,36 euros per month), Sales (80,65 euros per month) e Assumptions (110,90 euros per month), are instead more suitable for companies to be able to search for potential customers or candidates for a specific job offer. In all cases it is possible to take advantage of a free trial month and decide whether to continue to remain a subscriber or not.
For some further "tips" on how to look for work on LinkedIn, I refer you to reading the article that I have dedicated specifically to the topic.
I reiterate the fact that you can look for a job on LinkedIn using the relevant function also available in the official app of the service for Android or iOS / iPadOS, whose operation does not differ much from its Web counterpart. In this case the section dedicated to offers of work is called precisely Job offers o Work (depending on the device in use) and can be reached by pressing the appropriate item at the bottom right.
How LinkedIn works: connections

Another important thing to do on LinkedIn is to add gods connections; LinkedIn will come to your aid in this, suggesting some people you can keep in touch with and asking you to import your contacts via your email address.
LinkedIn connections are a bit like Facebook friendships: if you choose to connect with me on LinkedIn (you find me as Salvatore), for example, you will send me a connection request that I will have to accept. My suggestion is to connect on LinkedIn with people you really know (current and previous friends, colleagues and employers, customers, acquaintances, etc.). LinkedIn is a social network designed to help people stay in touch with their circle of work acquaintances, so that they can help you find a new job through their respective connections. By connecting on LinkedIn with people you have worked with in the past, it can also be very useful for you to have references that will help you find your next job.
If you have followed all my instructions correctly, at this point you will be on the main LinkedIn screen. Is called Home and it is a section dedicated to the flow of news. In this screen you will find updates from your contacts, from the companies you decide to follow and so on.
Using the box above, you can share a status update yourself if you wish, by attaching photo e video, sharing a link, writing an article, or mentioning someone via the symbol @ (You can for example mention me by typing @Salvatore ). For LinkedIn status updates, you can choose whether to set some privacy options: Anyone (anyone on LinkedIn and beyond), Everyone + Twitter (anyone on LinkedIn and Twitter), Links only (your connections on LinkedIn).
Let's now discover the section in detail Network. Click on the bar at the top of the button Network. It will be through this section that you will be able to expand your contact list on LinkedIn. The job search social network will show you by default a list of people you may know. If you click the button Connected, LinkedIn will immediately send a direct connection request to the desired user.
If you decide you no longer want to see a particular person in the list of suggested links, press the button (X) next to it. On this screen, also press the button Manage / Manage everything, if you want to manage the connection requests that you have received instead.
The addition of links on LinkedIn through the official app of the service for Android or iOS / iPadOS, follows quite faithfully that of the Web version of the social network.
How LinkedIn works for companies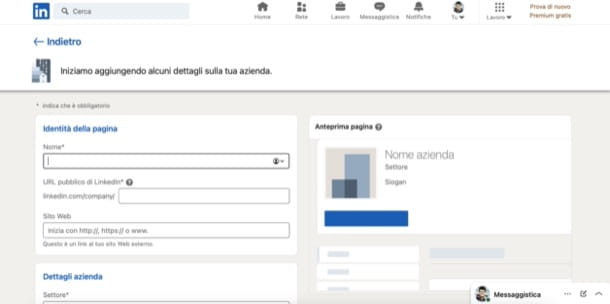 LinkedIn is also a great tool for the companies, as well as for individual professionals. Thanks to it, in fact, it is possible to create company profiles (provided you already have a personal one), through which you can take advantage of some ad hoc functions that can be particularly useful.
Creating a company profile on LinkedIn is super easy. To begin with, log into LinkedIn (as I explained to you in one previous chapters), click on the button depicting the pitted square (top right) and click on the wording Create a company page (+) at the bottom of the opened menu. On the page that opens, specify the size of the company (eg. Small businesses, Medium and large companies, etc.), in order to access the page creation form.
Fill in the text fields present in the sections Identity of the page, Company details e Profile details, providing all the necessary company data, check the box I certify that I am an authorized representative of this organization and that I have the right to act on its behalf in the context of the creation and management of this page. The organization and I accept the additional terms and conditions of the pagesclick on your bottone Create page and follow the instructions that appear on the screen to complete the procedure.
If you prefer to act mobile, know that at the time of writing it is not feasible from the LinkedIn app. The only thing you can do is act from the official website of the social network, setting it in desktop mode (even if it is not the best of comfort, this must be said).
How LinkedIn Recruiter works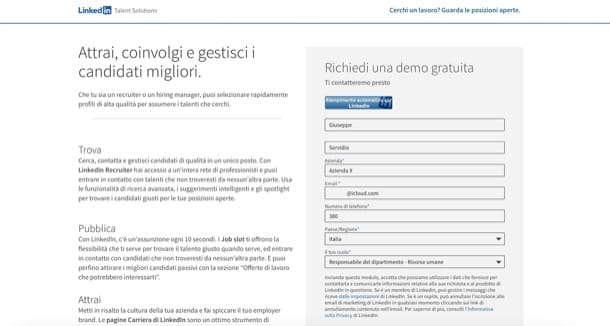 If you came upon this guide to find out how LinkedIn Recruiter works? Well, I'll settle you right away. As you probably already know, LinkedIn Recruiter is a LinkedIn-specific feature reserved for those looking for people to join their company. Thanks to this feature, you can access an entire network of professionals and talents from various sectors.
The feature is included in the subscription LinkedIn Premium, specifically in the plan Assumptions which, as I anticipated in the previous lines, costs 110,90 per month (after a 30 day trial). Thanks to this plan, you can unlock tons of useful features for recruiting, including 30 InMail messages per month, automatic candidate tracking and unlimited search for the best profiles.
To test LinkedIn Recruiter you need to contact LinkedIn and request the demo. How you do it? First, go to this page and fill out the form located on the right providing name, last name, company, email, telephone number, country / region e your role. If you have already logged into LinkedIn, by clicking on the button Autofill with LinkedIn the fields will be filled in automatically, as the information will be taken directly from your LinkedIn profile.
Next, click on the button Request a demo. You just have to wait to be contacted by phone or email by the LinkedIn team, who will explain the steps necessary to activate the plan and the recruiting function.
How LinkedIn Ads works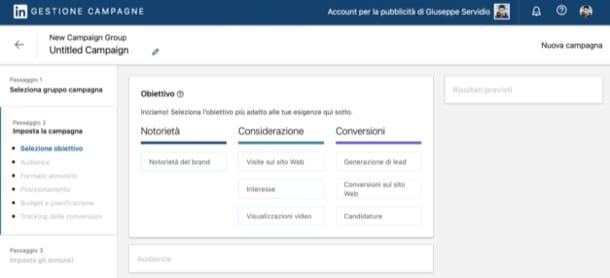 I conclude the tutorial by explaining to you how LinkedIn Ads works, the LinkedIn function available to those who have created advertising accounts and which allows you to start advertising campaigns within the platform.
To create an advertising account on LinkedIn, go to this page, click on the button Create ad and log into your LinkedIn account. Using the form that appeared on the screen, you decide which should be the account name currency to be set, if necessary associate a LinkedIn page with your account (doing this is optional) and click on the button Accept and create account.
At this point you will find yourself in front of the main LinkedIn Ads page, through which you can create and manage your advertising campaigns on LinkedIn. To create your first campaign, click on the button NEXT and, through the appropriate menus, define theobiettivo of the campaign (e.g. increase the awareness of your brand),audience (hence the audience the campaign is intended for), the ad format, positioning, budget, etc.
When you are ready to do it click on the button NEXT (At the bottom of the page). In the new page opened, create the announcement using the features made available by LinkedIn, click on the button again NEXT. Finally, check that everything is correct via the summary page that appears on the screen and click on the button Launch campaign, to start the sponsorship.
In case you haven't set up a payment method, you can do it by clicking on the items [Your Name] Advertising Account> Billing Center> Add Credit Card, so as to be able to enter the data of the payment method with which to finance the campaign.
Through the section Campaign performance LinkedIn Ads, reachable by clicking on the appropriate item, at the top left, you can monitor the campaign, checking its status, performance and so on.
The LinkedIn Ads function is only available via the web. If you want to use it from mobile, you must necessarily access the online version of the service and view the site in desktop mode.