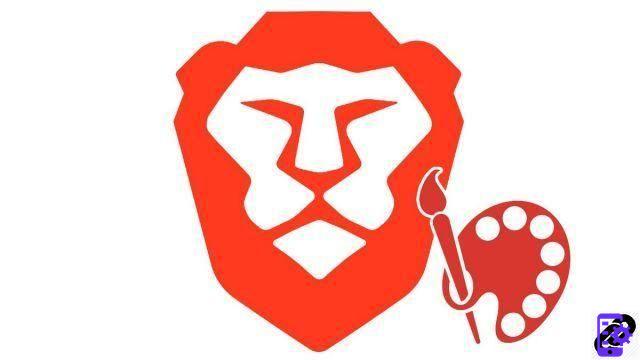 With its clean design, Brave focuses on its functional aspects. However, if it looks a bit sad to you, you can freely customize it.

From switching it to dark mode to drastically changing the look of it, Brave is flexible and gives you the tools you might need to pimp it up. We explain how to properly configure Brave in a few clicks to make it a browser visually to your liking.


Switch Brave to dark mode
If you're happy with the interface as it stands but want to rest your eyes, enabling dark mode should suit your needs.
In the Personalization and Control Center, at the top right of the browser, click on "Settings".


From the settings menu on the left, select "Appearance".


Pull down the "Brave colors" menu, then select "Dark". Brave automatically switches to dark mode for increased visual comfort.
Install a theme from the Chrome Web Store
Because it's built on Chromium, Brave is compatible with themes available from the Chrome Web Store. Enough to modify the colors and decorations at will.
Go to the personalization and control menu, then click on "Settings".


Again, select "Appearance" from the settings menu, then click "Themes" to be redirected to the Chrome Web Store.


On the Chrome Web Store, browse featured themes. Filters by ratings and categories help you refine your search. You can also enter a keyword in the search bar to access specific topics.


Once you have chosen your new theme, click on the "Add to Chrome" button. The installation is done automatically. You do not need to restart Brave to apply these changes.
There are as many themes as user personalities. The Chrome Web Store is a real gold mine for anyone who wants to modify all or part of the visual aspect of Brave: ambient colors, dreamscapes, static or changing illustrations... the list is long.
Find our tutorials to help you properly configure Brave:
How to synchronize your Brave configuration?
How do I update Brave?
How to pass Brave in French?
How to set Brave as default browser?
How to remove Yahoo from Brave?
How do I remove Bing from Brave?
How to change the home page on Brave?
How to change the search engine on Brave?
How do I reset Brave?
How do I set up rewards on Brave?
How to withdraw rewards on Brave?
How to import and export favorites on Brave?