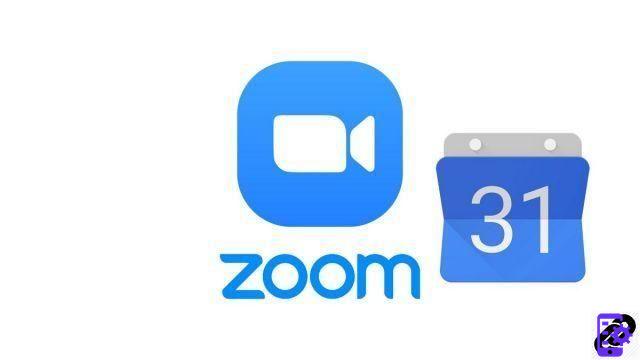 The Zoom video conferencing app offers multiple scheduling options for your meetings. In particular, it is possible to schedule recurring videoconferences, at regular intervals, over a period of 365 days. The platform also allows you to synchronize your meetings with different digital calendars such as Google Calendar.

This option is available on the free version of Zoom, but must be enabled from the teleconferencing service's desktop app. We explain how to do it in this new tutorial dedicated to teaching you how to properly manage meetings on Zoom.


Schedule a meeting on Google Calendar with Zoom
Open the Zoom desktop app.




On the home page, click on the " Programmer ».



Fill in the fields as you wish, then click on " Google Calendar " in the section " Calendar ».



Click on " Programmer at the bottom of the window to validate your scheduled meeting.

A window will then open in your web browser to authorize Zoom to connect and synchronize with your Google Calendar. Grant permission to Zoom and voila! The process described above is also valid for Microsoft Outlook, as we will see in another tutorial. You can then set up a password and then share the URL of the recurring meeting with all the chosen participants. Remember that the maximum number of participants on Zoom is 100, which should give you plenty of room for maneuver.
By connecting to the Zoom Market Place, accessible from your web browser, you can also link applications such as Google Calendar or different calendar applications to your Zoom instant messenger. Once the desired application is synchronized, it can send reminders directly to your mailbox, while also being connected to your Google account if you choose. It will also be possible to display the calendar directly from Zoom.
The Zoom Market Place offers some serious benefits, when it comes to collaboration solutions and managing your work life. You can synchronize Slack, Google Drive, its various e-mail platforms, etc. Several presentation, planning and marketing applications are also available there. Some of them are calibrated for use on mobile devices (iOS and Android devices). Updates will be done automatically on your different devices.
Find other tutorials to help you manage your meetings on Zoom:
How do I create a meeting on Zoom?
How do I join a meeting on Zoom?
How do I schedule a meeting on Zoom?
How do I record a meeting on Zoom?
How do I share a file on Zoom?
How to be silent on Zoom?
How do I lock a meeting on Zoom?
How do I stop a participant's camera during a meeting on Zoom?
How do I invite someone to join a meeting on Zoom?
How do I schedule recurring meetings on Zoom?
How do I turn chat on and off during a meeting on Zoom?
How do I turn off screen sharing for meeting participants on Zoom?
How do I kick someone out of a Zoom meeting?
How to schedule a meeting in Outlook with Zoom?
How to automatically mute the microphone of new participants in a Zoom meeting?