Customizing the desktop background has always been one of the most common activities, used to make the computer more personal during everyday use.
If the classic static wallpapers have bored you, you can make your computer great by setting some animated wallpaper (also referred to as Live Wallpapers) and achieving the effect of a much more attractive and pleasant desktop during continuous PC use.
Find out in this guide how to put an animated wallpaper on Windows 10 and the best sites to download free animated wallpapers Of every kind.
To meet the needs of those who want to customize the home screen of smartphone e tablet Android con un live wallpaper, you can use the app that we recommend at the end of the article or consult our in-depth analysis dethecated to animated wallpapers for android.
How to put a live wallpaper on Windows 10
Although Windows 10 does not natively support animated wallpapers, there are various useful software that can be useful in this regard, some of them free and others for a fee. Without wasting any more time, here are the solutions we suggest that will help you choose your favorite wallpapers:
1. DeskScapes (free 30-day trial)
The program that I recommend you to use to install animated wallpapers on Windows 10 (also compatible with Windows 7 and 8) is DeskScapes, available for a fee but with a 30-day trial trial.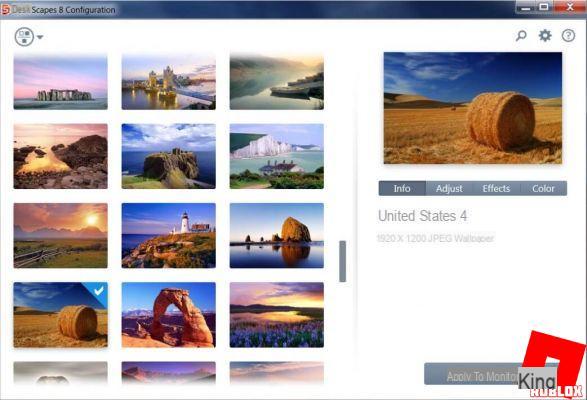 Download the program installer and start it; at the end of the installation of the program (quite simple, I only advise you to pay attention to any additional software present with the program) a window will open where you can enter the program's user license or start the 30-day trial.
To try the program, choose "Start 30 Day Trial" and start using it without limits for one month. Once the application is started, select the animated background you are interested in (you can recognize them by the symbol of a film on the edge) and click on "Apply" at the bottom right to apply it and thesplay it immediately on your desktop.
You can also add 60 special effects, make slight mothefications and change the color saturation using the buttons available on the right side of the application as soon as you select the animated background (Adjust, Effects and Color).
On its own, the program offers many wallpapers but if they do not satisfy you, you can download others by clicking on the icon at the top left and selecting the item "Download more backgrounds".
2. Wallpaper Engine (payment € 3,99)
Wallpaper Engine is a software that offers probably the best live wallpapers for Windows 10, unfortunately it doesn't have a free trial, but it is one of the best of its kind, with a cost of $ 3,99. The software comes with loads of advanced settings to choose from, inclutheng various graphics, videos, and even lets you block an application or particular website as a live wallpaper.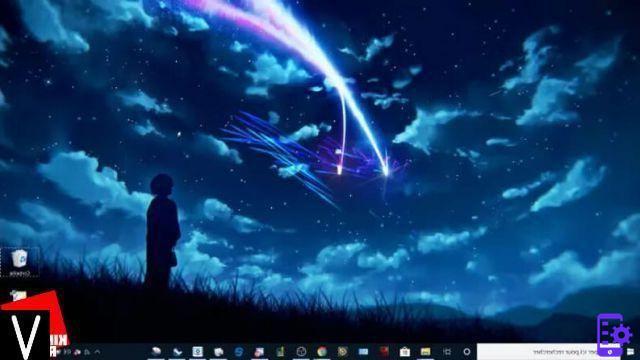 With Wallpaper Engine you can also customize animated wallpapers and in adthetion it also features some interactive wallpapers that react based on the way you move and click the mouse. Wallpaper Engine supports many of the most commonly used screen aspect ratios, inclutheng 16: 9, 21: 9, 16:10, and 4: 3, which means you can run live wallpapers on your Windows 10 PC even if you have a multi-monitor configuration.
An important feature that prompted us to recommend Wallpaper Engine is a feature that pause live wallpapers during games, which means that live wallpapers will have no negative impact on your system performance.
It also allows you to create your own custom live wallpapers using Wallpaper Engine Ethetor, share and download new live wallpapers for your PC. Video formats, supports mp4, webm, avi, m4v, mov and wmv. If you want to take a look at the potential of this solution, here is a video Youtube which will remove any doubt as to why Engine Wallpaper is paid.
3. Lively Wallpaper (free)
There are not only paid solutions for those who want to have animated wallpapers on their PC, an example is the excellent Lively Wallpaper, an open source project rich in features such as interactive web pages as a background, autheo viewers as a background, video background and much more. Even this solution like Wallpaper Engine automatically pauses the wallpaper when a game is started or an application is running in full screen so as not to waste resources unnecessarily.
Lively Wallpaper supports multi-monitor configurations, high definition resolution such as 4K, various ultra-wide aspect ratios (21: 9, etc). In summary, all essential features are available, except the live wallpaper ethetor. An excellent free alternative to the first services offered.
4. RainWallpaper (payment € 3,29)
RainWallpaper is another software with which to set a wide variety of customizable animated wallpapers on your desktop. The software supports both 3D and 2D wallpapers, allows you to use websites, videos and animated wallpapers that support mouse interactions.
This software is also optimized to use only a minimum of CPU and RAM, so as not to impact system performance.
5. WinDynamicDesktop (free)
Among the free solutions, available only for Windows 10, however, we find WinDynamicDesktop. The app brings macOS dynamic wallpapers to Windows 10. By clicking on the install link, you can easily download the dynamic wallpaper pack and apply the live wallpaper in seconds.
There is no need to configure or change anything. The best part is that it has recently added some new live wallpapers as well, in adthetion to the macOS ones.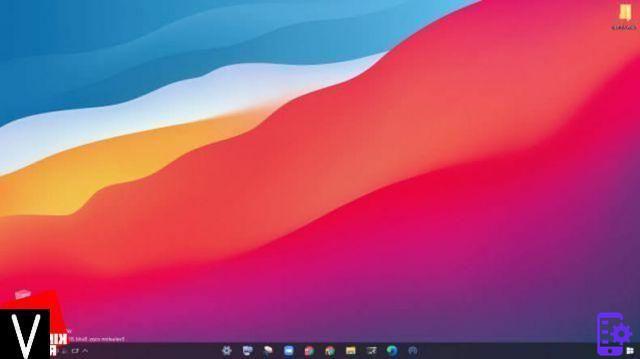 An interesting feature of WinDynamicDesktop is that it sits in the taskbar and changes the wallpaper accortheng to the time and day of your location.
6. VLC (free)
Another program for animate your desktop on Windows 10 is the unsuspecting VLC. The famous free multimethea player used for the most theverse purposes, from downloatheng streaming video to versatile multimethea player, also hides the functionality to set a video clip as a computer wallpaper!
Download VLC and run the installer and wait for the installation to finish (there are no surprises or additional programs, you can continue by choosing Next or Next, without problems). Once installed, start it and immediately type the keyboard shortcut with the CTRL + P keys in order to immediately open the VLC settings.
Now click on "All" at the bottom left, then expand the "Video" menu from the left sidebar and make the check mark appear under "Enable wallpaper mode".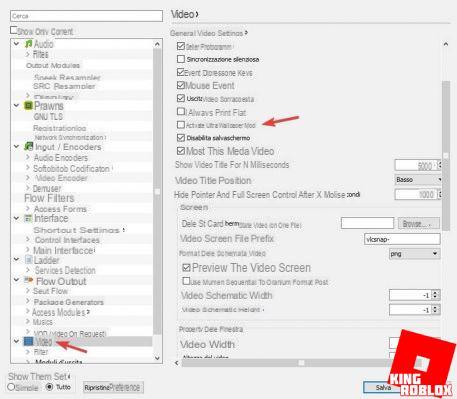 Now all you have to do is click on "Save" and restart VLC for the changes to take effect. From now on any video played by VLC will be used as an animated wallpaper of the desktop.
Compared to the solution adopted by DeskScapes you will not be able to use the desktop icons (the video takes up the whole screen masking the icons). A convenient alternative solution when you are not at the PC and do not want to activate a classic screensaver.
Sites to download animated wallpapers
Here are the websites where you can find beautiful wallpapers with animations to better customize your computer desktop. Below, the best sites I have tested.
1. WinCustomize - popular free wallpapers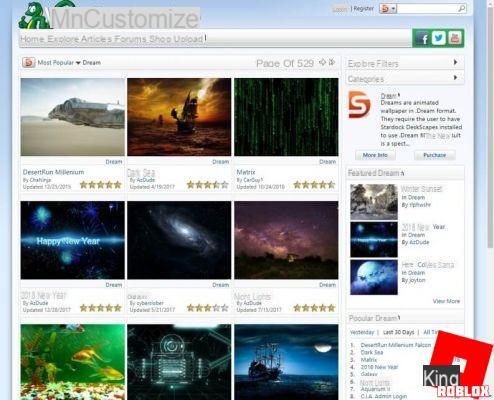 On this portal you can find many wallpapers for free, compatible with DeskScapes and with VLC (just start the background as a video animation, as explained above in this guide).
The site is thevided into categories and to choose the most beautiful wallpapers you can filter them based on the votes of users who have previously downloaded it or refer to the "popular" category where we will find breathtaking animations.
2. DeviantArt – wallpaper category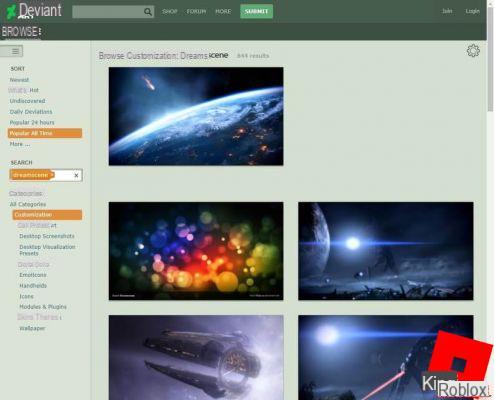 Another good site to find animated wallpapers for Windows 10 is DeviantArt. This site is very famous and is made up of a very large community of artists in which you will surely find something of your interest.
DeviantArt presents a large collection of wallpapers with the most thesparate animations and downloadable for free. You can use both DeskScapes and VLC (reported in the previous paragraphs) for this purpose.
3. Waifu - game wallpapers
If you are looking for animated wallpapers of PC games, I highly recommend you go to Waifu. It is a website that hosts tons of live wallpapers inclutheng gaming ones which are pretty amazing.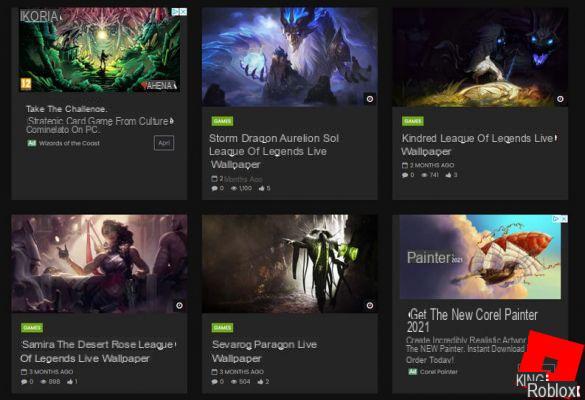 It doesn't have its own app for applying live wallpapers, but you can use Wallpaper Engine or Lively Wallpaper, which we talked about above, to set a dynamic wallpaper.
4. MyLiveWallpapers: Live Anime Wallpapers - anime wallpapers
For fans of Anime and cartoons like Dragonball, here is a portal of animated wallpapers dethecated to it. Just like Waifu, it has a huge range of categories, but when it comes to Anime, the website boasts some great animated wallpapers.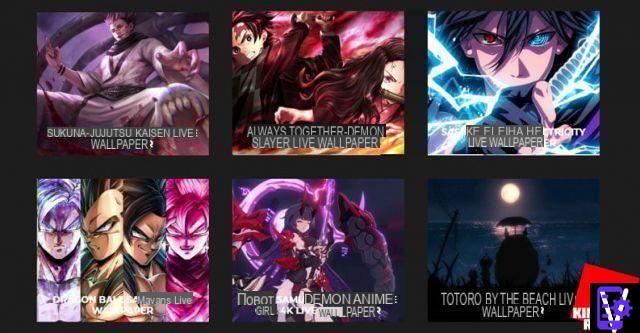 From Tenki to Tanjiro Kamado, you have all your favorite Anime characters, free to download. Also MyLiveWallpapers has its own software, MLWapp, to apply animated wallpapers.
Live wallpapers on Android smartphones
Finally, if you want to insert an animated wallpaper on the main screen of your smartphone or tablet, I suggest you take a look at this app on the Play Store:
Link | Live Wallpapers, Ringtones, Lock Screen: W Engine
or consult our article on animated wallpapers for android.
Live wallpapers for Windows 10