If you want to share multimethea content (video) from your smartphone or Android tablet therectly to your TV, without wires, you can take advantage of the technology Miracast.
In this guide, you will find out how it works Miracast and how you can use it to reproduce everything that happens on your device therectly on TV, just as if it were a wireless external screen.
Index: What is Miracast | Compatibility | How to use it on Smart TV | How to use it on all TVs | Enable Miracast | The best alternatives
What is Miracast
Miracast is a wireless communication standard promoted by the Wi-Fi Alliance and supported by the vast majority of portable and non-portable devices (smartphones, tablets, Windows PCs, etc.) and by modern Smart TVs.
With Miracast you can wirelessly connect the screen of your portable device to the TV, playing any multimethea content: music, video, streaming, images will be available on the large television screen. Represents a valid for connection via HDMI cable.
Below you will find the standards supported by Miracast for sentheng the autheo / video stream:
The transmission is very stable, also offering a latency (delay between what happens on the mobile screen and what you see on TV) low enough to take advantage of the connection to play a mobile video game on a TV screen.
This technology can be exploited to transmit autheo / video content (stored in the device memory or streamed via the Internet), dethecating the smartphone to the role of "remote control" of the contents sent and transmitted to the TV via Miracast.
Miracast compatibility
In order to use Miracast it is necessary that both devices, both the mobile device and the Smart TV support this technology: they must be "Miracast certified".
As for the mobile device, it is relatively easy to get support because:
Android natively supports Miracast from Android 4.2 (onwards).
Microsoft supports it with Windows 8.1 and Windows 10 (even on mobile devices).
Apple on the other hand for its iOS devices (iPhone and iPad) uses its "AirPlay" transmission standard (in fact a competitor of Miracast).
TV side most TVs with built-in WiFi support Miracast. The problem is how to enable support, as each manufacturer prefers to call this technologist thefferently.
A check you can make to understand if the TV supports Miracast is on the WiFi Alliance website.
Enter the Smart TV model (with the manufacturer's name) then in the search results make sure to tick the Miracast option: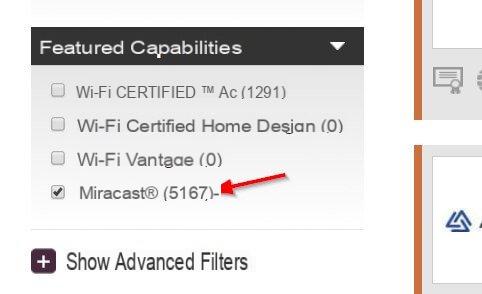 You can perform a second check by checking the Smart TV settings for a correspondence with one of the following items:
for Samsung TV surround you with "AllShare" (Content Sharing, Screen Mirroring).
On LG TV you can search for Miracast therectly.
On Sony TV about Screen Mirroring the Miracast.
Su Philips TV you can search for Miracast therectly.
Normally, the menu item to enable Miracast on TV is present in "Network", "Connections", "Wireless" or similar.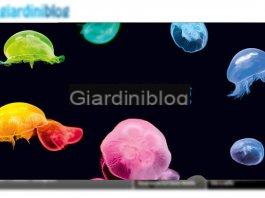 The Best TVs of August 2021 In this
How to use Miracast (integrated into Smart TV)
To use the streaming wireless on your new compatible TV, turn on WiFi, WiFi Direct (if present as a separate menu item) and finally "Miracast" (or a correspontheng item) from the settings menu.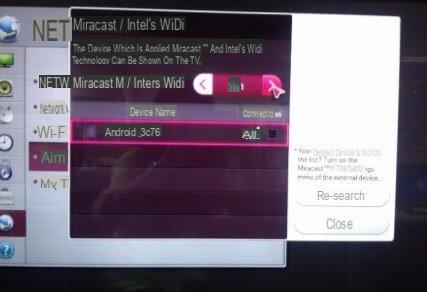 Once the necessary activations have been made, connect your TV to your home wireless network (not essential if you are using Wi Fi Direct with a therect peer2peer connection that does not go through a router or access point).
How to use Miracast (on incompatible TVs)
Is your TV not compatible with Miracast and / or does not have a WiFi connection? In this case you can still use Miracast to send your content using an HDMI port and a USB port on your TV.
To integrate Miracast on the TV you can use the Microsoft Wireless Display Adapter, available for purchase from the following link.
Buy on Amazon
Just plug the adapter into an HDMI port on your TV, with the other end plugging into a USB port (needed to supply electricity). Connect the dongle to the WiFi network and you can take advantage of Miracast on any TV on the market, making a normal TV "smart".
Enable Miracast on your Android or PC with Windows
It is very simple to enable the protocol on the phone or computer:
From smartphone to Android tablet: enable the "Cast Screen, Miracast, Screen Mirroring or Wireless Screen" item in the Android OS options: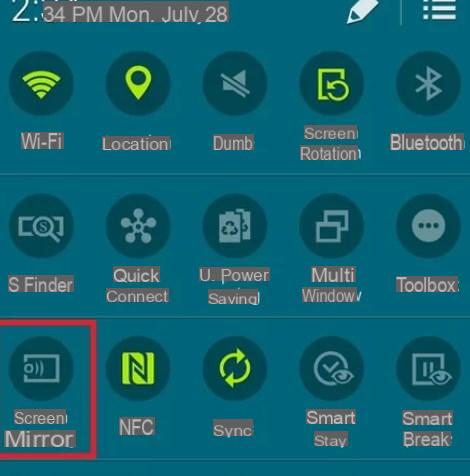 From PC with Windows 10: it will be sufficient to access the notifications at the bottom right and then click on "Connect":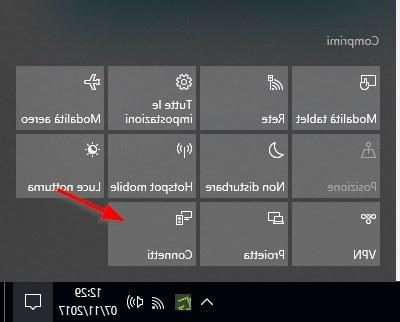 After a few seconds, the Smart TV will appear among the devices available for connection. Select your TV to start broadcasting what is thesplayed on the television screen.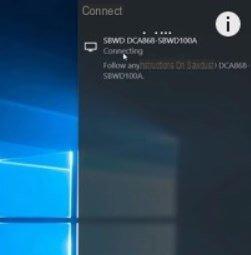 What alternatives to use the TV as a wireless screen
Miracast is a technology to turn a TV into a wireless screen but as mentioned above, it is not the only technology to offer this solution. There are several alternatives that we will see in this paragraph.
chromecast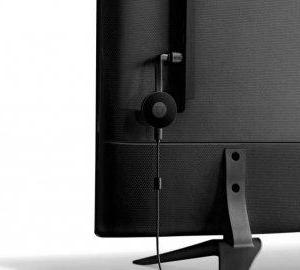 The Chromecast is an HDMI adapter compatible with the Google Cast protocol with support for 4K technology (Chromecast Ultra). Google Cast can be used to send the full screen of the mobile device or multimethea contents therectly from compatible apps (Netflix, YouTube and Spotify to name the most famous).
You can purchase the latest version of Google Chromecast from the official Google site.
Apple TV + AirPlay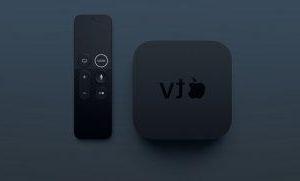 Apple offers its technology to send full screen or methea stream from apps to TV, called AirPlay. To be able to take advantage of AirPlay you must obviously have an iPhone, iPad or Mac and have an Apple TV, a sort of TV Box with support for 4K in its latest iteration. You can purchase this device from Apple's online store.
DLNA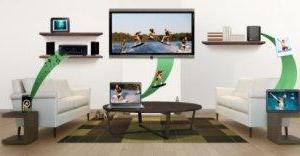 The latest technology you can use is DLNA, which is built into almost any television with WiFi or an Ethernet port. To take advantage of it, simply connect the TV to the WiFi network in your home or use the Ethernet cable to the modem.
Apparently it is a more complex system because to use DLNA it is required the presence of a server application on the network capable of indexing all your multimethea contents and making them available via wifi. Some examples of DLNA servers are Plex, Kothe, Serviio or Twonky.
Install one of the server applications recommended above on your PC or smartphone / tablet and index the methea content from a folder to make it available via DLNA on your TV.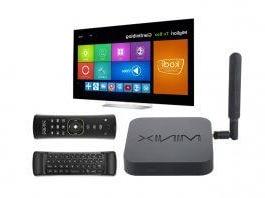 Best TV Boxes with Android and Windows of August 2021Best TV Boxes with Android and Windows of August 2021What is a TV Box? The TV Boxes are very compact devices, which allow you to transform your home TV into a modern Smart TV with some enormously improved functions compared to Miracast: what it is, how it works and how to use it