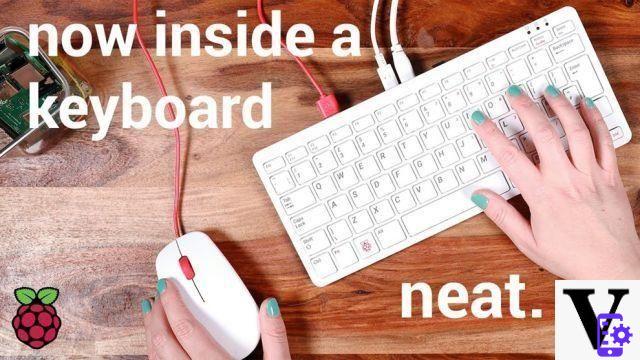 Raspberry has just launched the Pi 400, a new desktop PC which is strangely reminiscent of the Commodore 64. Indeed, the PC is integrated directly into a keyboard. You just need a screen to enjoy it.
In the computer market, there is not only the race for power and performance as AMD can offer with its new AMD Ryzen 5000 processors. For years, the Raspberry Pi foundation has stood out by offering mini - Ultra accessible single-card PC, allowing Sunday hackers and developers to equip themselves with computer hardware at a lower cost.
Thanks to these pocket computers, it is quite simply possible to create anything, as long as you understand your subject of course. But it suffices to do a little Internet research to discover the extent of the possibilities offered by a Raspberry Pi. Some have thus succeeded in creating game consoles, home automation systems, connected pressure machines or even barbecue thermostats.
Rapsberry Pi 400, like Commodore 64 tunes right?
This time, Raspberry Pi has turned away from the mini-PC to offer a turnkey PC: the Rapsberry Pi 400. One of the primary features of the Rapsberry Pi 400 is that it is directly integrated into a keyboard. A configuration that recalls for example the Commodore 64 or the ZX Spectrum for the more expert.
Compared to the Raspberry Pi 4, the latest Raspberry Foundation mini-PC, the Rapsberry Pi 400 has better thermal management. However, the amount of LPDDR4 RAM is the same: Go 4. Under the hood or under the keyboard rather, we will find a chip Quad Core Broadcom BCM2711 Cortez A-72, clocked at 1,8 GHz. The Pi 400 is compatible Wi-Fi 5 et Bluetooth 5.
Read also: Raspberry Pi 4 - 64 bits, 8 GB of RAM, it is twice as powerful but its price drops to 80 €
On the connection side, users can rely on two USB 3.0 ports, a USB 2.0 port, 2 Micro-HDMI ports capable of distributing two streams in 4K 30 FPS or a single stream in 40k 60 FPS. Note that a ethernet port is also in the game, as well as a 40-pin GPIO port. It should then be specified that the operating system, in this case Raspberry Pi OS, as well as your data will need to be saved on an SD card or external hard drive.
If you are interested in the Rapsberry Pi 400, know that it is available in of the country version (Azerty keyboard) in a complete kit, including the computer, the power supply, a Rapsberry Pi wired mouse, a formatted Micro-SD card, a micro HDMI cable and the small user guide. The kit is available from the foundation's partners such as the Kubii site in 106,5€. For the computer alone, count 74,50€.
Source : Android Authority
Share
Tweet
Share
Envoyer à un ami