Public and free, the Bloctel service eliminates the need for telephone canvassing. It just requires registration.

Bloctel, how does it work?
How to register on Bloctel to stop canvassing
Bloctel, how does it work?
Bloctel has been a service offered by the French government since June 2016. In theory, this public service is used to prevent unsolicited commercial canvassing.
To benefit from this service, online registration is required. It allows you to signal that you do not want to receive direct sales calls to a landline number or a mobile phone number. Telephone canvassing companies have access to these numbers and are required to delete them from their databases.
Registration on Bloctel is free and is valid for three years. A person who registered in September 2016, for example, must renew their registration in September 2021. The service also allows you to make a complaint when you receive an unwanted prospecting call.
Note: Bloctel provides for several exceptions. Companies with which a contract is made - such as an insurance company or a mobile phone provider - can still contact their customers and subscribers to propose new offers. Polling institutes or non-profit associations are not affected by Bloctel either.
How to register on Bloctel to stop canvassing
Open your web browser and go to the site http://www.bloctel.gouv.com/ Bloctel].
On the home page, click the button You are a consumer.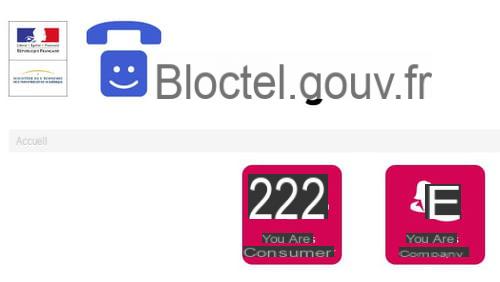 In the new page that appears, click Registration then Start your registration.
Fill out the form with your details, as requested.
At the bottom of the form, indicate the phone number (s) that should no longer be called (8 numbers maximum).

Bloctel will send you a first email within 48 hours to validate the registration (to be done within 10 days). A registration number will then be sent to you in a second email. The telephone numbers indicated are protected no later than 30 days after completing the process.