Is it possible to play Xbox One video games on PC too? The answer is YES, but not everyone knows exactly how it works. Xbox video games are supported by a number of Skills e subscriptions which can make their use complicated.
So here is a practical guide on how to play Xbox One video games on PC too.
How to play Xbox One games on PC
The service that can satisfy this need is Xbox Play Anywhere which allows you to play a well-defined list of games on both Xbox and PC. To take advantage of the service, you must first have the digital version of the game. The physical version (the disk) cannot in fact lend itself to this service.
The other conditions that must be met in order to use Xbox Play Anywhere are:
Having a computer with Windows 10 and update Anniversary edition installed.
Have run the latest Xbox One update
Log in to your Microsoft account on both devices
At this point you will be able to find digitally purchased games on both devices. On the Xbox One console, they will appear in the section My Games and Apps and then explore the area Ready for installation. As for the Windows PC, just go to the Microsoft store and explore the Personal library.
READ ALSO: Xbox Game Pass reaches 10 million subscribers
Be careful though. Non confondete Xbox Play Anywhere con Project xCloud. We are talking about the possibility of playing games on Xbox on PC, installing them on your computer and not using streaming. This means that you will need to be equipped with sufficiently performing hardware. We therefore suggest that you check the minimum requirements indicated by the developers before installing a title.
The titles supported by Xbox Play Anywhere
The titles that lend themselves to this service are about 70, among these we find:
Crackdown 3
Cuphead
Forza Horizon 3 and 4
Forza Motorsport
Gears 5
Middle-earth the shadow of war
Sea of thieves
Ori and the Will of the Wisps
Blair Witch
To recognize if a game is supported by Xbox Play Anywhere, just check for the presence of the service logo. On the Microsoft Store you can view all compatible video games, or almost! In addition to those indicated on this page, older classics such as Final Fantasy IX. We therefore advise you not to stop at the official list of the site but to take a good look at every single game.
What about video games on the Game Pass?
Everything we have just written can also be applied to some titles included within Xbox Game Pass.
For those still in the dark, Xbox Game Pass is a subscription service that allows you to access hundreds of titles in the catalog Xbox e Xbox One only 9.99 euros per month. The service also offers the possibility of having titles First Party on day one.
To recognize titles compatible with the Xbox Play Anywhere service, just visit the official Store via computer and on the Xbox Game Pass menu. From here it is possible to scroll through the entire library of titles present. Those with the "Install" icon can also be downloaded to your computer. Installing a video game on both Xbox One and PC will also allow you to have shared saves. This means we can start playing on the Xbox and continue playing on the PC.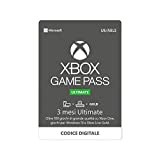 Abbonamento Xbox Game Pass Ultimate - 3 Mesi | Xbox/Win 10...
Explore an extensive catalog of over 100 high-quality games for PC and console. Have fun with new games or ...
Xbox Game Pass Ultimate subscribers will be able to enjoy EA Play on Xbox consoles, including Xbox Series X | S, from ...
Test yourself on the battlefield. Join a cooperative adventure. Create imaginative worlds. With...
38,99 EUR Acquista su Amazon Tagswindows 10 Xbox Game Pass xbox one Xbox Play Anywhere How to play Xbox One games on PC