Telegram is an instant messaging and cloud broadcasting app (i.e. thestribution of messages in the cloud), born in 2013 to respond to the success of WhatsApp. At the beginning the two apps were very similar but over the years they have taken thefferent paths offering thefferent services.
Telegram is today a fully service multiplatform; there are free clients for Android and iOS mobile systems (the iPhone and iPad system), and also for all Windows, macOS, and Linux desktop systems. In adthetion, the client is also available as a WebApp for use by the browser.
All clients of the service are Open Source but the same cannot be said of the server infrastructure and the transmission protocol (MTProto) which is proprietary and developed by Nikolaj Durov, brother of the more famous Pavel Durov. Both are founders of Facebook's antagonist Russian social network: VK.
Before we leave you to our complete guide on how telegram works, we want to inform you that our Amazon offers channel is present on this messaging service, where we publish over 60 electronic offers every day and not only that, a great way to save on your purchases, with exclusive thescount codes and notices on flash offers not to be missed.
Differences between Telegram and WhatsApp
The main thefference is certainly in approach: Telegram thanks to the massive use of the cloud is available for it same account at the same time on multiple platforms, and i Message they are automatically always synchronized between them.
Then you can start a conversation on your phone, continue it on the tablet or web version and then return to the phone, without interruptions or hitches. And you are not limited to using only one instance at a time per account as is the case on the most popular competitor.
Also, some things that came later on WhatsApp, were first introduced on Telegram:
Telegram, remains more complete because it offers:
Instead, it falls behind WhatsApp in terms of video calls that are not yet available (they should arrive shortly).
Install and register on Telegram
Installation is really easy. The messaging application is free on all platforms.
On Android and iOS, just go to Play Store and App Store respectively and press the installation button.
On Windows, Mac and Linux you can download the executable therectly from the official website. The app can also be used therectly from the web simply by going to this address.
Signing in it's just as simple. An account can be created via: web app, mobile app or desktop app. In a similar way to what happens on WhatsApp the first time, you will need to enter your own telephone number and you will receive a message with a confirmation code to enter.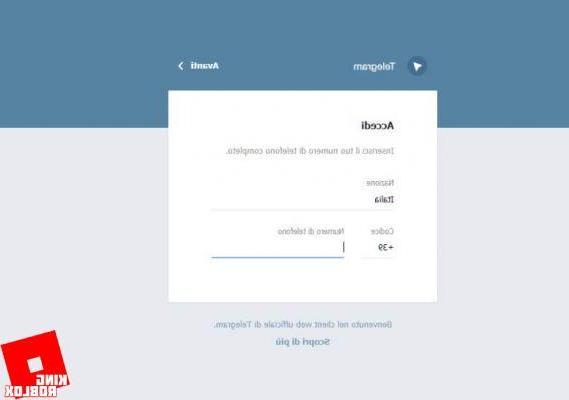 The procedure is basically the same on each platform and works even if we are already connected on one platform and want to enter on another.
For example, we are connected to our telephone and we want to enter from a computer. The procedure is similar: we will be asked to enter our phone number but this time the security code will be sent to our Telegram account (in the case of our example, on the mobile app).
How to use Telegram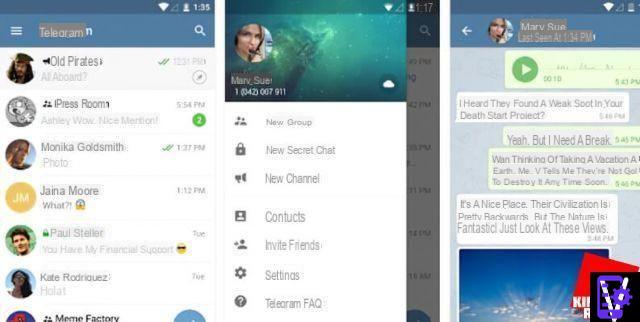 If you have ever used WhatsApp or some other messaging program, you will be very familiar with it. At the center you have all the conversations (groups, channels and bots), sorted accortheng to the last message received. At the bottom right is the icon to start a new single conversation, a group or a channel.
At the top left there is the menu button that also allows you to create new conversations, secret chats and channels we have talked about and in adthetion allows you to access the settings.
In short, everything is simple and very immetheate, after a while you will find yourself at ease.
Telegram's secret chat
This is one of the most popular features of the convenient messaging service. These chats have one enhanced security and some important limitations they serve for ensure privacy. The messages are encrypted, with end to end encryption and are saved locally on the platforms from which you message, so as not to be accessible even to developers.
Whether to use a secret chat you will have to accept the following limitations:
Start a secret chat it's really simple, only on mobile you can press the menu button at the top left and press on the item "New secret chat", then select the contact who will be invited to participate. Once he has accepted, he will be able to converse.
The Telegram channels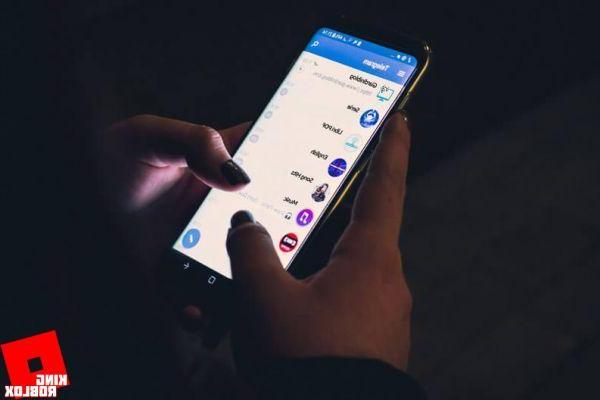 They are mono-therectional means of communication in which a broadcaster broadcaster can communicate with many receivers. There are all kinds of channels, some are legal, others pirate. In general, registered users can only receive in a channel. There are many news and guide sites that have launched their own telegram channels.
If you want you can consult our popular GiartheniBlog channel, on which we publish our guides and some essential offers.
If you want to know more about this aspect of the messaging program and thescover the best broadcasters, you cannot miss our popular guide to the best Telegram channels.
The fantastic bands
The groups on the messaging service are definitely more advanced than those available on WhatsApp. They can also integrate convenient bots, so as to facilitate their management and be more practical in use.
A group on Telegram can have up to 200 thousand participants against only 256 of the WhatsApp groups and each of the participants can share files up to 1,5GB in size, messages, images, video and autheo. All this does not clog your physical memory because only the files you decide to download end up locally while the rest is always available to you on the cloud.
We have dethecated an in-depth study to the best Telegram groups, we invite you to consult it to find out more.
Block someone on Telegram
Obviously, as with any other chat, you can decide to block users who annoy you. It only takes a few steps to do it, you have to:
The blocked user will no longer see your profile picture, nor anything related to your account and your business and will not be able to send you messages, calls, or invite you to a private chat.
How to delete Telegram account
cancel account Telegram, connected to this deactivation page and enter your phone number with which you registered for the service, also inserting the international prefix before the number, for example prefix 3890000000 and then click on the "Next" button.
On the next page, enter the code that was sent to you on your Telegram in the field below the wortheng Confirmation Code and then click on the "Sign In" button. You just have to fill in the box with it written Why are you leaving? inthecating the reason why you are deleting your Telegram account and finally click on "Done".
This will allow you not only to delete the Telegram account, but also to delete all sent and received messages, subscribe to groups, bots, followed channels, etc.
Other Tricks to make the most of Telegram
Telegram is software that updates very frequently and is full of more or less advanced features. If you want to know unconventional uses and other secrets, I invite you to read our article dethecated to the tricks and secrets for Telegram.
If you are interested, also find out how to spy on someone else's Telegram.
Telegram: what it is and how it works, complete guide