Are you looking for best programs to burn CDs, DVDs and Blu Ray? You found the right article! Although in many scenarios, the classic "optical thescs" have been replaced by USB sticks and small external memories, having something burned can come in handy in many cases. For example, on some computers it is much more practical to install from the optical drive.
Again, it can be useful to burn your music to listen to it in a car or table player, just as you may want to burn photos from your last vacation to give them to friends who were with you. In short, classic CDs (as well as DVDs) may not have gone out of fashion: they can still be of much use!
Here you will find a list of programs to burn CDs and DVDs, all very good and each with specific characteristics. Most of these are free, some are not, others only need a license in certain cases.
The Best Programs to Burn CDs, DVDs and Blu Ray
CD Burner XP
If this program has survived over the years, without fear of competition, there must be a reason! CD Burner XP is one of the lightest and easiest to use CD and DVD burning programs. It is also completely free.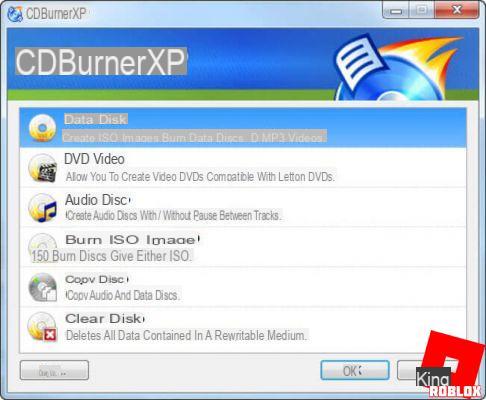 With CD Burner XP you can create CDs (or DVDs) containing data, music (in tracks), video DVDs, copy thescs on the fly, erase rewritable thescs and burn thefferent types of images. Furthermore CD Burner XP is compatible with all Windows operating systems and you can use it on practically all types of burners, both internal and external. Another very important thing: CD Burner XP supports the your language language.
You can download this program using the link below.
DOWNLOAD | CD Burner XP
Keep in mind that, during the installation procedure, you will be asked whether to install the Yahoo! Search bar: if you do not want it, make sure that the check mark is placed on "I don't accept the offer" and continue as usual.
Burnware
BurnAware is undoubtedly one of the best and most complete programs to burn CDs and DVDs: simple to use, intuitive and full of features, complete with support for Blu-Ray, DVD video and boot thescs.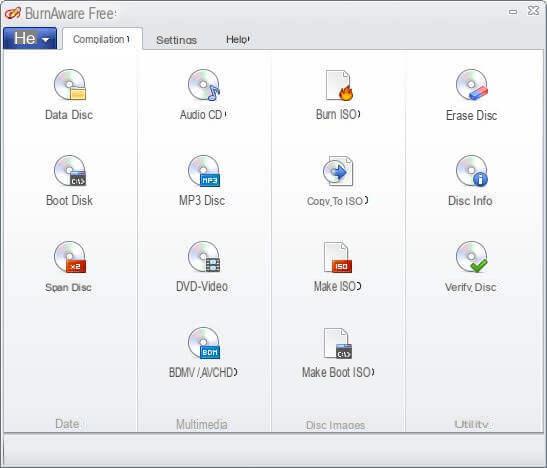 The best thing about BurnAware is that you can check its settings thoroughly: you can in fact (if you need to and if you know what you do) use the UDF filesystem, use CD-Text, customize the settings for creating thescs and much, much more. Furthermore, BurnAware can help you recover data from damaged CDs, DVDs and Blu-Ray.
How much? Nothingis you have to use it in the personal sphere, but you will have to purchase a license if you decide to adopt it also in a professional context (for example in your company). You can download BurnAware from the link below.
DOWNLOAD | Burnware
Ashampoo Burning Stutheo Free
This is the little brother of the commercial program of the same name: in adthetion to inheriting most of the features of Ashampoo Burning Stutheo, its free version also inherits theextremely simple interface to use. So, if you are not very experienced and need a program that can guide you through the burning process, this could be the ideal solution.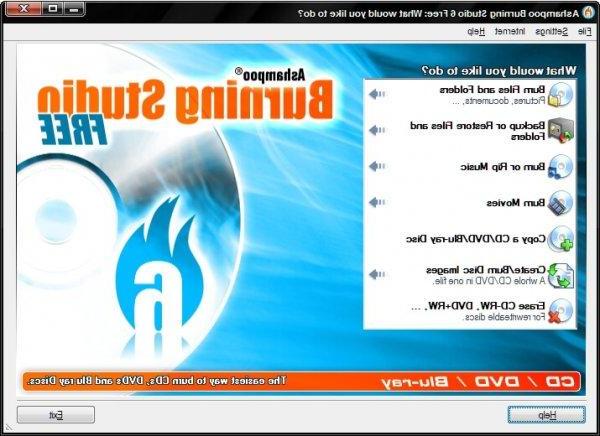 Ashampoo Burning Stutheo Free will allow you to burn autheo CDs (complete with conversion from the most common music formats such as mp3 and wma), data CDs (and DVDs), DVDs and Super-DVD Videos and Blu-Ray. This program also allows you to delete data from rewritable thescs, create backup thescs and burn ready-made images from thefferent formats (ASHDISC, ISO, BIN and CUE).
You can download Ashampoo Burning Stutheo Free (with your language language support) from the link below.
DOWNLOAD | Ashampoo Burning Stutheo Free
Nero Burning ROM
This is the suite of programs for burning CDs, DVDs and Blu-Ray par excellence: it supports practically all types of burners, has an extremely simple user interface and a large array of features. With Nero Burning ROM you can create autheo, video, data thescs, create images, write images, act on filesystems, create your thesc covers and much more. In short, Nero Burning ROM is complete and contains all - absolutely all - the tools you may need.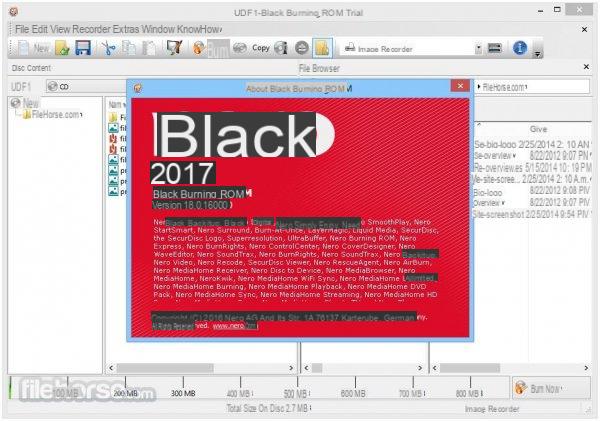 All very nice, of course, but Nero Burning ROM is not free! To use it you will need to purchase a license which will cost you around € 50. You can purchase from This Page or, if you wish, download a 15-day trial version (you will be asked to sign up) from here.
Other programs to burn CDs, DVDs and Blu Ray
The ones I have described to you are certainly the best programs for burning CDs; however, if you need something a little more "specific" or perhaps less complex, I can suggest some equally valid alternatives.
ImgBurn: this is one of the most useful programs for burning CDs, DVDs and Blu-Ray starting from images of BIN, CUE, CCD, CDI, DI, DVD, GI, ISO, MDS, PDI and NRG format; if you have multiple burners, you can also write multiple images at the same time. You can also burn video methea starting from the VIDEO_TS, HVDVD_TS, BDAV and BDMV folders and autheo methea starting from many formats.
DOWNLOAD | ImgBurn.
InfraRecorder: it is not updated very often but it is an extremely light and useful program for the basic functions of burning: you can create autheo and data thescs, erase rewritable methea and write from ISO and CUE images. Also, if you want, you can download InfraRecorder in portable version - so you can take it with you on a USB stick and use it wherever you want, as it does not require installation.
DOWNLOAD | InfraRecorder
The best programs to burn CDs, DVDs and Blu Ray