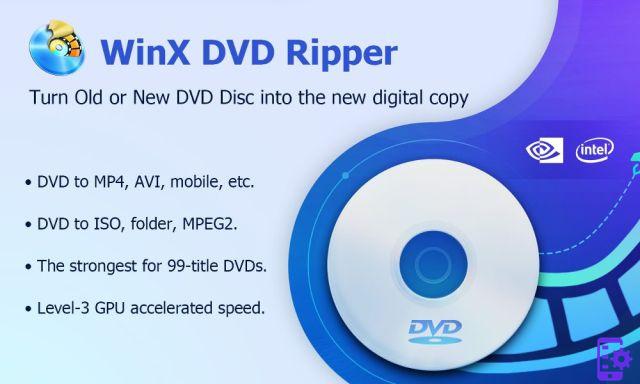 ---
If you have had experience with poor quality video, you don't need to worry anymore - WinX DVD Ripper has 1: 1 DVD ISO / DVD folder feature. As for the DVD to MP4 conversion, you will lose some quality in the images, but you will hardly feel the difference. The resulting MP4 quality will be almost on par with that of the original movie, thanks to the high quality engine, Deinterlacing and adjustable HQ encoding.
If quality is important, there is always the problem of the relationship between quality and file size. With WinX DVD Ripper the compromise between quality and size is handled brilliantly. The advanced compression engine and flexible settings allow you to convert a DVD / ISO image to an MP4 file that is 80% smaller. For example, I can convert a full 8GB DVD to 4MB MP700 video while maintaining a high quality level.
Converting a movie to MP4 will be fast or slow depending on the hardware used. For example, on a Mac Pro, Handbrake takes about 20 minutes to convert a 2-hour movie. However, on an older iMac G5, Handbrake takes about 6-10 hours. The same goes for WinX DVD Ripper, but at a higher speed. On a latest generation computer, in fact, it can convert DVD to MP4 in just 5 minutes. Level 3 hardware acceleration and multicore technology ensure 47 times faster process even on a normal computer.
Finally, it covers all formats: besides MP4, HEVC, MPEG, WMV, MOV, AVI, etc. are included. In order not to complicate things too much, there are ready-made profiles for iPhone, iPad, Android, Xbox, PSP and other devices. There are also additional features for trimming, joining, trimming, adding subtitles and adjusting various parameters.
WinX DVD Ripper meets most of the requirements in DVD conversion. However, if you are looking for a software that can offer you faster speed and better video quality, you can refer to the advanced version. It is possible to upgrade to the advanced version of the software through a special offer.
How to convert DVD to MP4 with WinX DVD Ripper
Download and install DVD ripper. Launch the program and insert the DVD.
Click on the "Disc" button on the top left to load the disc. Once loaded, a window, "Output Profile", will appear asking you to choose a video format. Here select "MP4 Video (Codec: H264 + AAC)" in "General Profiles" and click "OK".
In the main interface, turn on "Hardware Accelerator" to increase speed and enable High Quality and Deinterlacing for better output quality. Select "Safe Mode" to avoid DVD conversion problems.
Choose a destination folder to save the converted digital file. Then click on the "RUN" button to start converting DVD to MP4.
WinX has also started a nice initiative through this page. A real contest in which all fans have the opportunity to receive special edition NAS, DVD furniture and box sets of films and TV series for a value of $ 877, as well as the chance to grab a free version of WinX DVD Ripper. To do this, simply indicate your email and send an email showing your DVD collection.
The best way to convert DVD to MP4 - WinX DVD Ripper