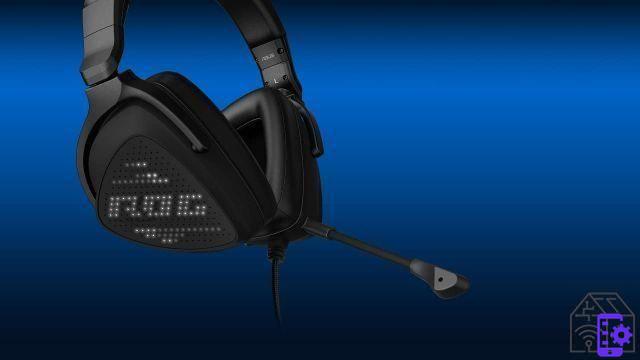 It's okay to have fun and spend a few hours (many hours) of entertainment with video games, but sometimes the situation gets serious and a competitive gamer knows when it's time to bring out the best tools. Among these, headphones are of no small importance, to better perceive environmental sounds and above all, the footsteps of enemies. When it comes to the best tools for gamers, it's impossible not to think of ASUS ROG. The republic of gamers, once again, puts in our hands, indeed, on our heads, a new pair of headphones that aspire to become the only headset you will use, the new ones ROG DELTA S Animate, let's find out what they can offer, in this review.
Our review of the ASUS ROG DELTA S Animate
The ASUS ROG DELTA S Animate headphones come as a headset that aims to give you quality, style and a wide range of customization possibilities. Compared to the models on the market, these headphones stand out for the presence of mini-LEDs on the ear cups that can tell your personality. But this is only the beginning of a sound that promises something else, let's start in order.
Design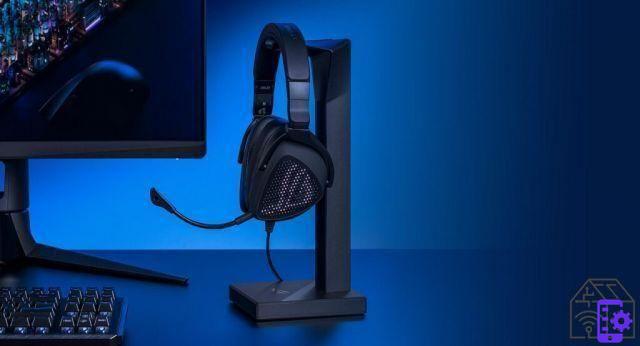 The ASUS ROG DELTA S Animate boast an attractive design, difficult to find on the market. We are in fact faced with a pair of headphones come on pavilions to D that fit perfectly around the ears, wrapping them without squeezing them. This particular shape also improves the sound quality. The audio drivers are in fact tilted at a 12 degree angle channeling the audio directly into the ear canal. They think about improving comfort ROG Hybrid quick-cooling bearings that does not let the headphones heat up even after prolonged use.
The build materials live up to the ASUS ROG brand: plastic and metal return one feeling of solidity without excessive weight, we are in fact talking about just 310 grams. To our rescue also comes a soft sponge layer located on the top that rests on the head while the outer part in imitation leather recita "Republic of Gamers".
Undoubtedly the most attractive are the external pavilions Anime Matrix presenting a series of white mini-LEDs to be customized. By default the leds will show the static logo of ASUS ROG but thanks to theArmory Crate application of ASUS you can insert a large variety of still or moving images, as well as writings, letters and numbers. This is an innovative way to truly customize your gaming headset by showing your style to the world
Last but not least on the back of the left pavilion we find a set of controls that allow us to raise and lower the volume, activate and deactivate the microphone and turn off or on the LED lights. Here is also theJack input for the elegant microphone included in the package, which we will analyze in the next paragraph.
Technology
Appearance isn't everything and ASUS knows it well. These small and light headphones are in fact a concentrate of high technology and efficiency, of what every gamer clamors for. These headphones indeed boast the ESS 9281 Quad DAC technology which, as the name suggests, contains ben four digital-to-analog converters (DAC) that provide excellent audio processing. Each DAC is dedicated to a frequency band to ensure crystal clear sound at any frequency. This technology provides a high signal-to-noise ratio, called SNR. This is the ability to perceive sounds in video games, which is extremely important in competitive titles. A higher SNR allows you to accurately pinpoint the origin of the enemy's footsteps and act accordingly.
Not only that, the headphones also support the tecnologia Master Quality Authenticated (MQA), the award-winning ROG technology that delivers sound quality typical of specialized studios. The ROG Delta S Animate headphones can connect to an MQA base signal, which is used by apps from global streaming services such as TIDAL, to complete the final 'play' of an MQA music file and deliver incredible audio quality.
The same attention to performance is reserved for microphone included in the package, equipped with noise cancellation with AI. Inside we find a dedicated processor that includes different sound profiles made optimal thanks to the power of artificial intelligence. This translates into the possibility of reducing and eliminating over 50 million different types of noise. All without altering or reducing the tone of the voice for a superior quality that guarantees a fundamental communication skills with your team members.
Discount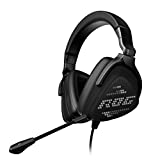 ASUS ROG Delta S Animate Cuffia Gaming USB-C, AniMe Matrix...
The Anime Matrix display offers the possibility of customization like never before, choose the design or ...
The ESS 9281 QUAD DAC hi-fi technology combined with MQA technology provides realistic and detailed audio for ...
ASUS Essence drivers, coupled with unique airtight chamber technology and signal deviation technology, ...
299,90 EUR −11% 266,90 EUR Buy on Amazon
The strength of Armory Crate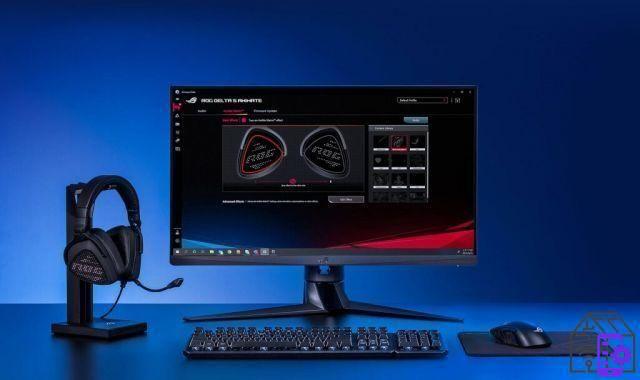 As with many products in the rich ASUS ROG family, The ROG DELTA S Animate headphones are also supported by Armory Crate, the ASUS app dedicated to the company's peripherals. In this case, Armory Crate will allow you to manage every element of the headphones and microphone. From the most common elements such as the equalizer and sound optimization depending on the activity that is taking place, to more specific themes such as reverb, bass amplification and so on.
Sempre through the application it is also possible to manage the microphone, improve its quality or calibrate the noise cancellation. We are faced with a wide range of options that will make the headphones perfect in any situation.
Obviously the particular Animate model we are analyzing boasts, as anticipated, AniMe Matrix technology which occupies a separate section in Armory Crate. Here we can manage the mini-LCDs in the halls and bring up the drawing or writing that we prefer. The app offers a handful of alternatives but by changing the contents, a world of lights will open up in front of our eyes.
In fact, we will be able to manage many elements, speed, movement, motif, zoom, on which pavilion to show what, choose a series of pre-installed contents or download new ones. Between moving kittens, hearts, moving logos and lettering, the possibilities are limitless.
READ ALSO The review of the ROG Strix Flare II Animate mechanical keyboard
Our test of the ROG DELTA S Animate
We've been testing the ASUS ROG DELTA S Animate headphones for this review for over 3 weeks, during which time they became our primary headset. As gamers who love lights and colors, we cannot fail to appreciate the ingenious design with the truly unique mini-LCDs that makes the Animate series the joyful spectacle that it is.
The moment you place them on your head, you will immediately understand that you are in front of a pair of headphones that can stay there where it is for a very long time. The (wombo) combo of lightness, fast-cooling pads and the comfort of the D-shaped pavilion, make them really comfortable and pleasant to wear both during gaming and during daily use. But we're here to play, and that's what we've done, everywhere.
Not only on PC, the ROG DELTA S Animate, thanks to the USB-C connector and the USB-C to USB-A adapter cable included in the package, they can be connected to any device and console. During our test we tried them on our laptop, on PlayStation 5, on Nintendo Switch, Xbox Series S and even on smartphones. There is nothing that has scared the ROG DELTA S Animate, could become your next definitive gaming headset.
The review of the ROG DELTA S Animate headphones at a glance
They are great to look at, light to wear and pleasant to listen to. The ASUS ROG DELTA S Animate gaming headset is one of the best headsets we've ever gotten into our hands. In addition to a fantastic bright design which we greatly appreciated, the audio quality really impressed us.
Even if we have not become pro players (we still wonder why ...), perceiving the enemies around us has made the difference especially in competitive FPS, but thanks to them we have also been able to fully enjoy the soundtracks of video games or simple good music. Definitely best friends for your ears.
The ASUS ROG DELTA S Animate gaming headset is now available for € 299,99.