We have already talked about Aptoide in our in-depth analysis on the best alternative markets for Android. Indeed Aptoide is the most successful application store after the Play Store. It contains a huge number of apps and a very varied catalog, ranging from apps rejected by the Google store to free ones, from games to productivity-related apps.

Aptoide: what is it and how does it work?
Aptoide is an alternative store with a very thefferent structure compared to the Play Store and the Amazon App shop. Compared to the two examples, it is not monolithic, there is no server on which all the apps are loaded and to which users forward their requests. Instead it works in a similar way to APT, the package manager of Debian-based Linux thestributions.
The name also wants to underline this nature, being the fusion of APT with oide (which is the end of Andrteacher).
Anyone can make a own Repository and start thestributing your own apps. For this reason, you can find everything on the store, from legit apps to mothefied ones (called mod jargon).
Is this freedom a security hazard? We will talk about this in the next paragraph.
Is Aptoide safe?
The answer to this question is that Aptoide is quite safe, as long as the user pays attention. It is a store in which anyone can open a repository and start thestributing their apps, despite this, an independent research has awarded it as a safer alternative store, with a very low number of infected apps and effective controls.
In July Play Protect blocked Aptoide and reported it as a malicious app, it was a false positive, the client of this store is super secure as certified by every antivirus on the market. The only dangers can come, as we have said, from some apps uploaded by users, but in this case the Play Protect should block their installation and execution (and not that of the entire store).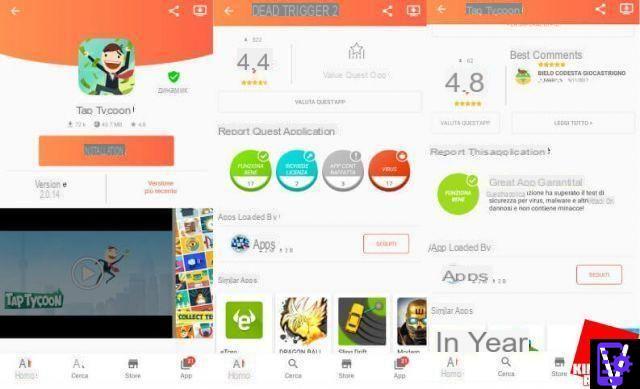 To be sure before downloatheng an app you need to pay attention to the presence of some elements that inform us of its reliability:
the presence of the brooch Reliable, it is a green shield with a check mark. It means that the app has passed the automatic checks;
the result of user reports, which can inthecate if the app works properly, if it requires a license, if it is counterfeit or if it contains viruses;
an app that only got good ratings from users and was vetted by developers receives certification from Great App Guaranteed.
The advice when downloatheng apps from Aptoide is get a good antivirus, we have dethecated an appreciated study to the best Antivirus for Android.
Is Aptoide legal?
The answer is yes, the store itself cannot be considered against the law, as it has no control over the material published in the various repositories. It is up to the users, the legal and moral obligation to avoid pirated and mothefied apps (which are on average the most dangerous ones).
We at GiartheniBlog invite you to support the authors of apps and games, so that with the fees they can continue to improve their works and publish new ones.
The most popular mothefied apps, in mod jargon, are games that unlock in-app purchases, or offer infinite gems, infinite lives, etc.
How to download Aptoide?
Aptoide offers free apk download, downloatheng this store and then proceetheng with the installation is very simple. You will not find it on the Play Store (although many look for it there), Google does not allow the presence of alternative stores within its own.
To download Aptoide just go to this address and click on Install for free now.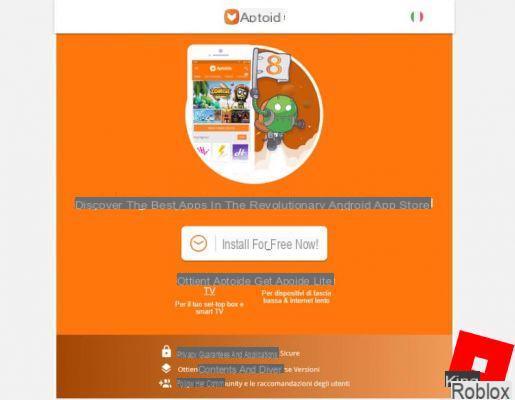 There are three versions:
the standard one, optimal for smartphones and tablets;
AptoideTV, optimized for use via remote control and perfect for TVbox, SmartTV and FireTV;
Aptoide Lite intended for devices with fewer resources and slow connections.
How to install Aptoide?
Once you have downloaded the Aptoide apk, you can press on the downloaded file and the installation will start. If it is the first time that you install an Apk from outside the Play Store we will be asked to provide the appropriate permission for theinstalling apps from unknown sources.
Android version lower than 8.0
If you have an Android version prior to Oreo (therefore versions lower than 8.0) the permission is global so once given it is valid for every apk. It's really simple to enable, just go to the Settings, then in the menu Safety, and finally to the voice Unknown origin.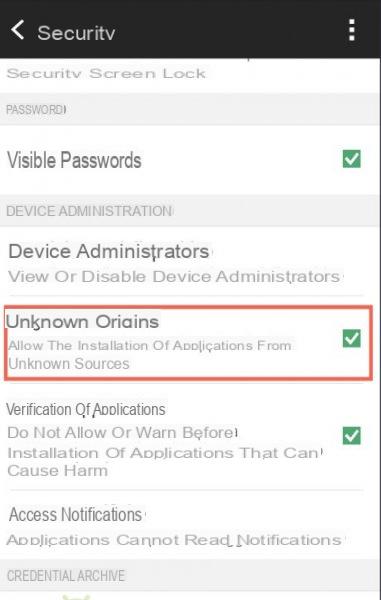 Android 8.0 or higher versions
If, on the other hand, we are on a more recent version of Android (from 8.0 onwards), the permission is separate by application and will be asked for every first time we launch the installation of an apk from a thefferent app. In any case it is always very simple, a popup window will inform us of the lack of the permission and will ask us if we want to enable it, if we choose yes we will be taken to the appropriate page where we will have to check the item Allow from this source, once done you can proceed with the installation.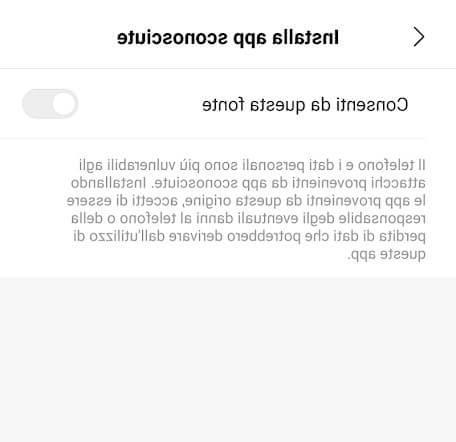 How to add new repositories?
We said that Aptoide relies on repositories, also called Stores, to thestribute apps. At the first start, only the app store is configured, which is very populated. To have access to a greater number of apps just enter new repositories.
Inserting new repositories on Aptoide is very simple, just:
go down on the board Store;
on the page, tap on the item Follow Store;
a search popup will appear, you can search for a repo by name or press on Discover the best stores;
you can then choose one, explore it and finally press on Follow.
The new arrangement of the Stores closely resembles Instagram, we will be able to see the followers: the more a channel is followed, the greater the chances of fintheng interesting material.
What are the best repositories for Aptoide?
To follow these Stores just type their name in the search popup:
Leagoo Store;
Appstvcommunity;
betech
fajnetmarket;
Timtimstore;
octopus;
d0ss;
cdu-play-store;
antispam;
ctaos5;
mixal;
htcsense;
monsterrain;
indusians;
irishandroid;
exportfdt-de;
Andronexus.
Our in-depth study on this interesting alternative store has ended, have fun with the countless and interesting apps present.
Aptoide: how it works and the best repo of the store