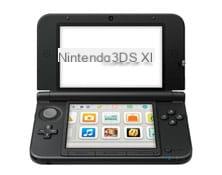 Nintendo DS, DSi, XL, 3DS ... Since the Black and White Game Boy, Nintendo's portable console has come a long way. Until the recent 3DS XL, several models are intended for children as well as occasional or passionate players. Overview of the capabilities and specificities of each console.
Nintendo DS
Nintendo DS Lite
Nintendo DSi
Nintendo DSi XL
Nintendo 3DS
Nintendo 3DS XL
Nintendo DS
Released in 2004, the Nintendo DS is the first console to offer a game on two screens simultaneously.
It is compatible with Game Boy Advance games thanks to a dedicated port.
Equipped with WiFi, with a range of 10 to 30 meters, to connect players to each other.
Nintendo DS Lite
Much lighter than the Nintendo DS, it is this which made the success of the Nintendo portable console. It is the best-selling console in the world.
Available in white, black, pink, red, green, turquoise and pink.
The model is also backward compatible with Game Boy Advance games.
Nintendo DSi
The DSi arrived in Europe in 2009. It succeeds the DS Lite with a thinner and lighter model.
It is equipped with an SD card reader, in particular for storing photos or games downloaded via Nintendo DSiWare, using Nintendo Points. It can in particular be connected to the home network.
Equipped with two indoor and outdoor photo lenses.
Available in metallic blue, sky blue and red.
Nintendo DSi XL
It is the first console model aimed at a more adult audience, and sometimes even senior, with greater ease of reading.
The console is bigger, with two screens twice the size of the classic Nintendo DSi.
The functionality is the same as on the Nintendo DSi.
Nintendo 3DS
Available since March 2011, it is the first portable console to turn to 3D. The top screen is adjustable for a level of comfort suited to the player.
In addition to 3D, several notable new features: a circular pad for game movements, and a console geared towards exchanging with SpotPass (WiFi connection) and StreetPass to record the data of players who are less than ten meters away. console.
Backward compatible with 2D games, but not with Game Boy Advance games.
Nintendo 3DS XL
The last model of the portable console was released in July 2012. It exists in several colors: white, black, blue, red, blue, silver or pink.
Twice the size of the 3DS, it's also wider, with rounded edges and a matte appearance.
Also integrates StreetPass and SpotPass functions. Equipped with a circular pad.
Sold without charger, but compatible with the Nintendo 3DS charger.