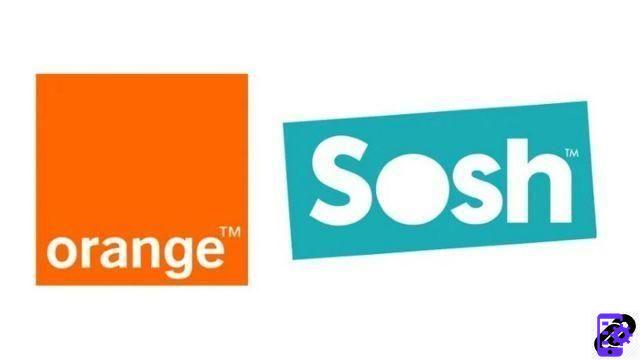 While Sosh takes advantage of Spain's leading mobile network, the low-cost operator also offers packages at attractive prices, all without any commitment. If you are an Orange customer, then there is a good chance of being tempted by one of the Sosh mobile plan offers. Good news, the migration from Orange to Sosh is easier and can be done quickly and directly from your customer area.


Why switch from Orange to Sosh? The advantages and disadvantages
At first glance, migrating from Orange to Sosh mobile has many advantages. However, we must bear in mind what differentiates Orange from its low-cost subsidiary before taking the plunge and subscribing to a new mobile plan with Sosh. We summarize for you in a few points the main advantages and disadvantages of a migration from Orange to Sosh.
Benefits of switching from Orange to Sosh
Sosh uses Orange's network infrastructure, so network coverage and quality remain the same


The attractive prices charged by Sosh and the frequent promotional offers


Sosh mobile plans are without any commitment


The Sosh online store offers many smartphones delivered unlocked
Among the other advantages, the migration from Orange to Sosh is greatly facilitated since Sosh is none other than a subsidiary of the Orange group. By switching from Orange to Sosh, you can easily keep your mobile number and your current SIM card.
The disadvantages of a migration from Orange to Sosh
Sosh is a 100% digital service, so you will no longer have access to in-store customer service


Digital service also involves an online store through which you will have to go to buy a smartphone


The "unlimited shared" option of Orange offers is not available at Sosh


Under certain conditions, migration from Orange to Sosh is not possible. This is the case for customers of the Orange Pro, Open Let's Go and Orange Let's Go offers.


Charges may apply if you are still engaged with Orange
Migrating from Orange to Sosh: the online process
You can leave Orange for Sosh by going to one of the Orange stores or by calling 39 00. But you might as well get used to Sosh's fully digital service by going directly to the Orange website.
To do this, simply go and identify yourself in your Orange customer area. On the home page of your account, we find the different mobile contracts subscribed. Select the contract concerned then click on "Offer and options".
Then go to the section "Do you want to change your offer? ". You will then be led to consult the catalog of offers.
Select the Sosh offer that suits you best by using the offer comparator. All that remains is to validate your order.
This approach also works from the Orange and me application.
What about the change of offer fees?
The Chatel law implies strict conditions for a change of offer or operators, conditions which are particularly interesting for the consumer in the case of a subscription over a period of 24 months.
Here is what to remember from the conditions implied by the Chatel Law:
If you have subscribed to an offer with a 12-month commitment with Orange, you will have to pay all the remaining months of commitment


If you have subscribed to an offer with a 24-month commitment, you must pay the remaining months up to the 12th month in full, then only 25% for the remaining months from the 13th month.
Finally, if you are no longer under a commitment period with your operator, the procedure is then free of charge.
Useful information from Sosh:
Sosh mobile network: what is the Orange network coverage worth in Spain?
Sosh mobile network: what 4G, 3G and 2G speeds for the telephone operator?
Expertsconnecting accompanies you during your steps at Sosh:
Sosh sponsorship: How do the advantages of the offer for mobile plans work?
How to connect to your Sosh customer area and manage your account?
How to configure your Sosh answering machine?
How to unlock a smartphone at Sosh?
Comment configurer l'APN Sosh sur son smartphone ?
How to enable Wi-Fi Calling at Sosh?
How to activate call forwarding at Sosh?
How to retrieve your RIO code from Sosh?
How do I contact Sosh customer service?
How to activate your Sosh SIM card?
How to cancel your Sosh mobile plan?