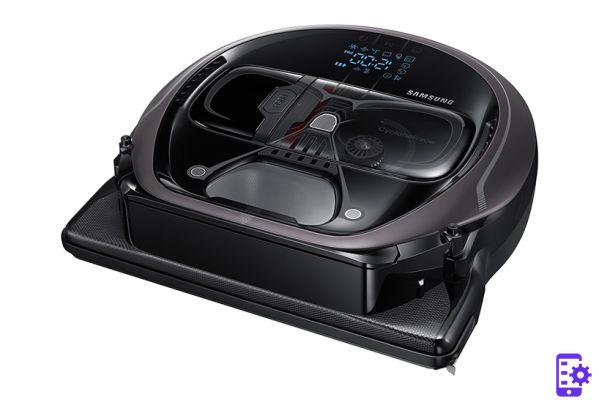 ---
If you love Star Wars to madness you can't miss the special edition of Samsung Powerbot VR7000, the robot vacuum cleaner inspired by the famous George Lucas saga.
Powerful but "noisy"
The first feature of Samsung Powerbot VR7000 Star Wars Special Edition what stands out is obviously the design. In fact, the appearance of this appliance follows the headgear of Darth Vader but rest assured, if you think that white is the color for you, know that there is also a version inspired by the unforgettable Stormtroopers.
Under the body we find all the technology of the Korean giant, including the integrated digital camera and nine sensors that create an optimal cleaning path and map your home, thus avoiding furniture and other objects. Then forget the EasyPass system. What is it about? Simple: Samsung Powerbot VR7000 is equipped with rbigger wheels that allow you to overcome obstacles and tackle any surface.
The innovative Shutter technology instead it allows the brush to stretch to capture dirt trapped in the corners and edges of the wall, while the CycloneForce guarantees constant power. The result is therefore more than satisfactory, thanks also to the possibility of opting for turbo mode where the dirt becomes more insistent.
But remember that we are talking about a robot vacuum cleaner inspired by Darth Vader. This means every now and then you'll have to live with its typical heavy breathing and the occasional imperial march.
A minimal application
Samsung Power VR7000 is one of those devices that belongs to the world of IoT, i.e. the Internet of Things. This means that you can connect it to the wireless network at home and then manage it remotely via the application Samsung Connect.
This way you are free to start cleaning whenever and wherever you are. At your disposal then you have the possibility to opt for Spot cleaning, to increase the suction power and finally to check the battery status.
[
In any case, don't worry, the application is minimal but it works very wellor; its simplicity then allows anyone to use it, without risking doing too much damage.
To learn more about Samsung Powerbot VR7000 Star Wars Special Edition and see it at work, don't miss our video review.