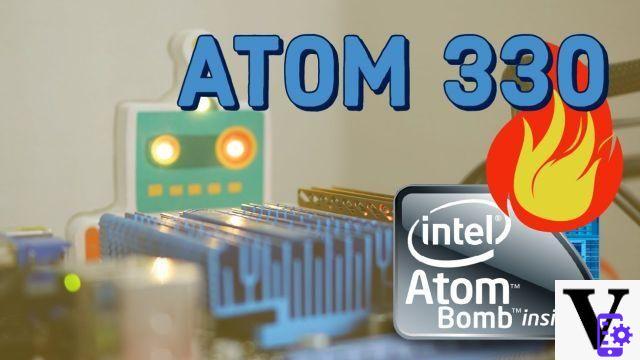 ---
Page 1:
Atom 330, dual-core for the little one from Intel
Once again, Intel has followed an approach that appears to be very economical: to create a dual-core Atom has joined two single-core Atom CPUs, and retained socket 441. This is the same method that Intel introduced with the Pentium D, and perpetrated with the Core 2 Quad family.
As we have mentioned several times over the past few years, it is possible to make a monolithic dual-core by creating a die with two chips, but this could lead to low yields in production. With a dual-core packaging system, however, Intel can select and validate the chips that will be used for single and dual-core configurations. The third approach - a unified dual-core processor - would have required more development, which is inappropriate for a product that must have a low cost.
The Atom of the future
The Atom processor is available from Q2008 XNUMX, and will be available again until the end of this year, when will be replaced by a more complete solution called Pineview, whose entry on the market will be accompanied by the new Pine Trail-D platform, with which we will see the new chipset. Both the graphics and the memory controller will part e of the Atom next generation, initially with dual-core models, and then with single-core solutions. Intel thinks it can reduce the total package size by 70% and the TDP by 50%.
The Atom of today
Since the Atom 230 and 330 will be on the market for over a year, the question is whether or not it makes sense to have a dual-core system for a low-cost PC with undemanding applications. Will the dual-core Atom 330 also undermine the throne of efficiency in the hands of low-end Core 2 systems?
Atom 330, dual-core for the little one from Intel