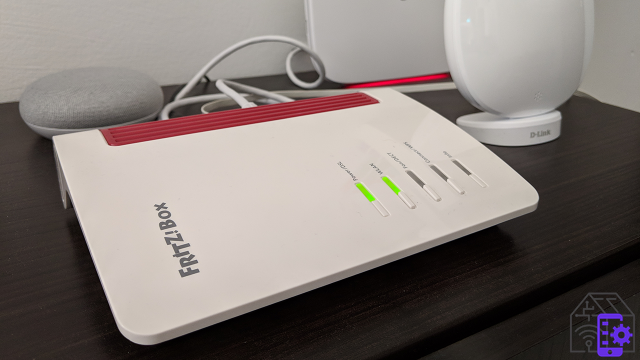 The aficionados among you will know: my relationship with modem routers from Shopping Mall it has always been confrontational. On the one hand, they have always boasted cutting-edge functionality, but on the other hand they relied on a decidedly antiquated design. But things have finally changed and he thinks about it to prove it AVM Fritz!Box 7530. Such as? I'll explain it to you in this review.
Finally modernity
Il Fritz! Box 7530 is the first AVM entry-level to show off a totally contemporary look. So forget the gray socca and the 80s spaceship look. In fact, this gem is now decidedly more elegant, characterized by clean lines and a white colored upper part, except for a red stripe, which recalls the past design a bit, and for 5 green LEDs that tell you the status of the network.
The inputs, on the other hand, are almost entirely on the back: there is a DSL / VDSL port, an a / b port for an analog telephone or an answering machine and 4 Gigabit Ethernet, in addition of course to the input dedicated to the power supply. On the left side you will also find a classic USB port, perfect for creating your own media server.
The magic of Fritz! OS 7
The real plus of this Fritz! Box 7530, however, is represented by the operating system. The new Fritz!OS 7 it's simple, lightning-fast and packed with features. Don't worry, you don't have to be an expert to appreciate it. Standard mode allows you to immediately have a complete overview of your network. It will then only take you a few seconds to check the status of the connection, the connected devices and even the current energy consumption.
The menu that you will appreciate the most, however, is called Home network and contains everything you need to truly control home connectivity. Inside, in fact, you will find a handy table that summarizes the devices connected to the network by specifying the type of connection (LAN or WiFI), the possible band to which you are connected (2.4 GHz or 5 GHz) and the transmission speed. Mesh network it will also detect any repeaters so as to show you what is connected to the main router and what to a FRITZ! WLAN Repeater or a FRITZ! Powerline.
Within the Home network you will also find an overview of the USB devices connected to your Fritz! Box 7530 e all settings dedicated to your Media Server. What is it for? Simple: you can connect any hard disk or USB stick to the modem router and then access its online content. A great way to watch movies, videos and photos on a smart TV.
Finally, I remind you that AVM Fritz! Box 7530 can be transformed into a real switchboard. In fact, you can use IP, analogue and fax phones together, use the DECT base to connect up to 6 cordless phones and opt for the integrated answering machine which saves messages and also sends them to you by e-mail.
AVM vs Vodafone
[
I had some small difficulties in the installation instead. In fact, in order to use it I had to connect it to my Vodafone Station, disable the latter's WiFi and start the configuration wizard. Yes, theoretically it should all be very easy: define how you intend to use it (alone or connected to another modem), indicate the operator and then let your Fritz! Box do the rest. The problem? Vodafone was not among the available providers. I therefore had to opt for manual configuration and take a couple of tries before I had a working network. Let's be clear, I'm not talking about hours of bad words and error messages: the operation lasted a maximum of 15 minutes and did not require very high level knowledge. I would simply have expected operator recognition and automatic setting of all the different parameters, which in my opinion is indispensable to widen the user base.
AVM Fritz! Box 7530: buy it or not?
The question is almost rhetorical because yes, the AVM Fritz! Box 7530 is worth buying. This modem router has everything you need: an intuitive operating system, functions suitable for both home and business use and a design that finally allows you to keep it in plain sight.
Sure, it's an entry-level that requires an investment of 149,99 € but I assure you it's worth it.
AVM Fritz!Box 7530
Pro
Attractive design
Fritz! OS 7 is intuitive and very complete
Simple installation ...
Cons
... apart from a few problems with Vodafone