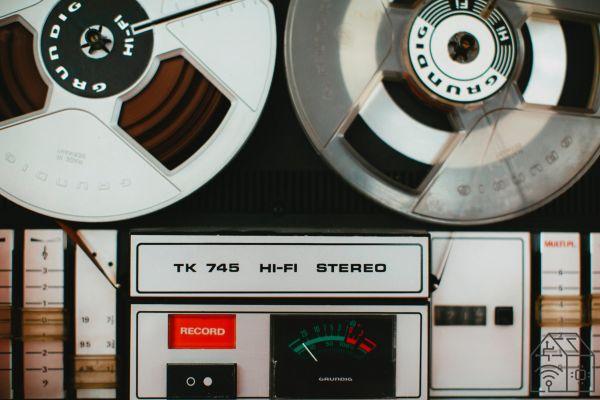 Many hi-fi enthusiasts complain that the Hi-Fi has become a passion of luxury. With this entry level Hi-Fi setup characterized by good quality and affordable purchase price, we will show you that never before is it possible to create a setup that can meet the needs of most without going fishing who knows where. Those who have a few years on their shoulders will remember the combined systems of 20 or 30 years ago which, let's face it, did not come away just a little, today instead you can take a first step in quality sound reproduction by spending a low figure.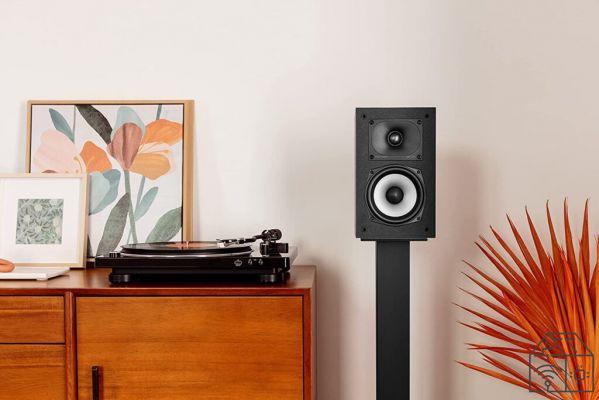 The entry level Hi-Fi speakers not to be missed: Polk Audio Monitor XT 20
Polk Audio is a historic American brand that is part of the giant Sound United. Its history begins about half a century ago. The American brand has given a lot of music both in the professional and in the home. The XT series was released on the market only a few months ago with the aim of making accessible to all a traditional Hi-Fi system or Home Theather. Products Polk-Audio they are designed and designed in the USA.
Le Polk Audio Monitor XT20 are two-way bookshelf speakers equipped with a dome tweeter in terylene capable of reaching 40 Khz (well beyond the audible threshold of a human ear) and a woofer also 6,25″ able to offer, as per the brand's tradition, a low range with a notable impact without forgetting to offer an intelligible mid range. Dust grids included in the scope of delivery.
If you are a lover of home cinema, know that the entire XT series is compatible with most AV receivers. Dolby Atmos e DTS:X to offer you an even more engaging experience.
The cabinets are made of MDF in order to keep the speaker away from annoying resonances.
The lines are very simple and essential and the only color available is the black one but it must be said that the list price is only 249 Euros, it is truly astounding. More information at the Polk Audio website.
The integrated amplifier for entry level Hi-Fi setup: Cambridge Audio AXA 35
Cambridge Audio is a historic English high fidelity brand that has always produced electronics with an excellent quality / price ratio. Model AXIS 35, as you can guess from the abbreviation, is able to deliver 35 Watt per channel into 8 ohms. Appropriate power for the speakers chosen to give sound to a room in a classic home environment. The gray finish with central display gives this integrated a sober and at the same time elegant appearance. Let's start with what's not there: a Bluetooth connection and an internal dac are missing. Instead they are present remote control line inputs and one input moving magnet phono to connect your turntable.
We chose it for its sonic qualities of a good level considering the extremely favorable purchase price. Extended and transparent mid-high range combined with good ability to reproduce the dynamic variations of the music that is fed to him. Do not forget the presence of a headphone output.
The list price is 360 Euros. More information on the Cambridge Audio website.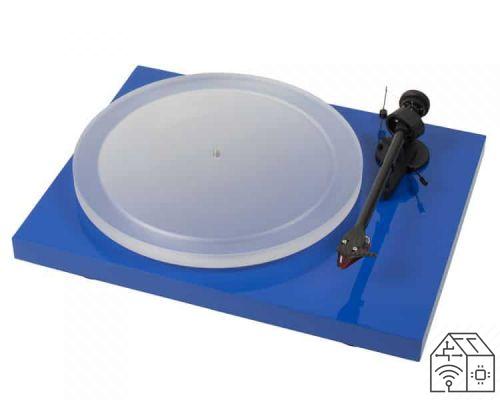 The source for your entry level Hi-Fi system: Pro-Ject Debut Carbon Esprit DC
Vinyl is the trend of the moment and considering the phono input built into the amplifier we couldn't not consider a turntable. Our choice fell on Pro-Ject Debut Carbon Esprit DC. This is a purely manual belt drive turntable equipped with a cartridge Ortofon 2M Red and a straight 8,6 ″ carbon arm. Very nice the plate made of 300 MM anti-resonant acrylic material. The engine is external and has been designed to offer extreme reliability. The Italian distributor Audiogamma reports on the website that it is only available in the lacquered Blue finish. The price list of this turntable is 449 Euros.
Final thoughts and prices.
What we wanted is to dispel the cliché that Hi-Fi is only for wealthy people: nothing could be more wrong. To start, count in hand, we spent about 1058 Euros relying on list prices, usually slightly higher than real street prices. We have also selected branded items reliable with a well-tested service and sales network behind it. Music is emotion, passion, memories. A good Hi-Fi system will only increase these sensations. At this point you have no more excuses, you just have to go around the shops or on the internet and experience the thrill of quality listening.
Discount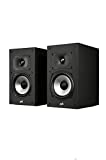 POLK AUDIO MXT20BK MXT 20 Stand Speakers, Black
Pair of Polk Audio Monitor XT series speakers, bookshelf type (bookshelf or stand) for Home Theater and stereo listening ...
Surround sound, High Resolution Audio Certified (Hi-Res Audio), Compatible with Dolby Atmos and Dts: X;
1 "Terylene dome tweeter (up to 40kHz) to enjoy high resolution movies, video games or playback ...
249,00 EUR −19% 202,51 EUR Buy on Amazon