How does cloud gaming work?
In a nutshell, cloud gaming makes it possible to play video games on different media without these being at the origin of the graphics processing. The computing power is deported to servers hosted remotely which run the games, which transmit the image to the players. To take advantage of such a service, therefore, in principle, access to an internet connection and a screen on which to play is sufficient: a computer, a box, a connected television, a smartphone or a tablet, for example.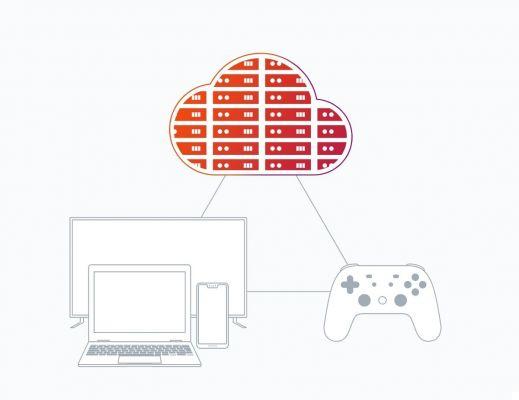 With cloud gaming, the video game runs on a remote server. The user just needs an internet connection and a screen. // Source: Google
By following this principle, we can therefore play the most demanding and sophisticated games with low-power or inexpensive devices, since the server takes care of everything. This transformation of video games is similar to what has been done in video with services like Netflix, or in music with Spotify. Here, the technology is a little more complex however, because it is necessary to limit as much as possible the latency between the server and the player, since the games are by nature interactive unlike other media.
Cloud gaming services already available
Xbox Game Pass (xCloud)
Long known as xCloud, Microsoft's cloud gaming service finally integrated the Xbox Game Pass Ultimate offer in September 2021. It allows you to play a selection of Xbox One games in streaming.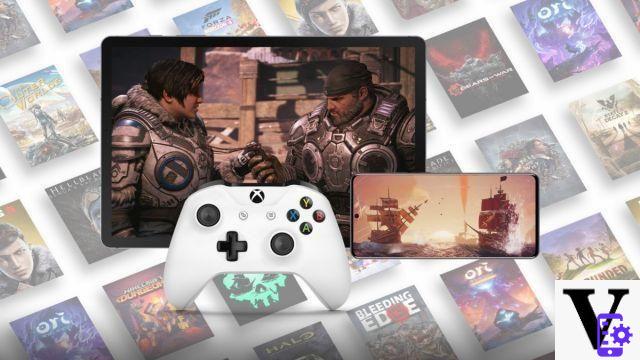 Source: Microsoft
In its debut limited to Android devices, Game Pass has been available since summer 2021 on most platforms. You can from an Xbox, Android, but also via any device with a browser. This means your Windows PC / Mac as well as your iOS device! On Windows, it is better to go through the Xbox application.
However, we are impatiently awaiting the arrival of dedicated applications, at least for Android TV, or why not directly in our television. After all, Stadia is indeed natively available on LG's 2021 OLED TV lineup.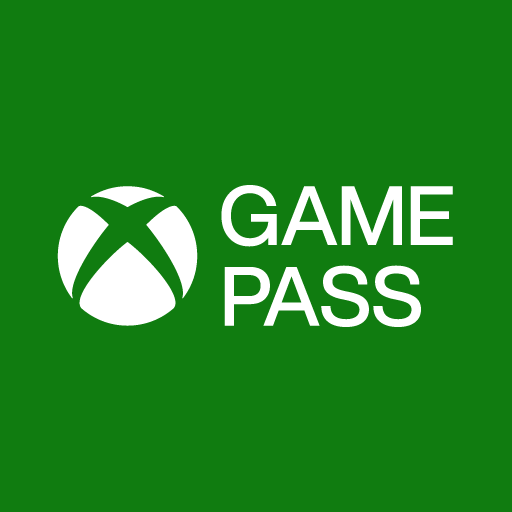 Xbox Game Pass
Download Xbox Game Pass Free APK
The subscription is offered at 12,99 euros per month and is presented as a real Netflix of the video game with a catalog of games of its own. It is possible to subscribe for half the cost. There are around a hundred titles there, whether they are successful Microsoft series (Gears of War, Forza, Halo, etc.), games from third-party studios or even independent ones.
The first tests are very positive with excellent stability when you have a good connection. Microsoft announces a recommended minimum speed of 10 Mb / s. Some games such as Minecraft Dungeons, SpiritFarer or Tell Me Why also offer touchscreen controls to do without a controller. Each month new games are added to the catalog available in cloud gaming.
Minimum recommended speed: 10 Mb / s
Compatible devices: Android smartphones
Subscription: included in Xbox Game Pass Ultimate (12,99 euros per month)
Games: a hundred
Subscribe to Game Pass Ultimate
Nvidia GeForce Now
Nvidia launched its GeForce Now service in February 2021 after many months in beta. GeForce Now provides access to a selection of compatible games from the Steam, Uplay or Battle.net game stores. The advantage is therefore not to force players to buy back games that they already own in these stores. The fact remains that if you do not have the games, you have to buy them, the paid subscription does not include access to a game catalog.
With Cloud Play, Steam integrates GeForce Now directly into its platform, which allows you to play directly on Nvidia's servers from the Steam client in a few clicks. Nvidia's weak point comes from the lack of agreement with certain publishers who explicitly refuse to offer their games on the service. This is the case with Activision-Blizzard, 2K and Microsoft's Xbox Game Studios. A complete list of games available on the service is now available.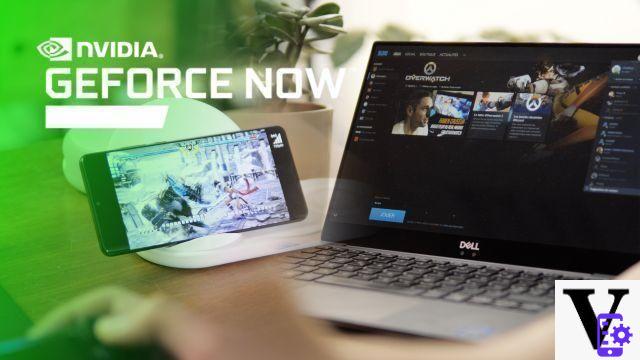 YouTube linkSubscribe to
Some games are said to be "optimized" by Nvidia. Understand that they are already available on Nvidia's servers, which saves the user a download and installation time. GeForce Now is currently able to display a maximum of 1080p at 60 frames per second, if your connection obviously allows it.
The two GeForce Now plans // Source: Nvidia
Nvidia offers two levels of service. The first is completely free and includes access to sessions of one hour of play. This access also requires waiting in a queue to access the game servers and has above all been designed to allow as many players as possible to test. service without spending a dime.
The second level is a paid subscription, at 9,99 euros per month or 99,99 euros per year. It allows queues to be skipped, gives access to an RTX display (with ray tracing) and extends the duration of sessions to 6 hours. Nvidia has made ray tracing display its workhorse for service. For example, he distinguished himself by running Cyberpunk 2077 in a better version than on console when it was released.
The service is now available on Windows and Mac OS PCs, Android smartphones and tablets, and the Nvidia Shield box. GeForce Now will eventually be extended to other services. A web version is also available, especially on iOS devices.
Recommended minimum speed: 15 Mb / s for 720p60 display and 25 Mb / s for 1080p60
Compatible devices: Nvidia Shield, Android, Windows, macOS, iOS (via a webapp)
Subscription: free - 9,99 euros per month or 99,99 euros per year
Games: login to Steam, Epic Games Store, GOG, Ubisoft Connect, and Battle.net accounts
Subscribe to GeForce Now
Sony PlayStation Now
Sony's PlayStation Now offers unlimited access to a catalog of PS2, PS3 and PS4 games in the cloud for a monthly subscription. The service can only be accessed from a PS4, PS5 or Windows PC. In total, more than 600 games are available for streaming with an image limited in definition to 720p. Note that it is possible to download the PS4 games from the catalog on a PS4 or a PS5 to play them, even offline and in native definition. The service has several million subscribers.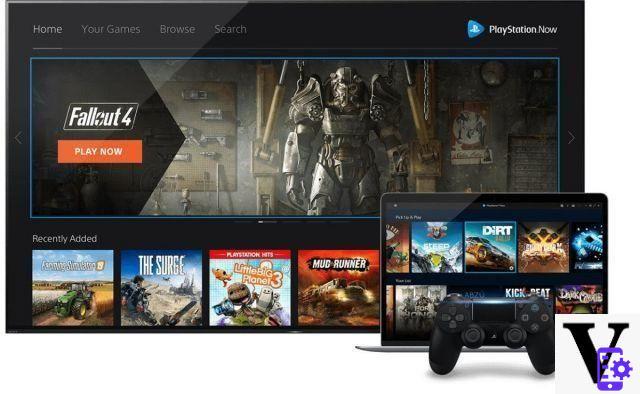 L'interface de PlayStation Now // Source : Sony
The game catalog is quite extensive, and allows you to play cult licenses of the PS2 or the PS3 (like Red Dead Redemption). Every month, the company adds new games for users of the service. With the ability to play streaming, it is very easy to switch between games without any loading time.
In addition to the inability to access the service from any screen, connected TV and smartphone in the first place, we regret a catalog of games a little sparse in recent titles, including the great exclusives of the PS4 which are slow to arrive. Faced with the competition, the giant has however decided to offer each month strong games from its catalog such as Metro Exodus or Spider-Man. Please note, these titles are available on a temporary basis, usually three months, in the catalog.
The subscription costs 9,99 euros per month, 19,99 euros per quarter or 44,99 euros per year. The service offers a free seven-day trial period, which is handy for checking that everything is working fine on its connection. Also, access to the multiplayer mode of the games present on PlayStation Now does not require an additional subscription to PlayStation Plus.
Minimum recommended speed: 40 Mb / s
Compatible devices: PS5, PS4, Windows PC
Subscription: 9,99 euros per month, 19,99 euros per quarter or 44,99 euros per year
Games: Unlimited access to over 700 PlayStation games, including 300 PlayStation 4 games
Google Stadia
Google Stadia is a next-generation cloud gaming service, which fully marks the giant's entry into the video game industry. It is neither more nor less than a dematerialized game console, with the announced power of 10,7 Teraflops (against 6 Teraflops for the Xbox One X or 12 Teraflops for the Xbox Series X). The service is accessible on TV, using a Chromecast Ultra and a Stadia controller, on PC with Google Chrome, and on Android with the official application.
Here is the list of compatible and optimized phones for Google Stadia according to Google (the list has never been updated):
Pixel 2, 2 XL, 3, 3 XL, 3a, 3a XL, 4, 4 XL, 4a, 4a (5G), 5
Samsung S8, S8 +, S8 Active and Note 8
Samsung S9, S9+ et Note 9
Samsung S10, S10 +, Note 10 and Note 10+
Samsung S20, S20+ et S20 Ultra
OnePlus 5, 6, 7, 7 Pro, 7 Pro 5G, 8, 8 Pro
OnePlus 5T, 6T, 7T, 7T Pro, 7T Pro 5G, 8T
OnePlus Nord, N10 5G, N100
Asus ROG Phone, ROG Phone 2, ROG Phone 3
Razer Phone and Razer Phone 2
LG V50 ThinQ, V50S ThinQ, V60 ThinQ, G7 ThinQ, G8 ThinQ, Wing
Google also offers, thanks to an experimental setting, to make the service accessible on all Android smartphones, but the firm no longer guarantees the quality of the experience in this case. The service is also accessible on iPhone and iPad via a web version on Safari.
The service is regularly updated with new features. For example, you can join a friend's part using a simple shareable link, or a live streamer's part thanks to an integration with YouTube.
To learn more
All about Google Stadia
Registration can be done directly on the official website of the service. Access is free and includes a display limited to Full HD 1080 and 60 frames per second. A paid subscription called Stadia Pro is also offered. This subscription, billed at 9,99 euros per month, offers display quality in 4K UHD, games offered regularly and discounts on games in the catalog. These free games remain available as long as the Stadia Pro subscription is active.
Google also offers a Google Stadia Premiere Edition kit at 99 euros including an official Google Stadia controller and a Chromecast Ultra. Note that the Stadia controller is unique in that it connects directly over Wi-Fi to Google servers, which helps reduce overall latency.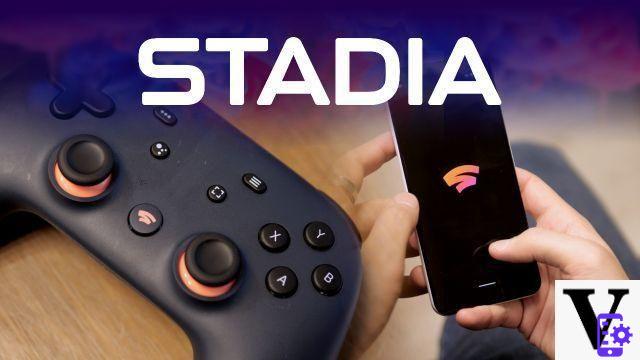 YouTube linkSubscribe to
Please note, Google Stadia is not the "Netflix of video games": the firm does not offer a subscription offering unlimited access to a game catalog. Google has just joined the video game industry, the game catalog is still limited and Fortnite is missing, for example. On February 2, 2021, Google announced the closure of its own video game studios. In doing so, we can legitimately wonder about the future of Google's cloud gaming service.
Google recommends a download speed of at least 10 Mb / s and offers a test on its site to check if an internet connection is sufficient to play in good conditions.
Minimum recommended speed: 10 Mb / s
Compatible devices: Chromecast Ultra, Chrome (Windows, Mac, Linux), Android, iOS (via a webapp)
Subscriptions: free for Full HD, or 9,99 euros per month for 4K UHD
Games: purchase individually from the Google catalog
The services we are expecting soon
Amazon Moon
First known as Project Tempo, Amazon's cloud gaming service was finally introduced completely on September 24, 2021 as Amazon Luna.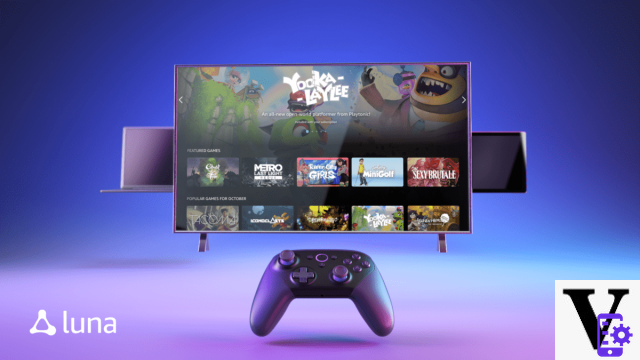 L'interface d'Amazon Luna
Luna is in Early Access in the US at a (temporary) price of $ 5,99 per month. For the moment, no announcement has yet been made for your country and we are therefore still awaiting more information on his arrival in our regions, certainly in the months to come.
This subscription gives access to "more than 100 games" of the Luna + package (Resident Evil 7, Control, A Plague Tale…). Subsequently, it will be necessary to subscribe to other packages to unlock other games, grouped by publisher, and perhaps one day by genre. The interface is also arranged like Amazon Prime Video, with different "channels".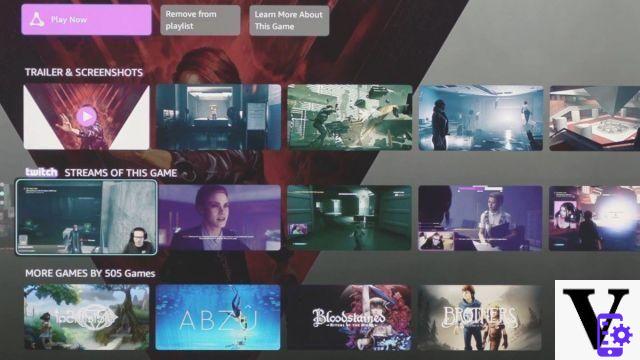 It is to date the cloud gaming service accessible on the most platforms since it can be accessed from Fire TV boxes and HDMI keys, computers (Windows and macOS), several Android smartphones, but also iPhones and iPad through Safari. Just like Stadia, you can play it with your usual peripherals, or with a special controller that connects directly to Amazon's servers via WiFi in order to reduce latency. Here is the list of compatible smartphones:
Pixel (4XL, 4a, 4a 5G, 5)
Samsung (S10, S10+, Note 10, Note 10+, S20 5G, S20+ 5G, S20 Ultra 5G, Note 20)
OnePlus (7, 7 Pro, 7 Pro 5G, 8, 8 Pro, Nord, 7T, 7T Pro, 7T Pro 5G)
Owner of Twitch, Amazon has also thought of creating bridges between its cloud gaming service and the video streaming platform. If you watch a Twitcher play a title available on Luna, you will be able to launch it directly with one click.
Recommended minimum speed: 10 Mb / s for 1080p, 35 Mb / s for 4K (coming soon)
Compatible devices: iPhone and iPad via Safari, Android, computers and Fire TV
Possibility to play on 2 devices at the same time
Subscription: $ 5,99 per month, optional publisher package
Games: a hundred
Electronic Arts
Electronic Arts also wants to get into the race. The video game publisher announced at E3 2021 that it was working on its own cloud gaming service. In October 2021, we learned a little more about this service, through a publication on Medium by EA's CTO, Ken Moss. The cloud gaming service is called Project Atlas and the least we can say is that the contours of this product remain blurred. This service should combine Frostbite (graphics engine designed by DICE for EA), servers in the cloud and artificial intelligence. A promising project therefore, but which we know very little about, starting with the date of marketing.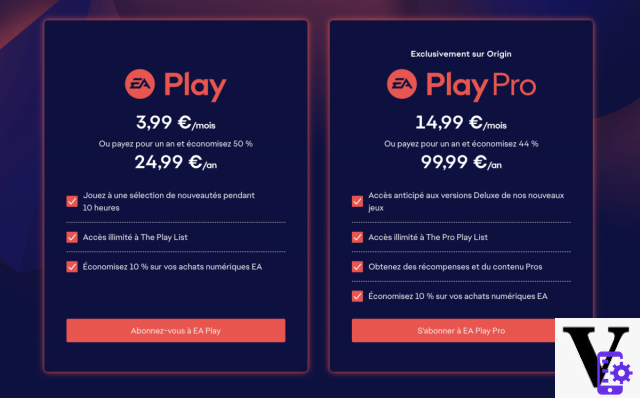 EA Play and EA Play Pro offers // Source: Electronic Arts
While waiting for the publisher's in-house service, Xbox Game Pass Ultimate subscribers are entitled to games from the EA Play catalog in cloud gaming.
With its EA Play Pro service, available on PC, Electronic Arts already offers a subscription dedicated to video games. It gives access to a catalog of the best titles from the publisher, and a few other video game players, but above all access to new EA games, a few days in advance of their commercial release.
But what are they waiting for?
As you can see, cloud gaming is transforming the video game market. The main players in digital technologies offer or develop their services. However, some brands remain very discreet on the subject.
Steam
With its Steam dematerialized game store, Valve has become the leader in PC game distribution. The giant must now face increasingly fierce competition, especially with the Epic Game Store driven by the success of Fortnite. Valve does not seem to be ready to launch its own offering, but wants to make room for other services like GeForce Now with Steam Cloud Play.
Apple
Will Apple go to cloud gaming in its race for services? The Cupertino company is diversifying its sources of income, in particular in the area of ​​services. After a successful launch of Apple Music, and open to Android, the Apple brand turned to the press, with Apple News +, and video with Apple TV +. On the video game side, the firm is content for the moment with the Apple Arcade subscription reserved for its ecosystem of devices.
Nintendo
Nintendo rarely does like its competitors Microsoft and Sony. Instead, the Japanese brand is following its own path, and it is successful in light of the commercial success of the Switch. Nintendo going to cloud gaming? We do not know.
Note that some players did not wait for the manufacturer's approval. In Japan, games like Resident Evil 7 or Phantasy Star Online 2 are available on the console and go through the cloud to work. These versions are handled by Ubitus, which are intended exclusively for the Asian market for the moment. More recently, Nintendo announced the arrival of games like Hitman 3 or Control, still in cloud gaming.
The case of Shadow, by Blade: cloud computing
Shadow is a cloud computing service, which is a bit broader than cloud gaming. You don't get access to a simple game catalog, but to a virtual gaming PC running Windows 10, for a monthly subscription. This computer can be accessed from most devices: Windows PC and Mac, Android or even iOS. Shadow also offers its own access box with the Shadow Ghost.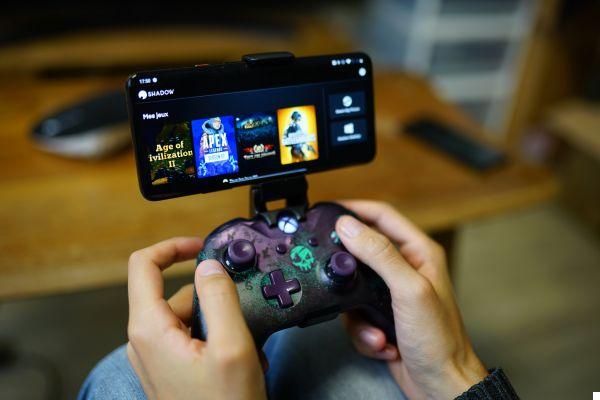 Shadow offers a simplified interface on Android to access its games
Once Windows 10 is configured, Shadow behaves like a PC, so you have to buy the games yourself, but this also means that you can easily access your different existing accounts: Battle.net, Steam, Origin , UPlay or even Xbox Game Pass. It is up to you to manage this computer, to install the games of your choice within the limit of the available storage and to update the Nvidia drivers.
Shadow offers a single subscription at 29,99 euros per month for a configuration equipped with an equivalent of a GTX 1080. Equivalents of RTX3000 are being ordered to improve this configuration, but the break does not help.
There remains a major concern: the waiting list for a machine is several months ... Fairly average for a service whose main advantage is immediacy ...
The future of video games, but which still has some flaws
Presented like this, cloud gaming has everything to be the future of video games. Whether on a smartphone, tablet or computer (even a Mac), it becomes technically possible to play your favorite games from anywhere, and from anything.
No need to buy the latest game console, graphics card or equip your computer with more RAM either: a subscription to a cloud gaming service offers access to a powerful machine that you do not need. to care. But above all, it's very simple: no need to download the latest drivers or optimize the display settings. Playing a game becomes as easy as watching a series on Netflix.
However, cloud gaming is not yet the perfect solution to replace home computers and consoles. The technology is in its infancy and at the moment you need a very good, very stable connection. The preferred configurations are therefore fiber or a very good VDSL, with a local Ethernet connection rather than Wi-Fi. Even though the connection is excellent, it is impossible to avoid a certain latency time when the we use a cloud gaming service. Even if it is minimal and almost imperceptible for some, it remains too important for purists who will still favor the purchase of a gaming machine. The best is still to test to find out where you are.
The promises of 5G
Some faults that a technology of the future could well eliminate: 5G. If there is one niche in which this new generation of the mobile network is expected, it is latency. 5G could offer a response time of around 1 millisecond, compared to 10 currently. As such, a Microsoft official associated 3G with the development of music streaming, and 4G LTE with video streaming, explaining that 5G would have the same role for video games.
Increased responsiveness, which should allow more people to benefit from a better quality cloud gaming service.
To follow us, we invite you to download our Android and iOS application. You will be able to read our articles, files, and watch our latest YouTube videos.
Everything you need to know about Xbox Game Pass
Xbox: You can play Game Pass games without downloading them
Xbox Game Pass: Flight Simulator gets a major update
Phil Spencer: "Xbox Game Pass is already very, very viable"
Microsoft Store: the integration of mods finally simplified
Xbox Game Pass PC: 3 months offered by the Culture Pass, how to take advantage of it?