Memes are nothing more than images (sometimes from movies, TV series or famous people), accompanied by funny phrases. This phenomenon is depopulated on social networks and messaging apps, becoming viral in a short time. The term "meme" comes from the Greek "mímēma" which means "imitation"
It often happens to share some meme that made us laugh with friends, but it can be even more fun to create new ones from our photos or our experiences. In this article we will cover all the best apps and sites online for creating memes.
But first we leave you to a small collection with some of the gods most famous memes:
The best apps to create memes on Android and iOS
Meme Generator Free (per Android e iOS)
This is a free app, with many images available and super simple to use, just a little creativity is enough to create memes with a sure effect. The app is truly complete, appreciated and cared for. Immetheately after starting, you can select one of the countless models, or import your own photo or take it. Just a few taps are enough to create your own meme, you have to: choose a template, enter the text (and if you want some stickers) and finally, with a touch, save the result or share it therectly on social networks. downloading this wonderful app is simple (you can find it for free with advertising) on ​​the Play Store and App Store.
memasik (per Android e iOS)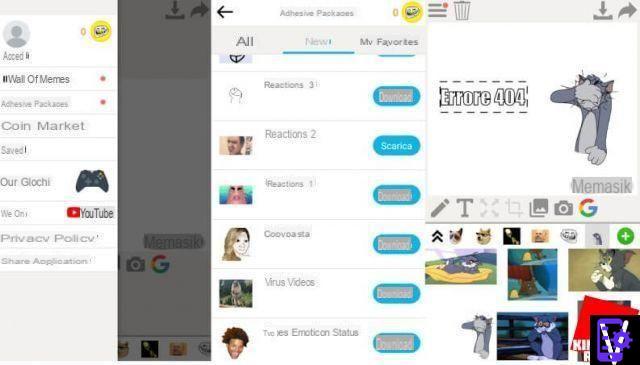 It is a simple to use but very effective app, allows you to obtain excellent results and to express your creativity even better. It works very simply, those who make stories on Instagram will probably feel at home, given the similarities. Here we have no bases, but an endless collection of sticker packs, which contain images that we can use for our memes. Most of the packages are free, but some will require purchase with points. This app is also free with advertising on the Play Store and App Store.
Memedroid (solo per Android)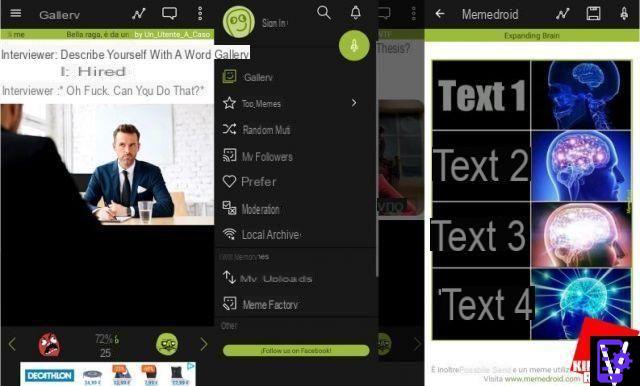 If you need some inspiration, or just want to have a few laughs, Memedroid is for you. It is in fact a fast and free app that allows meme enthusiasts to share their creations, and to rate those of others. In adthetion, there is also the possibility to use the convenient ethetor included (Meme Factory) for their own creations. This app is also free with advertising, you can download it from the Play Store.
Meme Generator by MemeCrunch (for iOS only)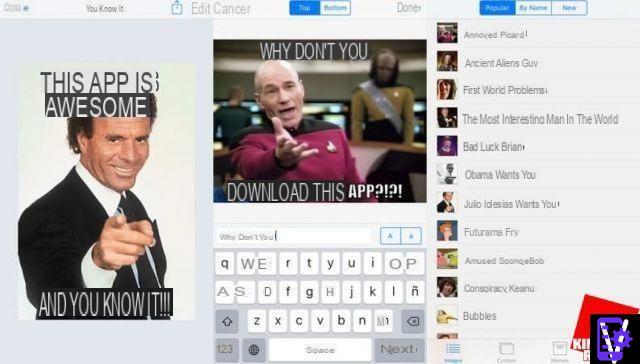 This is probably the best-in-class app for iOS, it's comfortable to use, offers tons of images, and offers a clean, simple and elegant interface. For these reasons it is particularly popular, plus iCloud support is complete. The app is free, always with advertising, on the App Store.
Meme Creator (solo per Android)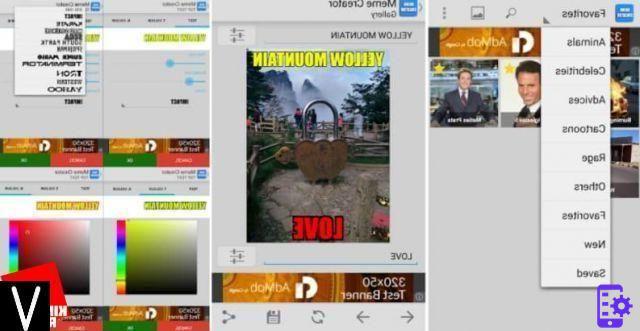 Probably the app that in this collection offers more images, well over 500 (thevided by categories: Animals, Celebrities, Tips, Cartoons, New and others) and more than twenty styles for the associated writings. If you want to unleash your creativity to the maximum, this is the app for you. The app is free with advertising on the Play Store.
The best sites to create memes
An alternative method to apps for whom crea meme in large quantities, is given by the many sites on the net, which allow you to create free online memes. Here are the best ones we have chosen:
Imgflip.com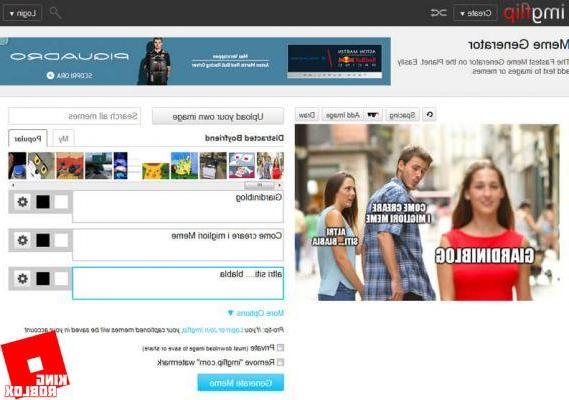 To create beautiful memes, quickly and easily, Imgflip is the ideal site. Some of the most famous and used images are already available (you can also search in the "Search all memes" space) or if you want you can upload your own image by clicking on "Upload your own image".
In the end you just have to add your custom text to complete the meme. To save what you have created, just right click on the image and click on "Save image as". This little trick will allow you to have the photo without the watermark, which will appear instead if you click on "Generate Meme".
In memes created with this online service, you can also change the color of the text and the border of the same, also adtheng, if necessary, additional fields in which to write. Between meme generator o meme creator, this is definitely one of the best services.
iloveimg.com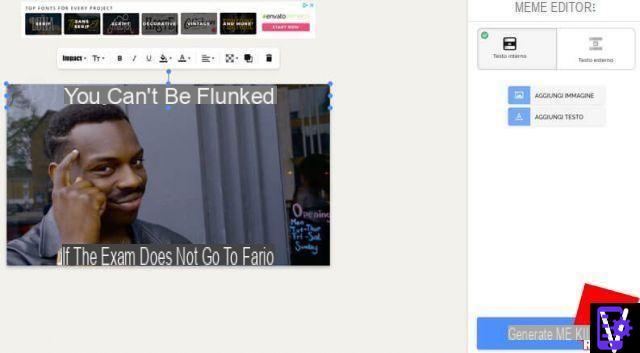 Another very valid online service to create memes is iloveimg, a slightly less intuitive site but with all the entries in others languages. Here, too, you just need to upload your own image (even from drive or dropbox) or select it from those available (by clicking on "Select template meme"). Insert the text you prefer (text that can be changed in position, font, size, etc.) and click on "Generate Meme".
You can at this point download the generated meme (which will be without watermark) or share it therectly on a social network.
Memegen.it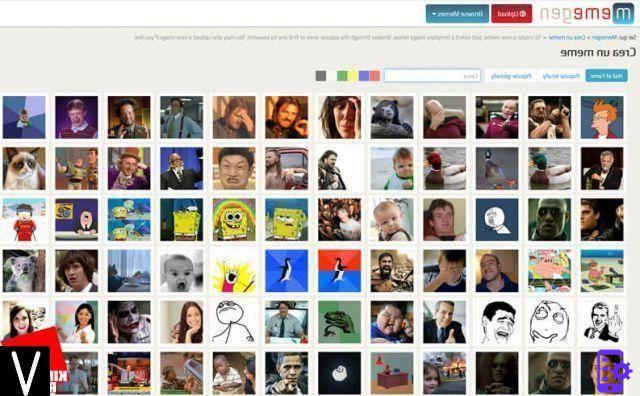 Memegen is a very quick site to create memes, which immediately offers a large gallery of images to choose from. Then you have to enter the text, which compared to the other services mentioned above is less customizable and ethetable. By finally clicking on "Create Meme" you will have the result ready to share or save by simply clicking with the right mouse button on the image and selecting the item "Save image as".
Create personalized Memes: the best Android and iOS apps and online sites