By now Google and its handy services have entered the orthenary in our computing lives. We started with Gmail, the company's cloud email client, to reach Calendar, Drive, Google Docs, Maps, Keep, Google Photos and much more. All these free services are able to provide us with help every day and to use them you just need to have a Gmail or Google account (they are almost the same thing).
In this quick guide we will see how to create a new gmail account on each platform to be able to use it both as your email address and to access all the other services offered by Google.

Crea account Gmail su Android
Surely on your Android terminal you will have a Gmail account, that is an e-mail box of the Google e-mail service.
This is an important premise, there are many who create a second account despite having a Gmail email address. Or that, despite having a Google account, perhaps with which they registered their Android phone, they create a second one.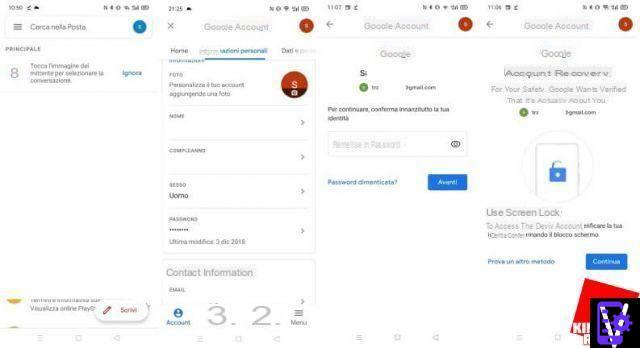 If you have Android devices (smartphones, tablets, etc.), sometimes configured by your relative or friend on duty, you may not know that you already have your Google account and your Gmail mailbox.
Recover Gmail account
You can recover your Gmail account in a very simple way, just:
open the Gmail app, it is present in all Android smartphones;
in the main screen of the app, press the circular icon at the top right (often if your photo is not there, there is the first letter of your name or surname);
then you will immediately find your Google account where the name with which the account was registered and the Google email address associated with it will appear.
Recover Gmail password
If you don't remember your password or you never knew it, you can easily reset it, just:
on the same screen, press the "Manage your Google Account" button;
then go to the "Personal Information" tab;
then press on the item "Password";
the current password will be requested, since you do not know it, you will need to press on "Forgot password?";
the last password you remember will be requested, if you know it, enter it and continue, otherwise click on "Try another method";
at this point we will be asked to use the phone unlock, there should be no problems with this, once used you can enter the new password and confirm.
Warning: as we will see in the next paragraphs, choosing a secure password is essential.
Create Google or Gmail accounts on the web
To proceed with the creation of the Google account in practice it will be enough to create a new Gmail address which can then be used as a "username" to access all the various services that Google offers.
If you want to create a new account, the procedure is really simple and can be done comfortably via the Web.
Here are the few simple steps required: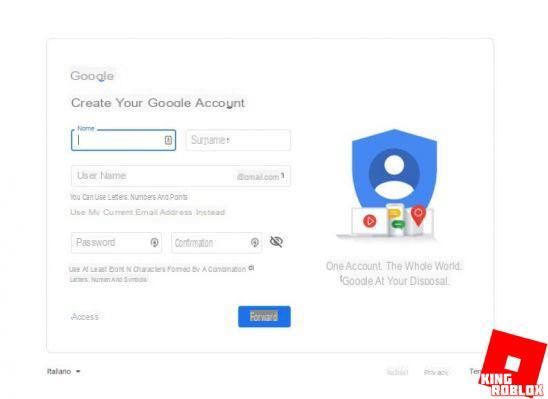 just open the web browser and go to the Google page to create a new account;
then fill in the fields with name, surname and email address you prefer (it may take several tests to find one not taken by anyone);
then enter twice the password you prefer and press the "Next" button.
The procedure from a mobile device is absolutely the same.
What is the Google account for?
The Google account is simply used to access the many services that the giant offers, a single account allows you to have access to all your data stored on Google services. By taking advantage of these services you can continue to work without problems, thanks to the cloud, on any PC connected to the Internet.
In adthetion to having access to a Gmail mailbox, with the Google account you can:
connect to Drive, the Google cloud;
process their documents through Google Docs;
store our favorite places on Maps;
upload our photos to Google Photos;
store our contacts in the Google Contacts address book;
always have our notes available with Keep;
create or join classes with Google Classroom;
video chat with Google Duo and Meet;
and very tall.
Is it dangerous to have a Google account?
Obviously, since Google is the center of our online life, it is necessary to protect our account well, because those who have access can get their hands on a lot of our personal data.
Who has access to our account can:
see our photos uploaded to Photos;
browse our files uploaded to Drive;
consult our emails;
know the numbers of our contacts;
know the location of our phone in real time (using anti-theft tools);
consult the history of our movements;
consult the history of our searches on Google;
know the passwords for accessing sites stored on Chrome;
and very tall.
For this reason it is important to choose a secure password for your Google account and not to share it with anyone.
All this amount of data that is available about us are accessible only through our Google account, so they are in no way public and are part of useful services (which, however, many users often do not know).
Create your Gmail account on PC and smartphone, it's easy!