Dell XPS 13 2020 review
Dell XPS 13 2020 review - Finding a flaw in the 2020 version of the Dell XPS 13 was really difficult. The new super-premium notebook from the US multinational is almost perfect but, honestly, we didn't expect anything different. This notebook is in fact certified Project Athena, the Intel program that collects premium devices devoted to mobility. The sticker - which reads "Designed for Performance on the Move" - well describes the main features of this laptop: light, compact, very fast and always ready to please.
Dell XPS 13 2020: the video review
Our configuration
Below is the configuration of the Dell XPS 13 9300 tested by us:
dimensions: 14,8 x 296 x 199 mm
Weight: 1,2 kg
Processor: Intel Core i7-1065G7
Graphic card: Intel Iris Plus
RAM: 16 GB
Storage space: 1 TB
Connectivity: WiFi 6 + Bluetooth 5.0
Ports: 2 Thunderbolt 3 with DisplayPort, 1 MicroSD reader, 1 USB-C to USB-A adapter
Display: 13,4 inch InfinityEdge - FullHD +
Webcam: 720p
Audio: 2 speaker da 2,5 W con Waves MaxxAudio Pro / Jack da 3,5 mm
Battery: 52 Wh / 4 that
Operating system: Windows 10 Home
The price of this configuration is 1.925,47 euro.
On the official website it is still possible to customize the device by finding the right combination between CPU, RAM, memory, display and budget. We therefore suggest you take a look to understand which variant might be right for you.
Solid and very elegant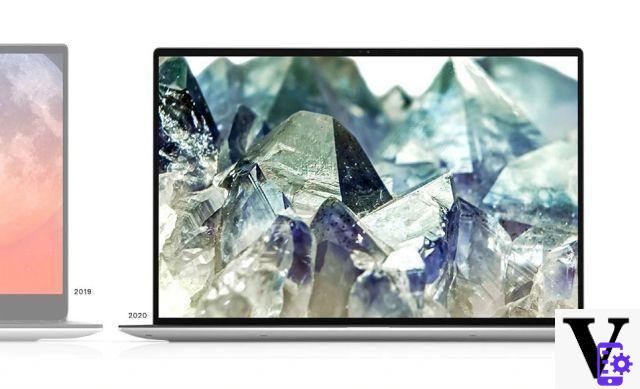 With Dell XPS 13 2020 the famous love at first sight took place. The notebook of the American company is super compact, very thin (14,8mm at the thickest point) and weighs only 1,27 kg. And then, let's face it, it's beautiful. The shell is in machine polished aluminum, the palm rest is in carbon fiber and the profile is anodized to prevent damage caused by continually connecting or disconnecting peripherals.
There are two further elements that I particularly appreciated. First of all space management. There are no useless and superfluous surfaces, the edges are reduced to a minimum and the trackpad is larger than the previous model, without taking away space for your wrists. The second aspect is the ability to open it with a finger. I know, it sounds trivial, but this actually means you won't have to use a second hand to hold it steady. To make this possible is the new double coil hinge, which still guarantees excellent stability when you go to use the touch screen.
Great display and satisfying audio
This brings us to the display by 13,4 inches, with aspect ratio of 16:10. In our version there is a FullHD + touchscreen but if you want you can also opt for the 4K Ultra HD + variant.
Regardless of the choice made, know that the yield is really excellent, with excellent color coverage, a brightness of 500 nits and the reduction of blue light. In addition, it is not particularly reflective and it is protected by Corning Gorilla Glass 6.
Also promoted audio that relies on two speakers located on the bottom of the device. Don't expect anything surprising but the two speakers still do a good job, perfect for enjoying a movie or a video call.
The microphones also perform quite well while we were not impressed by the webcam, with the image that is a bit grainy.
Writing with Dell XPS 13 2020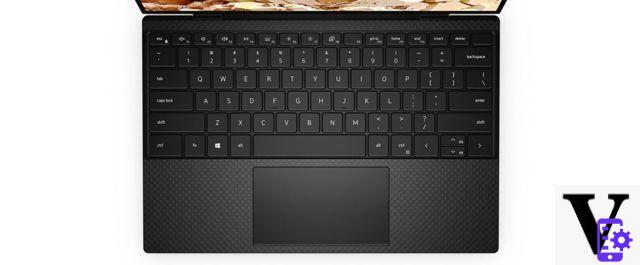 Much of our work is based on writing. Articles, emails, presentations, reports. We write all day and have a good keyboard it's really important. Dell XPS 13 2020 responds perfectly to this need. It does this with a really comfortable carbon fiber palm rest, with backlight and with Island keys that have a short but satisfying travel.
We also particularly liked the trackpad: it is solid, fast and precise.
Dell XPS 13 2020 review: top performance
The chassis hides a respectable hardware that we wanted to test with video editing. The result was more than good: in 22 minutes we exported a video. Not bad if you think that for the same movie it took an hour and a quarter using a gaming notebook with a few more years on its shoulders but equipped with a dedicated graphics card.
Speaking of GPUs, Dell XPS 13 2020 relies on Intel Iris, the XNUMXth generation integrated graphics card. The performances are superior to the previous model e enough to play some not too demanding title. But remember that it is not a computer born for video games.
A few words I would also like to say about the cooling system. Dell XPS 13 manages to dissipate heat very well. To be able to heat the lower part of the body you will have to use it a lot, while the trackpad and keyboard always remain fresh.
What autonomy!
Finally, let's talk about autonomy. Dell XPS 13 2020 managed to keep us company for almost 10 hours, which means you can use it for a full working day without worrying about recharging it.
Once discharged you can use its charger. The latter is really light and compact, obviously designed for those who travel a lot and do not want large dimensions.
Dell XPS 13 2020: buy it or not?
Dell XPS 13 2020 is almost a perfect machine, suitable for all those who want a premium laptop, a quality display, top performance and a long-lasting battery.
All this, however, is sold at a high price. If you want to save money, it's not the laptop for you.
To find out all the possible combinations I suggest you visit the official website.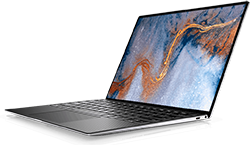 Dell XPS 13 2020
For
Stylish Design
Constructive quality
Great display
Top performance
Autonomy of 10 hours
Cons
Not exciting webcam
Challenging price
TagsDELL Dell xps 13 Dell XPS 13 2020 review Dell XPS 13 2020 review: the perfect notebook?