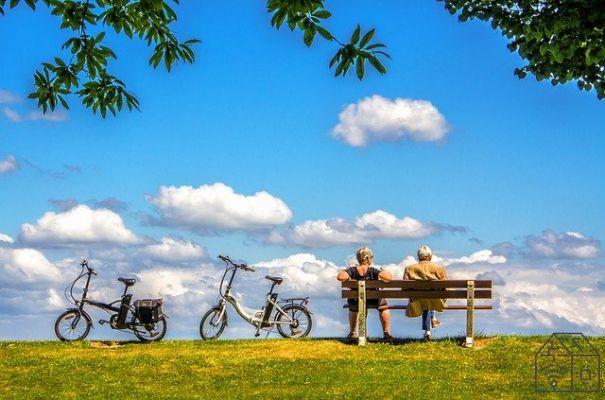 Electric bikes, calls e-bike by Anglophiles, they are bicycles from electrically assisted pedaling. So they are not "mopeds disguised as bicycles", but rather cycles that give you a "help" in the effort to pedal. This not only allows you to cycling to work even in summer without drowning in sweat but it helps cyclists to stay in the group during a picnic or to climb easily and then launch downhill on a mountain bike.
The phenomenon of electric bikes is expanding everywhere, even in Italy. In the last five years the number of e-bikes in the Peninsula was just over 50 thousand, while in 2019 they were sold 195 thousand units. More and more Italians want a means to move around the city without emissions and without making too much effort, as well as increasing sportsmen who want an electric push. But how to choose the right electric bicycle? There are a couple of things to know before you rush to Amazon with your credit card in hand.
How electric bikes work
An e-bike retains the main structures of a traditional bike: frame, pedals, saddle, handlebar and transmission (gearbox, chainrings, etc.). Plus it has a electric motor, which is powered by a battery. These two elements together give electrical assistance as you pedal, which you can generally adjust to how much you want to be "helped". Without human propulsion it stands still: it is not a moped.
Motor
The engine of an electric bike it cannot exceed 250 Watts of power and the power supply is cut off when you exceed 25 km / h. Within these parameters you do not need homologation and registration, nor a driving license and insurance. You can use it on cycle paths and tow trailers for children. The helmet is not mandatory for the e-bike, although we recommend it.
The motor of an electric bike can be positioned under the bottom bracket, to give stability with a low center of gravity. Could be back, in order to give direct transmission and recover energy, while unbalancing the weight backwards. Or it can be front, usually the cheapest solution but which makes driving less fluid, making the maneuver more difficult.
The technical differences between the engines are limited compared to other means of locomotion (due to legal limits). In general, just take a look at the mechanical moment to understand if the engine is also suitable for steeper climbs: le mountain bikes and trekking bikes will have around 70-80 Nm (Newton meter). Lower values ​​(up also to 40 Nm) are great for the city.
The best known brands are Bosch, Shimano, Brose, Yamaha, Panasonic, Inpulse, AEG e Bafang. This doesn't mean that other manufacturers can't make great engines. It is simply advisable to check out a few more reviews on performance and durability.
Battery
You can usually find the battery inside the frame, although not all models completely hide it. It recharges with one standard household socket (220 volts). THE battery volts and watts must be in line with those of the motor for the system to work well. So if you need to change the battery, check these two parameters carefully (it applies to the battery of any electrical device).
To get an idea of ​​the range of electric bikes, you will have to look at the Ampere-hour (Ah) oi Wattora (Wh). They indicate the same size: to go from Ah to Wh you have to multiply by the volts of the motor, vice versa you have to divide. The less powerful batteries from 7,8 Ah will have an average range below 50 km, those from 17 Ah will also reach over 130. Calculating the average battery life of electric bikes, however, is not simple: you have to take into account the ratio you use when pedaling, the total weight (the bike, you and possibly backpacks and packs) and the type of route (uphill jerks will consume more drums).
Pedaling or power sensor
The pedal assistance of an e-bike can be mainly of two types: at power or pedaling. The first case applies the electric assistance as soon as you load a pressure on the pedal, excellent for quick restarts. In pedal assistance, the energy will be delivered after a certain arc of rotation of the pedal, guaranteeing greater autonomy.
Types of e-bikes
The pedal assist can be applied, with a few exceptions, to all types of bicycles. This means you can find electric versions of city ​​bike, the classic bicycles to move around the city. But also of bikes from trekking, or real mountain bike until you arrive at racing or gravel bike (with a light frame but wider tires, a mix between mountain bike and racing bike). There are also folding bikes, which can be particularly useful for those who commute by train or for those with limited space at home.
The best electric city bikes
City e-bikes are perfect for anyone looking for a way to move around the city quickly and with little effort. Those who intend to use the bicycle only for the commute to work and to run errands can make the most of the practicality and economy of these electric bikes. Seek vertical seating, more comfortable for short journeys. The size of the wheels is not essential if you remember to recharge your bike every evening. What you really need is asufficient autonomy for the commute to and from work, good brakes and the lowest possible weight.
E-Moon by F.lli Schiano
This bicycle it costs very little for what it offers. At just over 600 euros it has a 250W and 36V motor, with one battery by 13 Ah which offers more than enough autonomy: at the lowest assistance levels it reaches well above 60 km. There are 5 levels of assistance, not really snappy but they make themselves felt. The Shimano gearbox allows you to use it even with muscle push (even if it weighs 25 kg). The on-board computer is really basic but very intuitive. The flaw is the battery under the luggage rack, actually quite common in electric city bikes.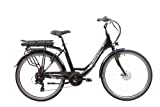 F.lli Schiano E- Moon, Unisex Adult Electric Bicycle, ...
The frame: Aluminum frame with adjustable handlebar attachment that allows you to hold the position of the body and a ...
The Motor: Powerful 129w ANANDA M250F front motor which offers long life and high performance and which can ...
The battery: GREENWAY YJ145 36V 13Ah 468Wh lithium battery, conveniently housed under the roof rack
699,90 EUR Buy on Amazon
NMC Munich
NMC is a German company that makes decent quality electric bikes, with a excellent value for money. Also in this case the motor is 36V and the battery is 13 Ah, providing good autonomy and a decent engine torque. TO 32 Nm is not snappy but it is enough to restart at the stops effortlessly (however, always keep a pedal up to activate the electric assistance). Again the battery is under the roof rack. The weight, however, is well balanced and the fork very resistant. We exceed a thousand euros but the product deserves it.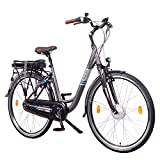 NCM Munich N8C 28 "Electric City E-Bike, ...
FRAME: The lightweight aluminum frame is available in 28 inches. The very low top tube allows you to go up and ...
FRONT MOTOR: The 250W brushless front motor, with a successful reputation for performance and durability, helps ...
The 36V 13Ah 468Wh lithium-ion BATTERY, in a compact and slim aluminum case, is expertly stored ...
Buy on Amazon
Ortler E-Summerfield
Ortler produces some of the best city bikes ever and has also been able to bring its quality to the world of assisted pedaling. The central engine Shimano is 250W, the battery under the rack is 418Wh. But it's the details here that make the difference: freni Magura, quality materials. And then it resembles in all respects a classic bike, one particularly studied in design. You can find this e-bike on Bikester.com at 2.499,99 euro.
Folding electric bikes
Folding electric bikes are very convenient for those who commute and have to fold your bike to get on the train or subway. But they are also great for the holidays, not taking up a lot of space in the trunk. And they offer good performance, even if they are not recommended for sports: the wheels are generally small and the center of gravity very low. They vary in price but are not as expensive as sports models.
FIIDO D2s
FIIDO D2s is a small and manageable bicycle. Only 1,10 m high and 1,35 m long, the measures are halved when you fold it: 65 cm by 75 cm. The 250W to 36V motor does its job admirably. The 7,8 Ah Li-ion battery has a nominal life of around 60km, which should be enough for urban use. There are 3 electric assist modes and 6 Shimano manual gears, although with the small wheels and 19,5 kg weight it would be better to avoid turning off the electric motor. This bike is a great package for commuters.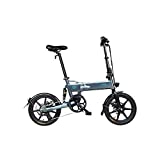 FIIDO D2s Electric Mountain Bike Electric Bike Electric Bike ... Buy on Amazon
Feather Silver
This electric bicycle has a colorful and modern design, designed and manufactured in Italy. Has one Samsung battery that recharges in 6 hours and has an autonomy of around 70 km. It also has a USB input for charging your smartphone while you pedal. At 22 kg in weight it is not very light, but the 3 levels of electric assistance help not to make them weigh so much. By purchasing it you will also be entitled to aAXA insurance, which makes pedaling in peace.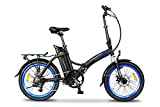 Silver Electric Bicycle Feather Folding City, Unisex ...
Wheels: 20 "x 2,125" brand kenda model k924; rims: colored aluminum, double shoulder, black spokes; ...
Frame: in aluminum, foldable with closing handle in the deluxe frame; max speed: 25 km / h; saddle: saddle brand ...
Lights: LED spanninga brand, front model hl 1900, rear model rl1900, management via display; display:...
Buy on Amazon
Gocycle GX
It weighs only 17,3 kg and folds up quickly and comfortably. Really, it only takes ten seconds with a little practice. The design is minimalist and the weight well balanced. The application allows you to set assistance on Eco, City or Sport (therefore without assistance), helping you automatically. The battery from 300 Wh takes 7 hours to be fully charged but then lasts around 70 km keeping the level of assistance to a minimum. An excellent bike, but with a rather high price, given that exceeds 3.000 euros.
Electric trekking bikes
You want to take a trip out of town and need some electrical assistance? You need a bike with a comfortable seat, agile changes and good autonomy (perhaps with the possibility of changing the battery on the fly during longer rides). The powerful electric torque of mountain bikes is of no use: they will not completely take away the fatigue on the climbs. But you can take a picnic without melting in the sun.
Atala E-Bike B-Cross
Lightweight aluminum frame e motor with a moment of 80 Nm, this bike is strong enough to be mistaken for a mountain bike (even if it doesn't have suspension). It also pushes on slopes of 20% (even if you will have to do a bit of effort too). The 500Wh battery is very good, weighs only 3 kilos and lasts a very long time (although how much depends on which of the 5 levels of assistance you choose). The onboard display doesn't look very modern but it has everything you need.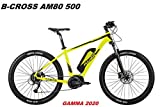 ATALA ELECTRIC BIKE E-Bike B-Cross AM80 500 Gamma 2020 (18 "... Buy on Amazon
Ortler Bozen performance
Ortler knows how to make his bicycles really well. This 2019 model is made of lightweight aluminum, weighs 25kg. The motor is Bosch, as is the 500 Wh battery, which can be charged quickly in 4-5 hours. Intuitive display, 9-speed Shimano gearbox and 63mm suspension. Shimano brakes are perfect if you decide to take a more demanding route. You can find it on bikester.com a 2.649 euro.
eMTB: Electric Mountain Bikes
While some purists will never accept having an electric motor on their mountain bike, eMTBs are here to stay. The weight is always decreasing and the modern suspension allows you to manage the jolts of dirt sections without risk. From a constructive point of view, the commitment with which companies work for is commendable distribute the weight to give stability to the vehicle. Whenever possible, we recommend that you try these models live, to see if the pedaling and road holding are right for your riding style.
NCM Moscow
Electric mountain bikes are usually expensive products, so it's interesting to see that NCM kept the cost of this bike under € 1.000. The 48V engine has six different levels of assistance, with a 6 km / h starting aid that helps you to restart uphill. The central battery has 13 Ah, which allow aautonomy up to 120 km in ECO mode, with a USB port for charging your smartphone (you don't want to abandon yourself when you can take a photo from above). The 7-speed Shimano gearbox and Tektro brakes complete a good technical department. The bike weighs 27 kg, which is certainly not a small amount. But the high autonomy and good performance make it a good product for those who need the eMTB for the weekend. Especially considering the price.
NCM Moscow Electric Trekking Bike, 250W, Battery ...
FOCUS ON QUALITY: Our unique electric bike frames and components have been rigorously tested ...
A STURDY STRUCTURE: The 100% aluminum alloy frame and fork reduce weight and ensure a long ...
POWERFUL PERFORMANCE: Our 15W Das-Kit X250 rear motor delivers exceptional torque in its ...
Buy on Amazon
Bianchi T-Tronik Rebel 9.2
The engine of this bicycle has a mechanical moment of 85Nm, which can give a fundamental hand even in the steepest climbs. There 630 Wh battery is impressive and should cover most excursions even using a high level of assistance, out of five present. The aluminum frame is resistant, the excursion of the suspension of 140 mm it should withstand a bit of everything. However, the price rises to € 3.999. On the Bianchi website you can find the nearest dealer.
Trek Rail 9.9
If you have no spending limits, you can aim for one of the queens among electric bikes. This eMTB has a Motor Bosch centrale da 75Nm with dimensions and low weight but with enormous performance. Depending on the terrain, it adjusts the electric assistance automatically to help you climb anywhere. The battery can be removed and changed without the need for tools. It weighs 21 kilograms and is made from carbon fiber. You can purchase it on the Trek website for €10.999.
Electric racing bikes
The heavy motor and battery weight don't go well with racing bikes, right? Well, up to a point. In recent years they are coming out interesting electric racing and gravel bikes (halfway with MTBs). Pure speed, they let you shoot when you need it and keep pedaling when the battery runs out (and runs out before you get home, usually). For cycles of this type we advise you to always test before purchasing. But taking a look costs nothing.
Focus Paralane
This bike has a really snappy Fazua motor, with a 250Wh battery which, however, ensures a 'autonomy even from 80 km. But you have to pedal a lot, after all why take a sports bike so as not to pedal? The Shimano gearbox has 11 gears, just like Shimano are the brakes. It weighs only 15,7 kg. You can find it on bikester.com for 3.999 €.
Orbea Gain M20i
Hard to find lighter electric bikes than this Orbea: the carbon frame it weighs only 11,83 kilograms. The Ebikemotion motor assists pedaling for about 75 kilometers, thanks to the 250 Wh battery inserted in the central tube. Shimano 11-speed gearbox, just like Shimano are the brakes. It costs 5.499 euros.
Ready to go
Now that you have chosen your e-bike, you just have to use it: for splash in the city traffic or in the woods, depending on the type of bike you have purchased. In any case you will have the wind in your face. And a little electric helper.