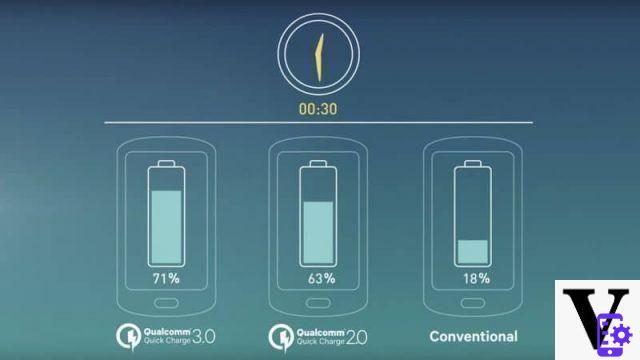 Fast charging has been around for several years now on Android. If Qualcomm's Quick Charge technology is the most widespread, it is not the only one and some manufacturers now offer proprietary technologies. Here is everything you need to remember about the different means offered.
Quick Charge, VOOC, Dash Charge… you must have heard these names before. And for good reason since it is an argument now widely put forward by manufacturers. Concretely, fast recharging allows you to recharge your smartphone more quickly than with traditional chargers which deliver a current of 1 Ampere on 5 Volts, or approximately 5 Watts of power.
To use it, you need a compatible smartphone and a compatible charger (not always supplied with the device) which can deliver, for example, up to 5 Amps on 5 Volts to reach a power of up to 25 Watts. The charging times will thus be considerably reduced.
Summary
How does fast charging work on smartphones?
Quick Charge, the fast charging signed by Qualcomm
Samsung Adaptive Charge
Oppo VOOC, fast and smart charging
OnePlus Dash Charge, the fast charging of the OnePlus 5 and OnePlus 5T
Motorola TurboPower
MediaTek PumpExpress+
Apple: iPhone X, 8 and 8 Plus
Huawei SmartPower
What is the best fast charging system for smartphones?
Comments
How does fast charging work on smartphones?
The basic principle of charging systems is simple. A rechargeable battery powers the smartphone over time. When this battery is empty, it must be recharged. To do this, the smartphone must be connected to a charger, which allows energy to be returned to the battery. The rate at which this energy is transmitted to the battery is measured in watts. The higher the number of watts, the more power, and the faster the battery is recharged.
Power, measured in watts, is calculated by multiplying voltage (measured in volts) by current (measured in Amps). An ordinary USB 2.0 port operates at 5V and 0,5A for a power of 2,5W. A fast charger at 9V and 1,67A creates a power of 15W. The best fast chargers currently rise to 36W.
However, it should be noted that smartphone batteries are charged in two stages. The first step can be performed with a large amount of power to recharge the battery to 80%. During the second step, the power is reduced until the smartphone is fully charged.
This is the reason why manufacturers tout how quickly their devices can be recharged to 80%, or only take 30 minutes to provide 8 hours of extra use. Generally, the 20% left can take 50% of the total recharge time. To understand fast charging, therefore, one must consider how many watts are produced by the charger during the two stages of charging.
Quick Charge, the fast charging signed by Qualcomm
At the start of 2013, Qualcomm presented the very first generation of Quick Charge technology allowing to reduce the charging times of smartphones equipped with a special chip by about 40% using a charger (5V - 2A) offering 10 Watts of power. For its part, Quick Charge 2.0 technology makes it possible to reach 36 Watts of power using a special charger (12V - 3A) thus reducing charging times by around 75%.
Better developed, the Quick Charge 3.0 technology found on smartphones of 2021 offers a voltage of 12 Volts but with improved management that allows it to recharge 71% of an average battery of 2750 mAh in just 30 minutes. Concretely, the charger distributes several voltages (more than 80) between 3,6 and 20 V in steps of 200 mV.
In November 2021, Qualcomm announced Quick Charge 4 (QC 4+), along with the Snapdragon 835 processor. This new version brings several improvements. First of all, Dual Charge technology divides the charge between two integrated energy management circuits. This reduces the recharge time by 15%, and reduces heat dissipation.
The second feature of QC 4 is "intelligent thermal balancing", which allows electric current to be shifted automatically to the coldest path, eliminating the risk of overheating. Finally, this fourth generation of fast charging introduces several security features, such as monitoring the temperature of the shell and smartphone connector. Quick Charge 4+ chargers, USB hubs and external batteries are backward compatible with QC 3.0 and 2.0 compatible devices. The first QC 4+ compatible device is the ZTE Nubia Z17.
Samsung Adaptive Charge
Under the name of this technology used since the Galaxy S6, we find fast charging based on Qualcomm's Quick Charge 2.0. It is also this technology that is found within the Galaxy S7 and the Galaxy S8 whose official charger offers up to 25 Watts of power with 12 volts and 2,1 amps. Concretely, only 30 minutes are enough to recharge 50% of the battery of the phone which offers a capacity of 3000 mAh.
Oppo VOOC, fast and smart charging
While Qualcomm's Quick Charge fast charging is very practical, it nevertheless tends to cause overheating, a problem that is not found with Oppo VOOC technology which consists in increasing the intensity of the current without increasing the voltage. We are thus left with a charger of 5 Amps and 5 Volts which can deliver up to 25 Watts of power without overheating.
But the list of differences with Qualcomm's technology does not end there since Oppo also uses special batteries made up of several cells that can be recharged simultaneously and USB cables incorporating more connectors than traditional cables. An efficient and innovative technology which, in its latest Super VOOC version, allows you to recharge 75% of an average battery in just 30 minutes.
OnePlus Dash Charge, the fast charging of the OnePlus 5 and OnePlus 5T
In the same way as Oppo with VOOC technology, OnePlus Dash Charge technology, used since the OnePlus 3, maintains a low voltage of 5 Volts combined with an intensity of 4 Amps, which allows it to offer a power of 20 Watts. It also uses a special cable that offers more connectors than a traditional USB Type C cable. The OnePlus 5 can thus be charged more quickly, while maintaining a normal temperature.
Efficient, Dash Charge charges 63% of the phone's battery in just 30 minutes. According to the first tests, the Dash Charge from OnePlus provides better results than the Adaptive Charge from Samsung. The only downside: this technology requires the use of a OnePlus proprietary charger.
Motorola TurboPower
The Lenovo firm also its own technology of Turbopower fast charge, as announced by the manufacturer on its official website. Its technology has been optimized by its engineers, it is a question of both hardware and software operation. This results in a battery that will benefit from an increased lifespan thanks to better thermal management. An essential condition not to have a battery that wears out too quickly and Motorola thinks that its solution is beneficial to smartphone users at this level.
Motorola shows the muscles on its site with a graph showing that its solution is the best by comparing it with those offered by the competition. As a result of the races, we find a solution based on Qualcomm's Quick Charge and capable of reaching 25 Watts. In 15 minutes it is able to offer 1000 mAh of charge to a battery fitted to a compatible smartphone. Efficiency that allows users to enjoy great performance without risking damaging their smartphone battery.
MediaTek PumpExpress+
Much less well known than other fast charging systems, MediaTek PumpExpress + is MediaTek's fast charging system, compatible with smartphones equipped with its Helio processors. According to the company, this technology cuts the charging time in half compared to a standard USB charger. This technology offers a voltage of 5 volts / 9 volts, and an intensity of 2 Amps. The power is 18 watts.
Apple: iPhone X, 8 and 8 Plus
The iPhone X, 8 and 8 Plus also benefit from fast charging. Apple talks about recharging 50% of the battery of its devices in just 30 minutes by relying on a solution delivering a power of 29 watts. It is clear that the Cupertino giant could not turn its back on this technology for long. In fact, you will have to put your hand in your pocket to be able to acquire a compatible charger, the most accessible being offered at around thirty euros.
Huawei SmartPower
Introduced with the Huawei Mate 8, SmartPower technology allows, according to the manufacturer, to recharge a smartphone in thirty minutes. Concretely, this technology offers a voltage of 5 volts / 9 volts, an intensity of 2 Amps for a power of 18 watts. Huawei promises a day of use in just 20 minutes of charging at the latest news.
What is the best fast charging system for smartphones?
If we compare all fast charging systems in terms of gross power, the various tests reveal that the technology Motorola TurboPower seems to be the most effective. However, this power comes at a cost, and this cost is the increase in temperature which can reach 20 degrees.
On the contrary, Oppo VOOC technology only causes an increase of 3 degrees. In the end, the best compromise seems to be Quick Charge 4.0 since the American firm promises a reduced temperature increase of 3 degrees compared to the QC 3.0, a charging speed up 15%, and efficiency increased by 30%. However, it will be necessary to wait until this new technology is compared to other systems under strict conditions to verify whether these promises are kept.
Share
Tweet
Share
Envoyer à un ami