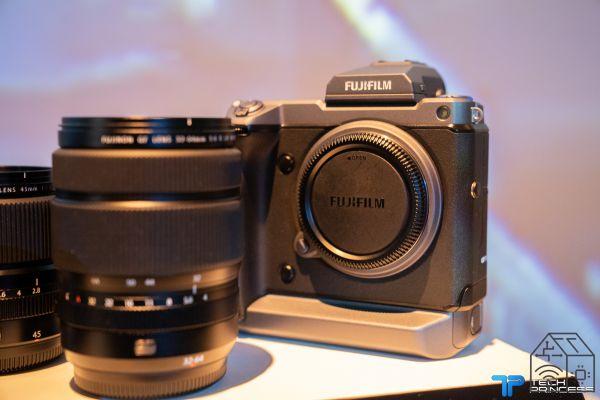 Fujifilm GFX 100 is no longer reality only on paper but also live and exhibits photographic possibilities and dynamic range that are difficult to replicate in other models. I went to the presentation event in Milan to try it closely and understand what possibilities will be offered to professionals with this new unique and difficult to imitate model.
Fujifilm GFX 100 Preview: a story to tell and to live
The Italian presentation of Fujifilm GFX 100 began with some important words from the representatives of the brand who showed how the Japanese company has been active and at the forefront for years in the field of photography and especially in that of color. It is no coincidence that Fujifilm offers all users the possibility to choose the type of film simulation to give splendid colors to their photos derived directly from the historical films that have made the brand great. Hence the essence of Fujifilm GFX 100, a revolutionary camera in every respect as it was at the time, in 1998, Fujifilm Finepix MX-700. That camera constituted a revolution in the digital sector as it was the first to offer a 1,5 megapixel sensor, numbers that were important at the time and that today are decidedly futile. With the same concept, Fujifilm offers GFX 100, a camera capable of reinventing photography, the details, the color management and, of course, the resolution of the final photos.
Fujifilm GFX 100 Preview: design and features
Fujifilm GFX 100 is an incredible camera that it would be wrong to call "medium format" because, although the diagonal of the sensor is equal to 55mm, in reality Fuji calls it "Super Full Frame" or, even better, "Large Format"To make it clear that this is a model from another category dedicated to the most demanding photographers who are looking for maximum details. The sensor in fact manages to reach the resolution of 102 megapixels, thus offering the highest resolution in the history of mirrorless cameras. Then there is a system Phase detection AF, ability to record movies in 4K@30fps con Output in HDMI in 4:2:2 a 10 BIT and range log, lo 5-axis internal stabilizer up to 5,5 stops and a burst of 5 fps, all features never before seen on a sensor of this type.
Fujifilm, in the internal construction of the GFX 100, left nothing to chance, also creating a suspended area with four resistant springs to minimize the effect of the shutter shock, thus creating an AntiShock on a decidedly large sensor. This means that, thanks to this protective cage, it will be possible to protect the camera not only from the various shocks of the shot but also from shocks with a mounted lens; in this way, you will not risk misaligning the optical axis with the sensor and you will avoid big problems that unfortunately could happen in other cameras.
Fujifilm GFX 100 Preview: a body to scream
The Fujifilm GFX 100 body is made of magnesium alloy, very robust and with integrated vertical handle that offers space not only for greater ergonomics but also for two batteries that allow up to 800 shots. The camera is resistant to dust and bad weather thanks to a watertight seal obtained by sealing 95 areas on the camera body. Speaking of weight, despite the presence of a large sensor, it is equal to only 1400 grams including two batteries, memory card and high-performance EVF viewfinder. This actually makes the camera very light when you think about the features and resolution. In fact, until now, medium format was conceived as studio cameras as, together with digital backs, they actually constitute a category of products that is difficult to carry for "outdoor" photos.
Together with Fujifilm GFX 100, accessories designed for videomakers were also presented, such as a protective cage that supports the assembly of various additional accessories, created by a Swiss company in collaboration with the Japanese brand.
Fujifilm GFX 100 Preview: my impressions
Holding and using a nearly $ 12.000 camera isn't an everyday thing but today it was possible thanks to this event organized by Fujifilm Italy and I was very happy to be able to understand and see with my own eyes what it means to take pictures at 102 megapixels. The body is actually very light and easily transportable. I loved the overall ergonomics, thanks also to the grip included in the body and above all the total fluidity of the system. The menu is in fact the classic of Fuji included in all cameras, so it will be easy for each user to find the functions and adjust the various settings.
Speaking of shots, I was able to try the camera a bit inside the event, noting that the JPEG files reach up to 40mb in size, while RAWs reach 200mb. Surely these are important dimensions that require not only greater attention when shooting but also sufficient storage capacity in your computer or external hard drives.
Certainly Fujifilm GFX 100 is not a camera for everyone and not just for the price: managing it is certainly not easy, both to shoot and to manage the shots, but in fact it is right, because this product is really only for professionals who require functions. specifications. Fujifilm GFX 100 is in fact perfect for those who work at very high and professional levels, such as in the automotive sector: I imagine the shooting of a new supercar for a very important brand in which products like this really make the difference in terms of dynamic range, autofocus, performance and final result.
The upper display is also excellent, customizable with a simple button placed next to it and that allows you to see not only the shooting data but also a histogram and a simulation of the rings present in the X series, so, if you have upgraded the equipment, you will not miss the previous Fuji. The third display is also well done, this time integrated into the battery grip, which further shows the parameters chosen for the shot, so you will not be able to find excuses: everything is clearly visible in a moment and at a glance.
We must not forget that we are talking about a camera that will be sold at a cost of around € 11.400, and it is also for this reason that it is good to remember that it is not for everyone. Although the figure is high, at first glance, in reality the quality-price ratio is the best, exactly as Fujifilm has always accustomed us in the world of cameras. It is not easy to find a product on the market with this sensor and this potential at such a price and certainly it is a hard blow for other historical brands in this segment. An interesting challenge awaits us for the future with megapixel shots, large sensors and incredible performance.
[