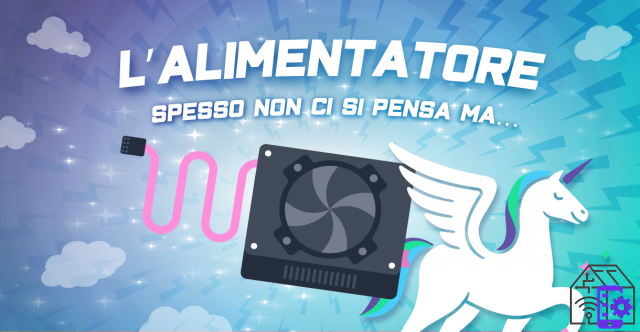 Today ours continues guide on how to choose and assemble the best components for a PC that reflects your soul as a streamer, gamer or digital professional.
In previous articles, which you find beautifully ordered below, we have already seen the main components. And now we are there, motherboard already inserted in our case, processor and heatsink installed, RAM inserted, not even our brand new video card is missing.
ALL EPISODES:
Chapter 1: Guide to building your assembled PC: THE BASICS
Chapter 2: Guide to building your assembled PC: PROCESSOR AND HEAT SINK
Chapter 3: Guide to building your assembled PC: THE MOTHERBOARD
Chapter 4: Guide to building your assembled PC: RAM, HDD and SSD M.2
Chapter 5: Guide to building your assembled PC: THE VIDEO CARD
Chapter 6: Guide to building your assembled PC: THE POWER SUPPLY
Chapter 7: Guide to building your assembled PC: THE CASE

Hoping that everything works and excited for the feat we have accomplished by managing to save and assemble everything, we press the power button and… fail.
Nothing is happening.
We have already forgotten to power up our car, we forgot about the power supply!
Let's find out together how to choose the one that suits us and which are the best models divided by price range.
The power supply. Often we don't think about it but ...
I write in the hours when the last chapter of the Avengers goes crazy in the halls (which I saw yesterday and I highly recommend you to see too) and what better metaphor of the ARC reactor that Iron Man carries in his chest to explain what a power supply is?
No, don't worry about any spoilers coming up, what we are really interested in is just doing justice to an often underestimated component since we often speak of it as the element that "just gives a little current", when instead it is essential for the proper functioning of our PC.
Maybe you don't think about it, but the PC is nothing more than a set of circuits working in unison, an orchestra made of silicon and other metals in which electric current flows.
The fact that it flows in the most correct and functional way to our components therefore determines their correct functioning not only immediately, but also and above all over time.
This is why the power supply or PSU (Power Supply Unit) is very important: because it provides every single component with the right energy supply and protects our computer from overloads and malfunctions as much as possible.
We choose the right one. Long live your PC!
If the CPU is the brain of our machine, then the RAM can be seen as its lungs, useful for oxygenating the thoughts of the computer, the video card could therefore be the muscles to play and make graphic efforts and the motherboard the veins in which the current of the whole machine body flows.
Here, if we see our PC as the squared-off version of the cyborg C18, then the power supply can be seen as the real one. beating heart that gives energy to our whole machine!
Or, said to Sheldon Cooper: it's just that component that transforms alternating current into direct current!
But how do we then choose the right one for us, Japan?

Well, only by knowing or at least assuming the power of our computer will we be able to choose the right PSU.
To do this we must take into account that each component requires a different amount of energy and therefore the difference between a medium-low-end PC will have a very different absorption from a high-end one. In principle, the consumptions that we can expect are these:
However, if we want a more accurate estimate, there are online configurators that come to our rescue. In fact, just enter the list of our components to find out what the sum of their energy needs is.
The two I have found best with in the past are MSI Power Supply Calculator and Extreme Outer Vision, which will guide you step by step in finding the exact component and the right wattage required by your PC.
Wattage, efficiency and modularity. I tre caballeros to guard your PC.
Once the energy demand of your machine has been ascertained, we can finally see together which are the parameters on which to choose our power supply.
Il wattage is the maximum current capacity that our power supply can support. The higher this value the more current we will be able to bring inside our PC. Usually once we have ascertained how much the computer consumes, we will still have to add an extra 100 / 200W of security to be calm in moments of maximum workload or with a view to future expandability of the components.
In fact, know that processor and video card are the two components that require the most energy, especially the latter alone often requires more than the entire sum of the rest of the PC. If we think, for example, of a single video card configuration and want to add a second one (we talked about it right in the previous article), then we will have to take into account at least 200W extra compared to those already budgeted.
We will see, however, that power is zero without control and the quality of the current supplied and how it is managed plays a fundamental role.
THEefficiency in fact it is a very important parameter and translates as the ratio between the absorption of the electricity grid and the power required by our system. In a nutshell it is a percentage that tells us how much of the energy that enters the computer is actually available for our hardware (a part always disperses in the form of heat), in practice, the better the efficiency of our PSU, the less they will be. the consumption.
Thank goodness in this case, a classification of efficiency, the famous one, comes to our aid 80 Plus, which certifies its performance with labels always present on the power supplies, ranging from 80 Plus normal for performance up to about 80%, up to 80 PlusTitanium with efficiencies up to and over 90%.
Here is a table with all the energy specifications.
As you can see, efficiency is not a linear and constant parameter, but varies as the electrical load of the power supply varies. Maximum energy efficiency occurs when the PSU is positioned between 50 and 60% load. So with a 600W power supply we will have the best absorption when the computer requires about 300W, that is 50% of its maximum load.
As a rule, however, a 80 Plus Gold on a 600W model, which is not a 80 Plus Bronze 900W, so watch out for the labels!
A more efficient power supply also means less overheating of its components, a lower speed of the cooling fan and a consequent lower noise.
We finally have the modularity, that is the possibility of having separate cables with respect to the central body of the power supply.
- Okay, but I hide the cables anyway ...
- Oh no, it's not just an aesthetic discourse, but also and above all of air flow.
We will certainly see it better in the next article dedicated to cases, but to work well a computer always needs the lowest possible temperatures and excellent air recycling.
What prevents the air from circulating? Well, cables are a major culprit!
Therefore, to limit this problem as much as possible, we have 3 types of power supplies: modular, semi modular e not modular.
Those not modular, the least expensive, are those that already have all types of cables attached and at first glance we seem to have the mythological figure of Medusa in front of us: an inextricable tangle of snakes, where none of the cables can be detached, but only well hidden ! In front of this tangle I usually remain petrified, exactly as happened to Seiya.
On the contrary, the power supplies modular, give the guarantee of being able to attach only the cables really necessary to our PC without necessarily using the superfluous ones and thus optimizing the ventilation of our case.
Those semi-modular finally, they are a middle ground, where we have already connected only the basic cables for the use of the PC but we have the freedom to choose the auxiliary ones.
These last two categories also give us another advantage, namely that of being able to use cables sleeve that is, the soft ones covered with nylon to give an elegant and tidy look to our PC.
But pay attention to the cost that often exceeds € 100 for a complete kit and to the fact that each model of PSU has different output connections on the power supply, while the input ports on the different peripherals are always the same.
So the less clutter inside the case, the more the air will circulate freely and the more beautiful our computer will be too!
Finally, there is a fourth parameter on which to base one's choice which is obviously the brand.
We will not be here to make a list of the best brands (although later you will find our advice as always), but you just need to know that each brand has its best and cheapest models, so always rely on the 3 variables described above for a careful choice.
And beware of Medusa!
But what are the types of power supply cables and how do I tell them apart?
All for one, one for all. It's a question of… head!
Exactly to distinguish one cable from another and understand where it is connected, just look at it carefully and count the number of PINs on its head (the hollow pins of which it is made up) and ask it: cable cable of my brame, to which component you attach of the realm?
In case he doesn't answer you, here is a rundown of the main cables:
PIN 24: easy to recognize, is the longest and gives power to the motherboard!

PIN 8: Sometimes it is in a 4 + 4 formation and powers the processor by itself.
More advanced chipset motherboards with very powerful processors may require additional expansion PINs.
PIN 6: These usually identify the power supply of additional PCI express cards, such as video cards, but due to the great variety of this component, additional power PINs may be required up to a maximum of 16 (see for example the RTX 2080TI ).
4 PIN Molex: quite dated power port now used mostly by fans and various controllers.
SATA press: also used mainly for fans and hard drives.
For a quick review of the arrangement of the various sockets on the motherboard, I recommend a look at the infographic in our third article.
The blackout. The worst enemy of your hard drives.
- UPS, which are not those of postal deliveries, but the Uninterruptible Power Supplies or, read without getting the tongue intertwined, Ups, are those devices that give us electricity even in blackout situations. In this case the auxiliary batteries inside come into operation to give us a few precious minutes to save our data and not lose our work.
Damage caused by a power surge is unpredictable and could cause damage to a hard drive or to the motherboard itself. In this case we will be able to equip ourselves with a filtered socket or multi-socket that has the task of protecting us during voltage drops or surges.
Ok, let's go and immediately see our tips divided by price range.
Configuration from 500 € - The Bronze Horsemen
Here are two interesting power supplies, 80 Plus bronze certified and in the second case also a semi-modular approach: EVGA 500 B1 e Sharkoon Silentstorm Ice Wind, two 500 and 550W power supplies that guarantee excellent quality in this price range.
The Sharkoon above all is particularly loved by those who want to build an economic build because it is the only one that at this price has already included some beautiful blue sleeves.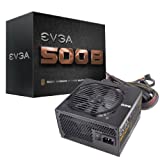 EVGA 500 B1, 80+ BRONZE 500W PC Powered, 3 Years ...
EVGA 500 B1 - "Performance and value meet"
80+ Bronze certified, with an efficiency of 85% or higher based on loads
Fan / Bearing Size: 120mm Sleeve Bearing
Buy on Amazon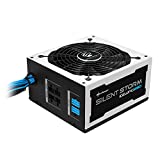 Sharkoon silentstorm Ice Wind power supply for PC ATX (80 + ... Buy on Amazon
1000 € configuration - Jumping silver, straight to gold!
In this price range we can give ourselves two excellent semi-modular models with efficiencies close to 90% guaranteed by the 80 Plus Gold certification.
EVGA 650GQ e Corsair TX650M, two 650 watt power supplies with excellent performance.
Configuration from 2000 € - From gold to platinum
We go up in wattage up to 850W for more performing and professional configurations with the CoolerMaster V850 80 Plus Gold e Seasonic Focus 850PX 80 Plus Platinum, two full modular PSUs. If you also want to combine sleeve cables, you can find on the website of CableMod, those compatible with the Cooler Master and those compatible with Seasonic where you can choose from many different colors.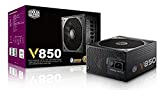 Cooler Master V850 'Modular Power Supply, 80 Plus Gold, ...
V-Series V850 - 850W (RS-850-AFBA-G1) fully modular PC power supply
Power of 850W
135 mm silent fan that ensures perfect dispersion of the heat generated
Buy on Amazon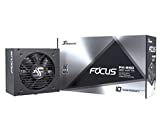 Seasonic FOCUS + 850W ATX Power Supply 80Plus Certified ...
The Focus Plus Platinum series has obtained the 80 Plus Platinum certification with 92% efficiency at system load ...
This high performance, small footprint (140mm deep) power supply is an ideal choice for ...
Fluid Dynamic Bearing Fans - are durable and extremely reliable, generate less noise to improve performance ...
220,33 EUR Buy on Amazon
Configuration from € xxx - Titan to Titans
Two ultra top configurations deserve two equally performing power supplies and when you have a very high budget, the efficiency that we can expect is that which is close to 95%. 80 PlusTitanium.
I present to you Enermax Max Tytan, a 1250 watt power supply, a very complete set of pre-sleeved cables, combs to keep them taut and tidy and a series of extra functions such as the LCD panel on the back that indicates the current load and an external fan controller.
Finally we have theAsus ROG Thor, a power supply that is actually "only" 80 Plus Platinum but can boast in addition to a wattage of 1200W and an obviously full modular design complete with sleeve cables, a strong RGB component compatible with the Aura Sync standard and an OLED display for checking of wattage.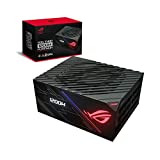 Asus ROG THOR 1200P 1200cm Platinum Power Unit
Aura Sync: Advanced customization with addressable RGB LEDs and Aura Sync compatibility
OLED Power Display: Real-time power delivery monitoring with OLED Power display
ROG thermal solution: 0db cooling with IP5X dustproof fan with fins and ROG heatsink design
368,54 EUR Buy on Amazon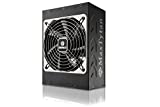 Enermax MaxTytan 1250w EDT1250EWT Alimentatore PC ATX 1250W,...
80 plus titanium certification: greater energy savings and lower temperatures
Totally modular: with modular cables with sleeves, installation is simpler and of great aesthetic impact
Multiple protections: scp, ovp, ocp, otp, opp, uvp and sip
Buy on Amazon
Perfect: we now have all the components for our super PC. We just have to find the right case in which to insert all our hardware!
That's all for this episode too, see you next week.
Mata ne !!