Free license
Hit movie Express
Hitfilm Express is free video editing software that will allow you to make quality videos thanks to its editing, import, special effects, etc. Edit your movies like a professional.
2021.3 09/12/2021
1794 All specs
Download Free version
Windows 7/8/8.1/10/11
MacOS
Summary:
Why use Hitfilm Express?

What is new in the latest version of Hitfilm Express?

Which OS is Hitfilm Express compatible with?

What are the best alternatives to Hitfilm Express?
Description
Hitfilm Express is video editing software published by fxhome to make quality videos with special effects. It's free and ad-free. To help the developers you can make a donation on the site, which will allow you to have some additional benefits. It is available for download for Windows 10 and macOS (from High Sierra or 10.13).
The tool is aimed at amateurs, but it embeds advanced features and tools similar to those of professional software. It is ideally suited for different types of work such as multimedia film production, video editing, special effects creation or post-production.
Hitfilm Express sets itself apart from the competition with its wide range of tools. It benefits from a multitrack editing bench that allows the processing of video sequences independently. The editor also embeds an advanced titling function and a choice of filters, transitions and special effects which are all configurable.
Its graphical interface is well designed, but its richness requires learning before being able to take full advantage of the possibilities offered by the application. To achieve this, the publisher has posted many how-to videos on its website. On the other hand, the forum dedicated to the application has a very active community ready to help beginners.
Why use Hitfilm Express?
Hitfilm Express is the little brother of the Hitfilm Pro editing and special effects software. Having nothing to envy, it will allow all users to find a plethora of editing features and effects to achieve video creations like a professional. Free, it does not contain any advertising, and to participate in its development you can make a donation via the publisher's website. You can also purchase additional add-ons to add effects and tools to the software.
To begin with, be aware that Hitfilm Express is only available in English. However, the very large community of enthusiasts that extends around the software also includes French (or French speaking) users and it is easy to find, especially on youtube, tutorial videos in French which explain step by step or present functionalities. software.
At startup, the software interface is very simplistic and can confuse less seasoned users. On the left, a column first presents the list of the last open projects, then the list of add-ons that can be purchased. At the top of this column, a New button and an Open button allow you to either create a new project or to open an existing one. In the center of the screen you can see suggestions for tutorial videos created by the Hitfilm Express teams, and therefore in English. At the top, four tabs are accessible: Home (the screen we have just described), Project, Edit and Export. Note that Project and Edit are only active if you have a project open.
When creating a new project you will need to perform a series of settings so that Hitfilm Express adapts to your needs. First of all you have to choose the "Template" ie the type of video quality you want (720p, 1080p, etc. and the number of fps, ie format, definition and number of frames per second). The template can then be modified by hand if necessary in the following boxes. Two solutions are then available: Start Composing and Start Editing. To create a video, you need to run the second choice: Start Editing. The other entry allows you to create composites.
The editing screen is very close to what can be found in the competition, and it is configurable: you can place the blocks in the order and the arrangement that suits you (display and hide them) according to your needs and the way you work. To modify the workspace you must go to the menu at the top and to the last icon. The tabs present in each block can then be moved from one block to another, or into a new block. Your workspace is therefore uniquely yours.
In the Media tab you can insert all the files you need for your creation: videos, images, sounds, music, composites etc. Once inserted you can drop your media in the Editor which is in fact the editing timeline of your final project. You can even select only specific parts of longer videos, in the area named Trimmer (media file preview). You set the start point of the end point and then you can put the piece of video in the timeline. Note that Hitfilm Express supports multi-camera.
The Timeline is Hitfilm Express's video editing table. You can create multiple lines in this Timeline in order to insert your media as you need (timeline). In the Viewer window you can see in real time what you have already put in your timeline. By default the Timeline lasts 5 minutes, if you need to make a shorter or longer movie you will have to modify it. The Timeline display can be adjusted to better see what's in it (like a zoom).
When you add a video that has audio, you have the option to ungroup them. It is thus possible to remove one of the two to replace it. Hitfilm Express also has an audio mixer which allows you to mix your sounds, music and other audio files. All the actions performed are available in the history which allows them to be canceled if needed.
Via the Effects tab you have access to all the filters and special effects that are available in the software. Each effect has its own control panel which allows you to adjust it however you want. When the effect is selected, the panel is displayed for you to access the properties. You can rotate your images or videos, create transitions, pip (picture-in-picture), apply masks, blur, embed 3D effects, add text, etc. You can also work on a green background.
What is new in the latest version of Hitfilm Express?
December 2021 saw the arrival of a major version of Hitfilm Express, version 16. This new version brought many improvements, particularly in terms of 3D models, track editing, etc.
New features have sprung up there such as a command to remove all of the blank spaces from a timeline at once, the ability to record audio directly from the Media panel, and more.
Which OS is Hitfilm Express compatible with?
You can download Hitfilm Express for your computer running Windows 10, and even Windows 8, in 64-bit.
If you have a Mac, you will need macOS from High Sierra (10.13), Hitfilm Express supports Mac OS Mojave (10.14) and Catalina (10.15).
In addition to these operating systems, you will need a fourth generation Intel Core or AMD type processor, 4GB of RAM (8 preferably) and a sufficiently recent graphics card: NVIDA GeForce 600 (Kepler), AMD Radeon R5 240, Intel HD Graphics 5000 (GT3), etc. And to make movies in 4K you will need 2GB of video memory minimum (1GB will be enough if you are not working in 4K).
What are the best alternatives to Hitfilm Express?
The number 1 software for video editing and editing comes from the giant Adobe, it is Adobe Premiere Pro. It is the giant of video editing. Available for download for Windows and macOS, it is paid for through a monthly subscription. In agreement with Adobe After Effects it allows to make professional videos with special effects. Adobe products are fully translated into French.
To stay paid, but cheaper than at Adobe, you can try Magix Video deluxe. It offers a Timeline system, like the others, and more than 1500 effects in a fairly easy-to-use interface. Only for WIndows.
To stay within the free licenses, you can test Lightworks, professional software with many features. Easy to learn, it is unfortunately only available in English. Its interface is quite close to what you might encounter on Hitfilm Express. You can download Lightworks for Windows, Mac but also Linux.
Always free, and also cross-platform like Lightworks, you can also download DaVinci Resolve. The software specializes in post-production, but it also allows for color grading. The software also allows the addition of special effects, keying, animation, etc.
In the list of free there are also Open Source software. This is the case with KdenLive, software for Windows and Linux users. It allows editing and editing videos, adding effects, etc. Its interface can be configured to best suit users. It is followed by a large community of developers which makes it possible to add features and effects in the form of plug-ins for download.
Specifications
Version 2021.3 Last update December 9, 2021 License Free license Downloads 1794 (last 30 days) Author FXhome Operating systems Windows 7/8 / 8.1 / 10/11, macOS Category Video
Screenshot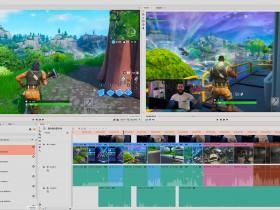 Similar software

DaVinci Resolve

Windows Movie Maker

PowerDirector

Wondershare filmora

Shotcut

Adobe Premiere Pro

Blender

VSDC Free Video Editor

Movavi Video Editor Plus 2022
iMovie

Lightworks

KdenLive

OpenShot Video Editor

VideoPad Video Editor

Splice

Corel Video Studio Ultimate

Avidemux

Corel VideoStudio Pro

AVS Video Editor

Final Cut Pro X

PTE AV Studio

AVI Toolbox

MAGIX Video Easy
In the same category

Golden Videos VHS to DVD

Freemake Video Converter

Free Video Flip and Rotate

Format Factory

DaVinci Resolve

K-Lite Codec Pack Full

MPC-HC - Media Player Classic (Home Cinema)

MKVToolNix
OBS Studio

OpenShot Video Editor
Advertising
Top downloads
Zoom

Aptoide

Grand Theft Auto: San Andreas

WhatsApp

Minecraft - Pocket Edition

AllAntiCovid Verif (TAC Verif)

Facebook Messenger

Windows 10 Media Creation Tool

Google Meet

Garena Free Fire
Special offers
Windows 10 Pro

9,99€ instead of € 259,00

Windows 11 Professional

9,99€ instead of € 129,00

Windows 11 Setup Wizard

9,99€ instead of € 129,00

Word

14,99€ instead of € 149,00

Power point

14,99€ instead of € 149,00
All special offers
New arrivals
Rogue land

Suspects: Mystery Mansion

PhotoRoom Studio Photo

Matchington Mansion

Heroics: Epic Fantasy Legend of Archero Adventures