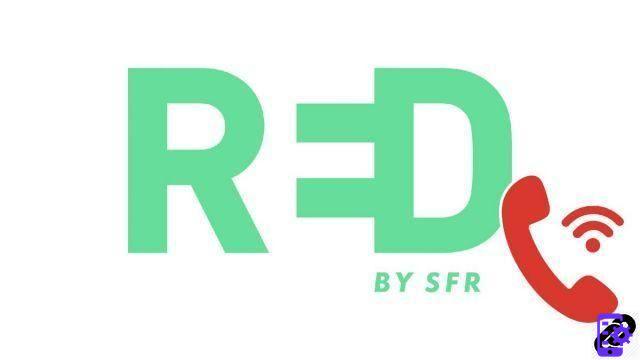 With RED by SFR, it is possible to make calls and send SMS without a mobile network via the home network in Wi-Fi. Here is everything you need to know about this feature.

Wi-Fi calling (also known as VoWiFi or Voice over Wi-Fi) is one of the latest major features offered by RED to its customers. This option allows you to make - make and receive - voice calls and send messages using the Wi-Fi network. Very practical when you have problems with your mobile network, VoWiFi nevertheless suffers from certain limitations. We explain all this and how to activate this feature in the following lines.


How do I enjoy Wi-Fi Calling at RED?
First limit, you must be in mainland Spain for the service to work. RED does not support this feature overseas or in overseas territories. For VoWiFi to work, you must be in a geographical area covered by 4G and be connected to a Wi-Fi network. It is therefore not possible to use it in airplane mode or with mobile data disabled. In the middle of a call, the system estimates which network (mobile or Wi-Fi) is the most suitable and can switch from 4G to Wi-Fi (and vice versa) automatically and without interruption to improve your experience. This is especially useful if you are on the move.
You must also have subscribed to a 4G plan with the "WiFi / VoWiFi calls" option. You can check your plan details via the customer area on the RED website or the RED & Me mobile app. To ensure the best performance, the operator recommends using a compatible smartphone purchased from RED by SFR or SFR. You will find the list of compatible models at the end of the article. To ensure the best functioning of the service, remember to install the latest update available on your device.
What is the price of Wi-Fi calling at RED?
The cost of calling or texting over Wi-Fi is exactly the same as that of voice calls and texting via the traditional method. You probably have a plan with unlimited calls and SMS: if so, VoWiFi will cost you nothing (if you communicate to Spain or a destination supported by your subscription).
How does Wi-Fi Calling work at RED?
Once enabled, Wi-Fi Calling can work from any Wi-Fi network, box or hotspot, from any Internet Service Provider (ISP). Wi-Fi calls are given priority over traditional calls when the option is activated. They are switched without the need for user intervention to the 4G cellular network when 4G performance is deemed too low.
In general, this changes almost nothing for the customer in the use of his mobile. Calls are made and received in the same way, same for SMS. You will only see an icon in the notification bar indicating that the call is on Wi-Fi.
How do I activate Wi-Fi Calling at RED?
It is not via your customer area or your RED options that you must activate this functionality, but directly on your mobile device.
On Android, handling varies depending on the overlay installed by your manufacturer and the update version. Simply typing "Wi-Fi calling" into the settings search bar should be enough to land on the right menu. If this is not the case, the following path should be correct on most devices powered by Google's mobile operating system: enter the "Phone" application, press the three small dots placed vertically at the top right of the screen, select "Settings" then "Wi-Fi calling" and activate them.
For iPhones, go to "Settings", choose "Phone" then "Wifi calls", touch the right of the slider to activate it and confirm by pressing the "Activate" button when the window appears.
If you can't find the option on your mobile, it's not compatible. If your device is in the list shown below and you are unable to activate Wi-Fi calling, contact a RED advisor from your customer area or from the RED & Me application ("Help" section, then " Contact us ").
Useful information at RED by SFR:
RED network by SFR mobile: what 4G, 3G and 2G speeds for the telephone operator?
RED network by SFR mobile: what is the RED network coverage worth in Spain?
Expertsconnecting accompanies you during your steps at RED by SFR:
How to cancel your RED by SFR mobile plan?
How to activate your RED by SFR SIM card?
How to retrieve your RIO code from RED by SFR?
RED sponsorship by SFR: how do the advantages of the offer for mobile plans work?
How to connect to your RED by SFR customer area and manage your account?
How to contact RED by SFR customer service?
How to configure your RED by SFR answering machine?
How to configure the APN RED by SFR on your smartphone?
How to unlock a smartphone at RED by SFR?
How to activate call forwarding at RED by SFR?
How to migrate from SFR to RED by SFR?