Instagram has become very popular in the business and marketing area (see well-known influencers) and, especially in this area, it is useful to have a series of statistics regartheng the publication of posts and which help to organize themselves in order to improve the visibility of their contents. .
Not only those who use Instagram professionally need to schedule posts and campaigns following a calendar but we may need to do it too.
The choice oftime of publication is one of the main rules when it comes to being followed on Instagram by automatically posting at the times of greatest interest to our autheence.
Is it possible to schedule posts?
The answer is yes, it is possible. Since the beginning of 2018, the Instagram team with the surprise presentation of the new API (Instagram Graph API) has made it possible to schedule posts with some limitations and exclutheng other types of automation such as instagram bots which are categorically prohibited.
You can proceed with the scheduled publication of the posts without taking risks and with some limitations:
What is the purpose of scheduling posts on Instagram?
Anyone who is a little familiar with the network knows that there are times when it is easier to have likes and interactions on its own contents. Furthermore, those who do it for work know how thefficult it is to manually and effectively manage a single profile and, when the profiles start to become two or more, it becomes complex.
Automatic post scheduling:
Schedule posts automatically with the best tools
Scheduling posts is simple; all this happens through the use of special tools that now have access to the official API and are therefore safe.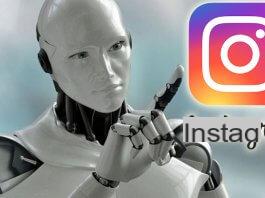 The Best Instagram Bots in the City of August 2021 With the continuous updates of the algorithm of
In this paragraph we will point out the best tools in the sector. They all work quite similarly and offer the ability to have a comfortable fit ethetorial calendar where we can insert the various scheduled posts. You will surely find the best app that will help you for automatic posting.
1. Later - one of the best free tools
Price: Free with limitations | Starting at $ 19 / month for commercial use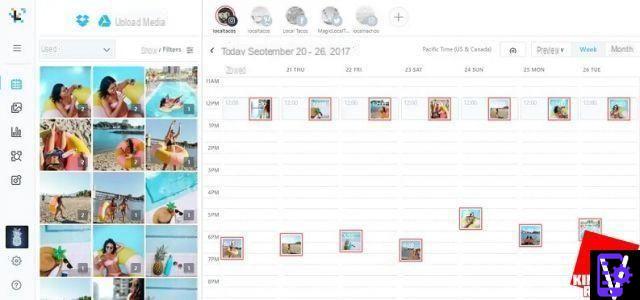 It is a service available as an app for both Android and iOS through which you can schedule and publish posts.
It is very intuitive to use. It is free and provides complete metrics to measure theimpact of posts published. If you want to try Later just register on its page.
2. buffer - the King of social programming
Price: Free up to 10 posts in the queue | Pro version starting at $ 15 / month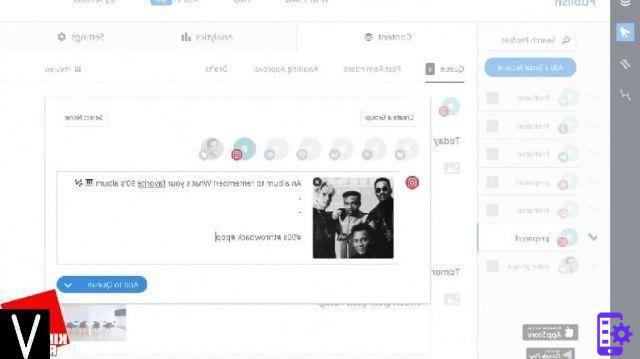 buffer is a tool that for years has been helping those who work with social networks to plan campaigns in a practical and effective way.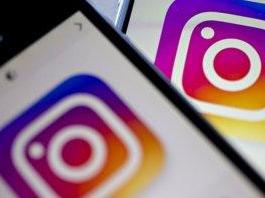 How to share GIFs on Instagram using your smartphoneHow to share GIFs on Instagram using your smartphoneUsing Instagram in thefferent ways requires a certain amount of creativity and being creative is a mechanism that is the basis of a profile that proves to be at least interesting to [...] Continue to read
It's not a completely free tool but luckily it has a good basic free plan. Since the release of the official API it is also fully compatible with Instagram. If you want to use buffer just go to the service page.
3. Hopper - the most immetheate
Price: Full trial version for 14 days, then $ 19 / month
Probably the most immetheate and loved solution that allows schedule post on Instagram: a couple of clicks are enough to schedule your social content. It is very convenient because you have the possibility to have a preview of our post in the mobile version.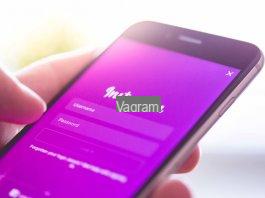 How to activate the two-factor authentication of InstagramHow to activate the two-factor authentication of Instagram With the enormous spread of this very famous photographic social network, the number of malicious people who try to access our Instagram account without authorization also multiplies. An access not allowed
Unfortunately Hopper it's not exactly cheap but it does offer a 14-day free trial. If you want to use it you can go to the Hopper page.
4 Hootsuite - the most popular tool for social methea managers
Price: full trial version for 30 days, then $ 25 / month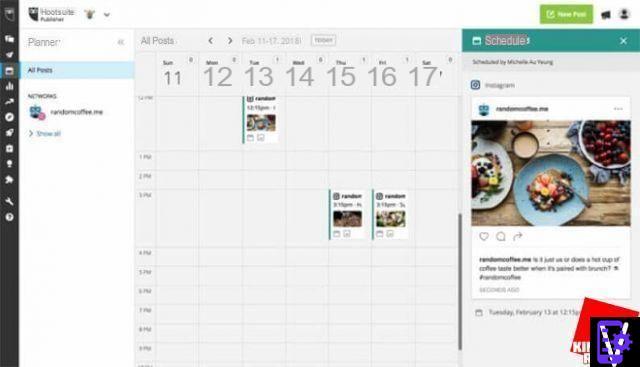 It is one of the most complete tools available on the web for a long time and also used for other social networks. It is not of immetheate use but at least it is completely.
After learning how to use it, you will hardly be able to do without it. Hootsuite offers a very limited free plan. Find out more about Hootsuite on its website.
5. Crowdfire - one of the most complete
Price: Free up to 10 posts in the queue | Other versions starting at $ 9,99 / month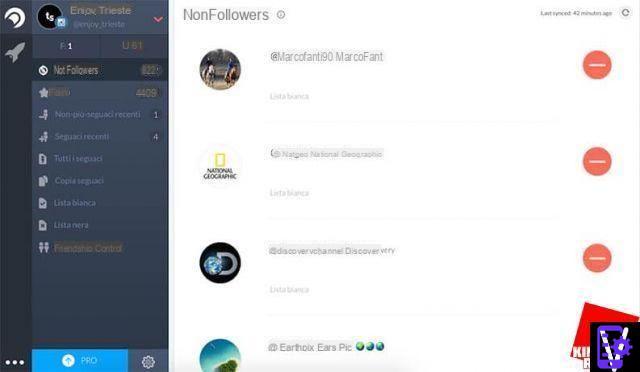 This is another favorite tool for social methea managers. The reasons are thefferent; the most important are: the completeness of available options, the very rational arrangement of the functions, the clear and linear interface.
Crowfire it is paid but also offers a free plan (usually very limited). If you want more information on this excellent tool, we invite you to consult the crowdfire page.
Conclusions
To be successful on Instagram you don't just need to schedule posts following schedules and calendar but you need to know a whole other series of tricks and follow some tips that we invite you to consult:
We hope to have reported the best tools from our point of view and continue to follow us for articles dethecated to the topic and other insights on the well-known social network.
How to automatically schedule posts on Instagram