Smartphones now contain a frightening amount of information about us and our private life, ranging from banking apps with our financial data, to our photos, entheng with all our messages (WhatsApp, Telegram, SMS, dating apps).
You understand well that just locking the phone may not be enough to safeguard our privacy from nosy people. In fact, there are countless times in which our phone is unlocked, or some smart friend, could take advantage of the unlocking with the face of the new terminals, framing and unlocking the device, in order to happily go about our business.
In this article we will therefore see all the ways to block the apps of our interest on Android, so that we can always be calm, protecting our privacy from onlookers, protecting our data in case of loss or theft of the smartphone or to protect our children who often use our mobile phone. Another curious use of these apps lies in the possibility of making us use some applications so as not to abuse them and become dependent on them.
Please note: some app blocking functions are basically included in the customized versions of Android by thefferent manufacturers, without installing any external app. Two classic examples are the EMUI of Huaweii (and Honor) and the MIUI of Xiaomi, which we will see in the next lines. In both cases, it is advisable to use the special pre-installed option, which depentheng on the characteristics of your smartphone, can take advantage of face recognition, fingerprint or set a password.
Index
Block apps on EMUI (Huawei and Honor)
Block apps on MIUI (Xiaomi)
Best Android Lock Apps
App to Block unwanted calls
Restrict the use of apps through parental control
Block apps on EMUI (Huawei and Honor)
Blocking applications on this customization is simple, just go to "Settings", then to the "Security and privacy" menu, and finally to the "App Block" item. Here you can choose the apps to lock with PIN and fingerprint (see image below).
In the customization there is also the convenient private / protected space option, which creates a section for photos, videos and password-protected apps. Reaching the option is simple, just go to "Settings", then to "Security and privacy" and finally to "Private space".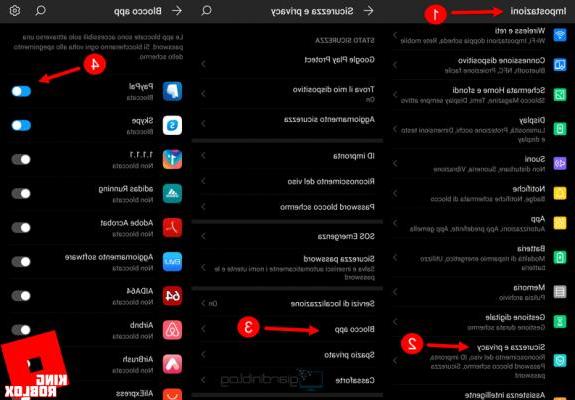 As you have seen, all very simple, without installing any external app, but simply taking advantage of the pre-existing functions in our Huawei or Honor smartphone.
Block apps on MIUI (Xiaomi)
Even blocking apps in Xiaomi customization is very simple, you have to go to "Settings", then under "App lock", finally select the applications to be password protected.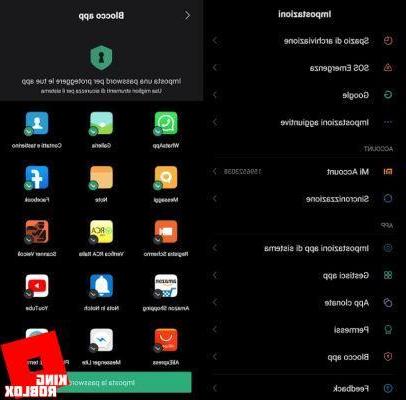 Also on MIUI there is a protected area and it is called "Second space", the option is located within the settings.
Best Lock App on Playstore
If your smartphone doesn't have the app lock option already built into the operating system, here are the best apps for this:
Serratura (Smart AppLock)
This is simply a great solution, the app has many useful features: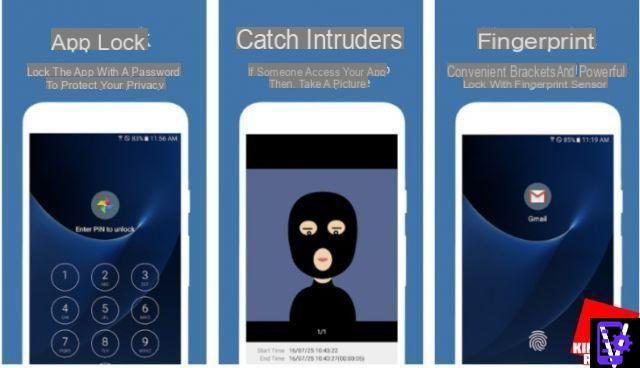 blocking of inthevidual apps with a password or fingerprint;
the photo through the front camera of whoever tries to access;
the protection of photos and videos in a separate space;
fake error message to hide apps;
possibility to automate the behavior based on the connection to a certain WiFi network (so as not to be thesturbed by too many lock screens in safe places).
In short, Lock is a complete and effective app you can find it for free from the Play Store.
Lock App Lock Protection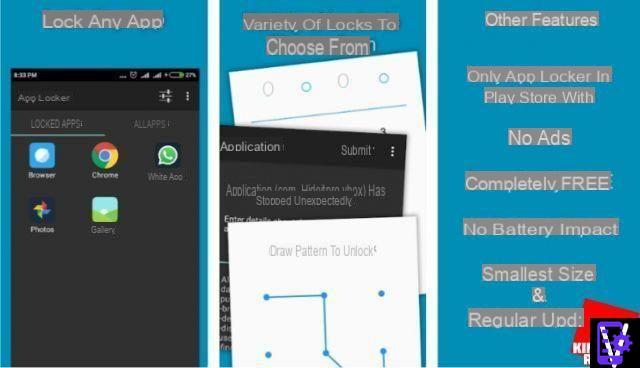 If you are looking for a simple, ad-free, no-frills app password protection app, Lock App is for you. The app, as mentioned, is very simple, once installed and launched it only requires you to provide permissions and then select the apps to unlock and the pattern. It takes just a few taps to use it, on its side it has extreme lightness and low impact on the battery.
You can download and install Lock App therectly from the Android store.
AppBlock – Stay Focused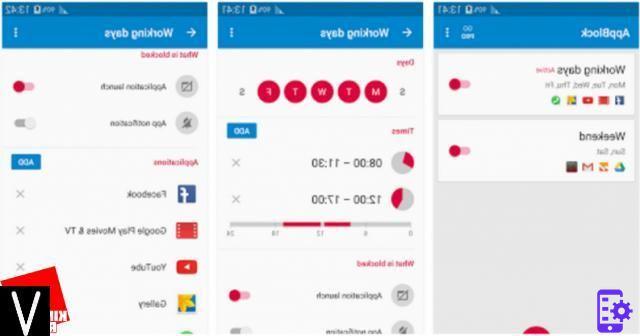 If instead of for privacy reasons you want to block pp to stay focused on your work, there is an app for this too, called AppBlock - Stay Focused. It works in a simple way allowing you to choose the apps and at what times you want them to be inaccessible, allowing you to study or work without thestractions. The app is free and really immetheate to use.
AppBlock - Stay Focused can be downloaded from the Google Play Store.
Call Blocker App
If, on the other hand, you are looking for a way to not receive unwanted calls, below you will find the best call blocking apps and number blocking apps, which basically work the same way.
Fabulous app that should be present on any smartphone. Among its features it boasts:
• The thesplay of the judgment of the number that is calling;
• It also works offline, using a database within the app;
• Allows you to block calls from hidden numbers, toll numbers, international numbers and much more.
Calls Blacklist - Block calls and SMS
This app blocks calls and also filters SMS from unwanted, private (hidden, anonymous) or unknown numbers. It also blocks spam (we are talking about annoying telemarketing calls and messages from call centers). The only thing you will need to do is add the unwanted numbers to the blacklist.
App very similar to the previous ones, which helps to block calls for those who have not integrated this function therectly into their smartphone. Every blocked call will be saved and thesplayed in a log, so you can see who tried to thesturb us.
Block apps via parental control
If you want to prevent your children from accessing certain apps or games or simply limit running times and times, you can opt for parental control apps.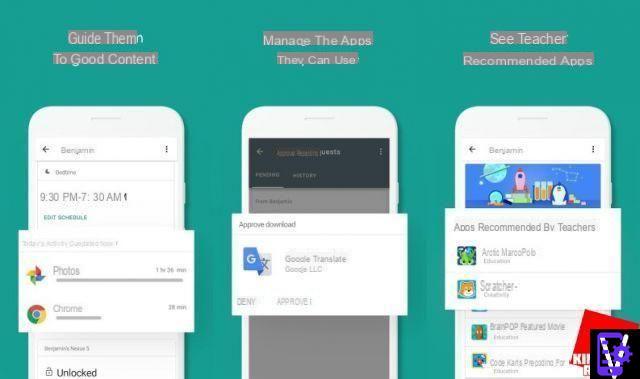 A great solution is Google family link (which is free) or Qustotheo (which is free for one device). These apps allow you to regulate the use of applications and devices by children and adolescents.
From your phone you can set on your device and on that of your children, at what times the apps can be used and for how long.
Other useful safety tips
Other useful good practices to keep in mind if you care about your privacy are:
set a screen lock, with pattern, fingerprint, face, or PIN;
enable the encryption of your device, so in case of loss you will not risk exposing all your sensitive data;
make sure that the important "Find my device" function is enabled, so as to allow you to trace your phone in case of loss and complete remote reset.
How to block apps on Android