In the world of dating apps, tinder it is undoubtedly one of the most famous. Launched in 2012, it has spread more and more thanks to its simplicity. However, they often arise doubts and curiosity about this service. Sometimes users (especially beginners) may find it difficult to understand more specific features. Conversely, there are people who they don't use Tinder, but they would like to know more, whether it is to sign up or just out of curiosity. For all these reasons, we have collected a list of frequently asked questions to try to solve the most common doubts about the king of dating apps.
Dating app and the mysterious world of Tinder
How exactly does Tinder work?
Let's start with the basics. Tinder is a dating app that allows you to meet new people around you. Its operation is quite simple and basic. As soon as it starts you will have a long list of profiles corresponding to the parameters indicated in terms of sex, maximum distance and age range. One after the other you can browse them choosing if you like them (by clicking on the green heart or moving the profile to the right hence the term swipe a destra) or not (click on the red cross or swipe to the left).
All other users of the app will do the same. Once two people like each other (a match), Tinder will send them a notification and open one private chat between them. From there you can start talking, getting to know each other, meeting live and then who knows!
Doesn't Tinder convince you? Discover other services in our guide dedicated to the world of dating apps
But does it really work?
This question is usually accompanied by a nudge, a wink, and a grin. The simple answer is that yes, Tinder really allows you to meet many new people (also and not just for love relationships). Like the other dating apps though, despite the prejudices, it's not the magic wand that will immediately make everyone surrounded by mountains of partners.
The mechanism works well in connecting people looking for new knowledge, however they are there other factors to take into account, including the place where you use it. Clearly Tinder is at its best in densely populated areas, where it is most likely is widespread extensively. Beyond this then, obviously a lot is up to the user: Tinder can help you get in touch with new people, but then it's up to you carry on the relationship.
I had a match! What can I write?
This question cannot exist a definitive answer. Much depends on who is on the other side of the chat, who may or may not prefer playful, serious, simple approaches or more. Even more is up to you: even if you are 'protected' by the screen barrier, it is not a good idea to lie presenting you completely different from reality.
So try to be very natural, both in the first approach and in the continuation of the chat. As a guideline for the very first message, it may be a good idea to hook on some detail of the interlocutor's bio or photos. But you will realize that the important thing is simply break the ice and almost any message (politely, of course!) can be fit for purpose. Hopefully you can find some extra tips on Swipe Life, the official blog of Tinder.
READ ALSO: Tips from the Super Seducer himself to make the most of Tinder
What should I put in the profile?
You can enter them in the Tinder profile different information. The more you put in, the more you will have the chance to capture the attention of potential new acquaintances. However, the really fundamental data are two: the bio and photo. The first is a short text that tells who you are in a few words. Try to be creative with this space and close with a nice joke (but as with messages, it's a bit of everything).
The important thing is the sincerity and this is even more true for photo. Always try to show your best self, but don't overdo it. The ideal is to insert some that show your passions. And avoid group photos.
Who can see I'm on Tinder?
Everyone and nobody. Or, more clearly, "anyone subscribed to Tinder". Once the profile is created, it will rotate for all users in your area (if it fits their gender, age and distance preferences). The others will then be able to see that you are subscribed to the service if and when you appear to them as possible new acquaintances. Outside of this however, no one can actually check if you are registered, nor do a specific search.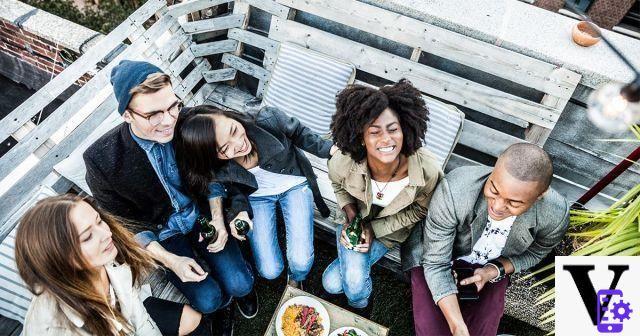 What is a Super Like?
Among the functions that Tinder has added over time are the so-called Super like. Instead of doing a simple swipe to the right a limited number of times a day it is possible to send a special Like. This will send a notification to the person who receives it, informing them that they have received a Super Like but not who sent it. According to the data of Tinder this allows to increase three times the possibility of a match. So choose carefully when to use it!
How do you recognize a fake profile?
It may happen that you cross the path of a fake account. The actual bots are quite rare on Tinder, but there is a possibility that someone will use photographs that are not yours. For this the application is introducing a blue check that certifies that the subject of the images is actually the account owner. This will happen through a series of photos in a specific pose to be sent to the team of tinder dedicated to control. At the moment this feature is being tested and is not yet available in Italy, but it should arrive soon.
Do other users see if you like them? And can I see mine?
Basically no, at least not entirely. In fact, for some time Tinder has added the possibility of discovering this information, but for users with the free profile only a few details are available. In the dedicated section there will be a complete list of those who have like you, but only with one darkened version some photos.
It is often possible to understand who it is, but it will still be necessary to find it in the main section to be able to respond to the Like. Vice versa for profiles Tinder Gold, all the details are available.
How do premium profiles work?
Basically Tinder is free, but there are some extra features you can get with paid profiles. There are two types of premium accounts: More e Gold. The first offers the possibility to put as many Likes as you want per day in addition to five Super Likes instead of just one. Added to this is the possibility to cancel the choices in case of error, the removal of advertisements, a monthly opportunity to have a visibility Boost on other accounts and the function Passport to move around the world.
Tinder Gold adds to all this a selection of the best profiles chosen according to your tastes (the so-called Here are the top picks. ) and the opportunity to see who like you above. The prices for these two services vary depending on the subscription period, starting from € 4,58 / month for Tinder Plus and € 7,08 / month for the Gold version.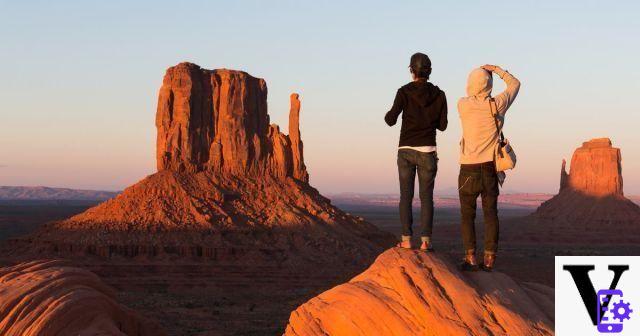 Should i make a premium profile?
The basic version of Tinder offers of its own many possibilities to meet new people. However, having the opportunity to go without fail with your Like by taking advantage of the Gold profile feature can be comodo. Other than that, the functionality Passport it can be very useful when traveling. You could start getting to know the people who live in your destination country and organize some fun gatherings. And who knows, maybe you will also find the guide ready to explain the hidden secrets of the city!
How popular is Tinder?
Tinder does not release detailed information on the distribution of its users. Some external estimates (as you can read in a BBC study, dating back however to 2018) speak of approx 57 millions of active users in the world. From the data provided by the company we can instead know that more than half of the users are between 18 and 25 years old. Particularly impressive is the number of total matches collected in these eight years of activity (over 43 billion!) and appointments born weekly thanks to Tinder, approx a million and a half.
Is it only for heterosexuals?
The world of dating apps is extensive and includes various alternatives, often geared to a specific audience. There are therefore services specifically dedicated to the LGBTQ world. One of the best known is Grindr mainly aimed at homosexual or bisexual men, however, born a few years before Tinder. However, the latter is not used only by heterosexuals, nor is it designed for that. In the settings you can indicate if you are interested in meeting people of male and / or female gender and the application will show you profiles according to your preferences.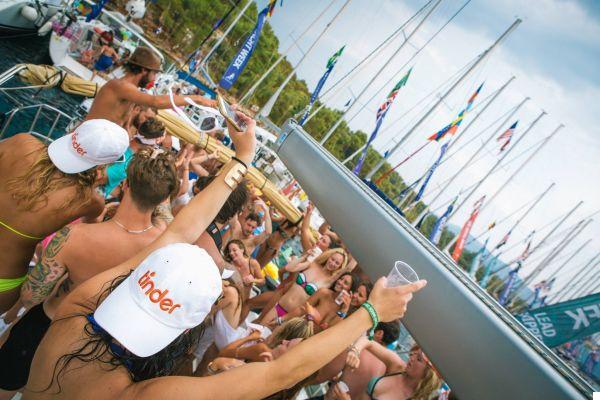 What audience is there on Tinder?
It's time to dispel a myth about Tinder (and the world of dating apps): no, they are not populated only by maniacs. The audience of this particular service is definitely varied, with many different types of users. Thanks to its diffusion it has been able to reach many different users and sometimes the interest is not necessarily sexual. There are people who want to do new friendships in general, others who are looking for stable commitments, still others who even exploit it to do conversations in a foreign language and practice. In short, the world is beautiful because it is varied. And Tinder's is too.
Can you unsubscribe from Tinder? How do you do?
Yes, deleting your profile from this dating app is pretty good simple. Just enter the application, click on the icon at the top left and go down to the last item "Delete account". You will be asked if you prefer pause the profile (substantially removing the possibility of appearing to those who are looking for people in the surrounding area). Once confirmed just proceed with the details and you will have deleted your account.
Is just liking a good tactic?
Absolutely No.. On a theoretical level it would certainly be the best approach: accept each profile proposed for do not miss a single opportunity. However, it is not a behavior that Tinder approves of and if you do this you risk seriously undermine your visibility in the searches of others. It is therefore better to be more selective, trying to keep the ratio between Likes and profiles seen just below 50%.
Is it possible to cancel a compatibility?
That you have like for error or have discovered that there is no feeling with the person you have matched with or for any other reason you want to do so, you always have the opportunity to cancel a compatibility. To do this, just go to the dedicated chat and click on the top right and then continue following the instructions.
Will I get a notification if I take a screenshot?
No, nothing happens, neither in the case of a screenshot of a profile, nor in a chat. The 'photographed' user will not receive any notification who will warn him of the thing. But remember not to abuse it and always do it respecting others!
And with this we complete our list. But if you have other doubts about tinder or the world of dating apps, do not hesitate to write to us: we will do our best to answer all your doubts!
Love in the time of Tinder: Traveling between blind passions and ...
Duportail, Judith (Author)
7,99 EUR Buy on Amazon TagsApp dating Tinder Everything you ever wanted to know about Tinder (but you never dared to ask)