Sometimes you find yourself watching or listening to something on your smartphone or tablet which would be nice to broadcast and see comfortably on your TV. Same thing is also true when you watch a good video or movie on your computer and want to cast it on the big TV screen. We have already seen how cast video from PC to TV using devices like Chromecast or software like Video Converter. In the case of mobile devices running Android, if you have Google Chromecast, it is easy to "cast" from phone to TV. But if you want to cast from Android to an Apple TV, the matter is certainly more complex. This is because Apple uses its own transmission method / protocol which is called AirPlay.
What is AirPlay?
AirPlay is a protocol that allows audio and video to be transmitted wirelessly between iPhone, iPad, Mac, Apple TV, and even Windows PC with iTunes. All you have to do is tap the AirPlay icon on the iOS device and then select the target device you want to stream to (detailed steps to follow in this article). Unfortunately, Android is one of the few platforms that does NOT support this protocol.
The good news is that there are some Android apps that can help you stream from Android to Apple TV or other AirPlay devices. Here are the three best apps to use.
1. AirSync
If Apple TV is the heart of your entertainment system, and you use it for both watching movies and listening to music, AirSync it might be the ideal app to use. This is an app made by DoubleTwist, known for its Android music player.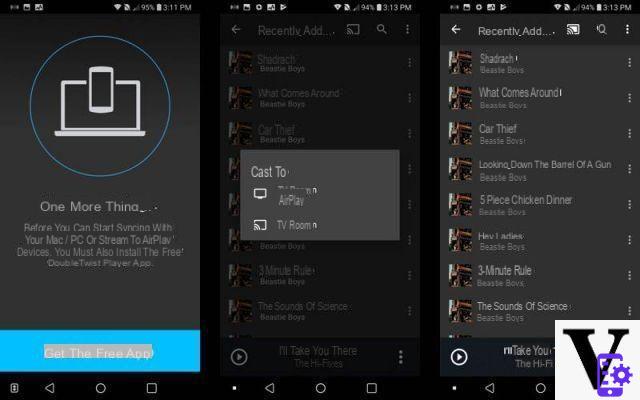 As you can imagine, this app is 100% focused on music streaming. Once installed on your Android phone it can detect Apple TV and play your music without any problems. It is simple to use and also one of the most solid experiences found in this area.
2. AllCast
AllCast has a much broader feature set. In addition to streaming to devices AirPlay, it also works with the protocol DLNA. This means it can also stream to Roku, Chromecast, Amazon Fire TV, and numerous other devices.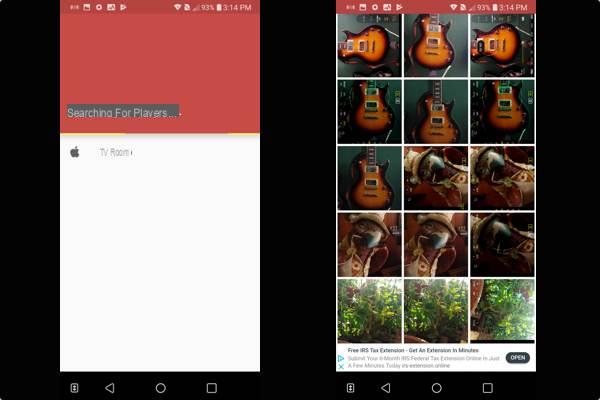 To use AllCast, you need to install the app on both your Android device and Apple TV or else it will say that it has detected the Apple TV, but in reality you will not be able to play anything. The free version of the app has a five minute viewing limit for both videos and images. To remove this limit, you need to upgrade to the premium version of the app which costs $ 5.
3. Mirroring360 Sender
Mirroring360 as the name suggests, is designed to reproduce and duplicate your Android screen on AirPlay devices and therefore also on AppleTV. This application is available in two versions: the free basic version and the premium version which costs $ 5.