Have you just joined the community of people who have "all inclusive" with a mobile plan with the operator Free Mobile, but you are not yet completely familiar with the Free customer area? Don't worry, this tutorial is here to guide you.
Once in possession of your mobile subscription, the Free operator offers you the possibility of managing your options, invoices and orders from the subscriber area on its website www.mobilefree.com. Simply click on "Subscriber space" at the top of the page to connect.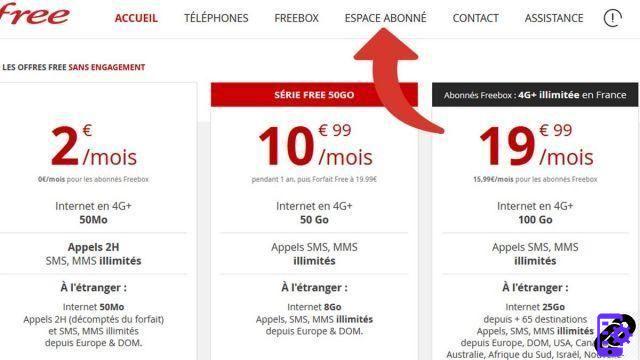 The subscriber area allows the management of your mobile phone lines, but also the management of several options related to your customer account. Gathering all this information in the same place and accessible as soon as you have access to the Internet, is very practical in the event of a problem or need for information on your Free Mobile subscription.


Login to the subscriber area
The login page asks you to enter your eight-digit username and associated password.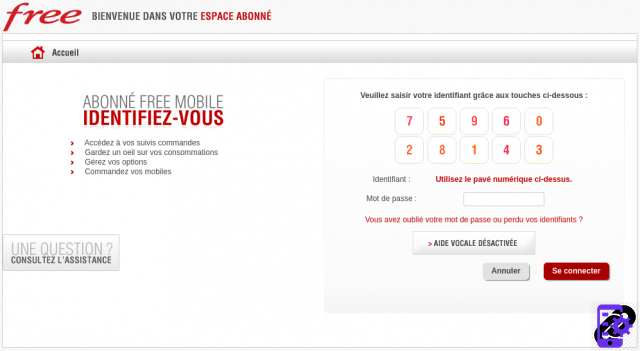 The identifier must be entered using the mouse by clicking successively on the numbers composing it, while you must type your code using your keyboard. Once these data have been entered, all you have to do is click on the button Log in below the password input matrix.


Forgot your password?
Have you forgotten your Free Mobile Subscriber Area password? Do not panic, there is a simple and quick solution to recover the latter. On the subscriber area login page, you just need to find and click on "Forgot your password or lost your identifiers?" ".

From there, you can recover your password by entering your eight-digit ID. If you no longer have access to your mailbox, you can also modify it. However, it should be noted that you will need to enter your eight-digit identifier anyway.
If you no longer remember your password or your identifier, you will have to click on "
Don't know your username?
on the right side of the screen. With this method, your username and password will be sent to the email address associated with the account.
Navigate in the subscriber area
Once connected to your subscriber area, you will be able to see the telephone lines associated with your customer account.
From the various tabs present on the banner at the top of the page, you will be able to manage several things related to your subscription: view your bills, modify your subscription options or even manage orders for new SIM cards and the rental of new mobile phones.
Your subscriber area offers a wide range of menus which facilitates the management of your subscription:
Home: this menu gives you an overview of the mobile phone lines associated with your customer account.



Manage my account: here, several sub-menus. You can view your bills and your data consumption, as well as configure options linked to your Free Mobile account such as linking to your Freebox subscription, for example.



My orders: this menu allows you to follow your orders for SIM cards or mobile phones, but also to manage your mobile phone rentals with the operator Free.



Telephones: here, you can find all the mobiles offered for sale or rental by Free Mobile.

Useful information about Free Mobile:
Free Mobile network: what 4G, 3G and 2G speeds for the telephone operator?
Free Mobile network: what is Free phone coverage worth in Spain?
Expertsconnecting accompanies you during your steps at Free Mobile:
How to activate Free Mobile call forwarding?
How to configure the APN Free Mobile on my smartphone?
How to configure your Free Mobile answering machine?
How to contact Free Mobile customer service?
How to connect to your Free Mobile customer area and manage your account?
How to recover your RIO Free code?
How to activate your Free SIM card?
How to cancel your Free mobile plan?