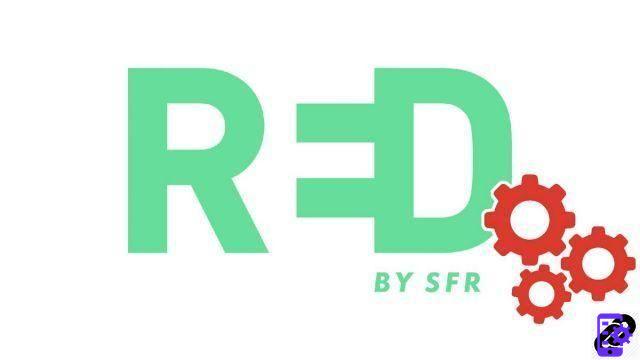 When you benefit from a mobile plan (or an internet box subscription) from the operator RED by SFR, this one gives you identifiers to connect to a customer area which allows you to configure and manage your account and the functionalities. which you enjoy. Here's what to know about it.

To start, remember that RED is an "online" operator, that is to say that there is no physical store where we can advise or help you. The stores of the SFR brand - which is the parent company of RED - only manage SFR offers and not those of RED. In addition, it is impossible to have an interlocutor on the phone when you are a RED mobile customer. Communication is mainly done by chat or by other means (forum, social networks). This is one of the reasons why RED subscriptions offer a much more attractive price than those of SFR: customer service is much less elaborate. This is why it is all the more important in this situation to master your customer space and know how to manage your own account.


Access your RED by SFR customer area
The first way to access your customer account is to go through the RED website, whose address is as follows: red-by-sfr.com. Click on the silhouette-shaped icon in the top right, next to the magnifying glass, then click on the "Connect" button in the drop-down menu that opened. You are then invited to enter your telephone number and your password, then to tick the box "I am not a robot" of the CAPTCHA. Then click on "Connect" to access your customer area.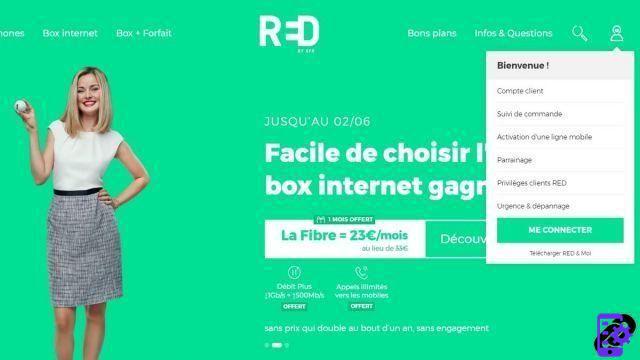 The other possibility is to go through the mobile application RED & Me, available for free download on the Play Store for owners of an Android smartphone and on the App Store for users equipped with an iPhone. This is the best solution if you are used to managing your account from a smartphone or tablet, the application being much faster, easier to use and intuitive than the website on this type of device. After downloading and installing the app, all you have to do is enter your credentials to access the customer area.


Manage your RED account
Whether via the mobile application or the website, the RED customer area provides a number of features for setting up your account, monitoring your consumption and bills or modifying your current subscriptions. Review of the tools available: just keep in mind that the name or location of certain sections may vary depending on whether you are on the app or the web page.
Consumption monitoring ("My consumption") lets you know in real time the amount of mobile data used since the last reset. This gives the user the possibility to adapt according to what remains of his monthly quota. Smartphones already offer this kind of service, but the indications are often unreliable. Instead, rely on the figures provided by your operator (you can also compare them to those of your mobile to see the difference). You have the possibility to independently see your consumption in Spain and abroad. Call minutes are counted, even if calls are unlimited for all RED mobile plans. You can also see how much you have spent on chargeable calls (customer service, calls abroad, etc.). You can also consult your invoices from this space.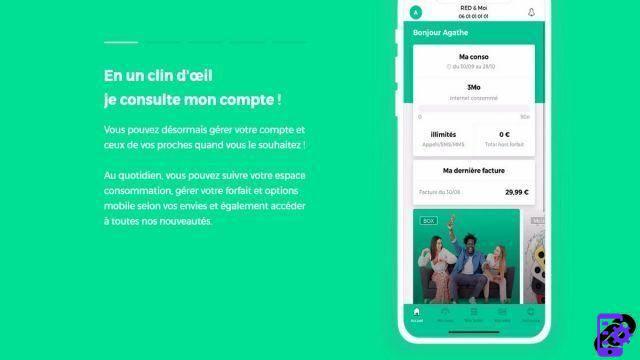 In "Offer and options" (website) or "My package" (application), you have the possibility to check everything that your subscription authorizes. It is also from this section that you will be able to adjust your internet envelope and voice credit in the event of exhaustion of the package, order a SIM card (or eSIM), or even cancel your RED subscription. To change the plan, this is also where it is played. The management of options is also done here: you can activate and deactivate them at will. In addition, it is possible to manage its multimedia purchases (when Google Play, iTunes or other services invoice via RED for example), its SFR Cloud, SFR Family and SFR security options, or services such as RMC Sport, SFR Presse, SFR Play, SFR Gaming, SFR TV, Yooboox One, Netflix, Amazon Prime Video or beIN Sports.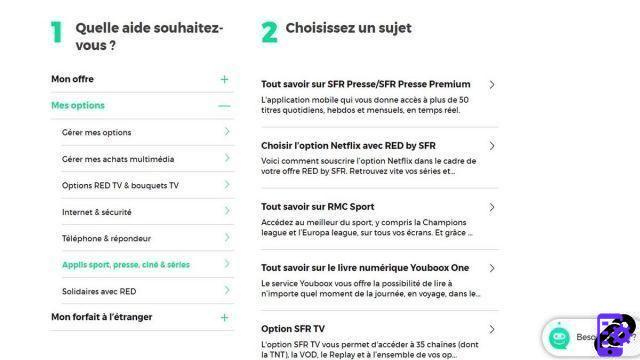 In the event of a problem, you also have access to the "Emergencies and troubleshooting" section (website), named "Assistance" on the mobile application. You can suspend your line there in the event of theft or loss of your mobile, order a new SIM card, and contact SFR's mobile insurance if you have subscribed to it. You will also find resources to try to solve problems, such as a blocked SIM card, the impossibility of sending or receiving calls or SMS, a problem with your plan abroad, the network or the mobile Internet which does not work not or a breakdown of his device.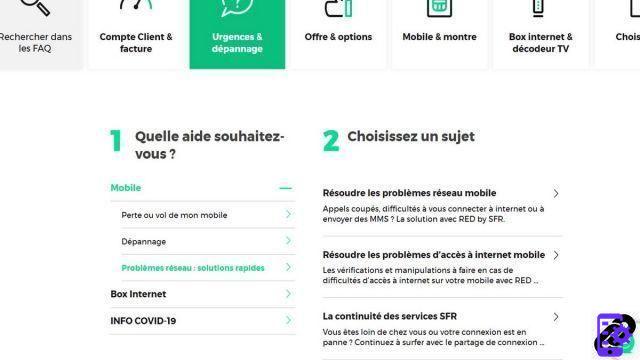 Finally, the "Mobile and watch" section allows you to set up your mobile answering machine, synchronize your Google contacts, unlock your device, configure your smartphone, personalize your PIN code, obtain information and have the "Watch" option. connected" for owners of a smartwatch.
Useful information at RED by SFR:
RED network by SFR mobile: what 4G, 3G and 2G speeds for the telephone operator?
RED network by SFR mobile: what is the RED network coverage worth in Spain?
Expertsconnecting accompanies you during your steps at RED by SFR:
How to cancel your RED by SFR mobile plan?
How to activate your RED by SFR SIM card?
How to retrieve your RIO code from RED by SFR?
RED sponsorship by SFR: how do the advantages of the offer for mobile plans work?
How to contact RED by SFR customer service?
How to configure your RED by SFR answering machine?
How to configure the APN RED by SFR on your smartphone?
How to unlock a smartphone at RED by SFR?
How to activate Wi-Fi calls at RED by SFR?
How to activate call forwarding at RED by SFR?
How to migrate from SFR to RED by SFR?