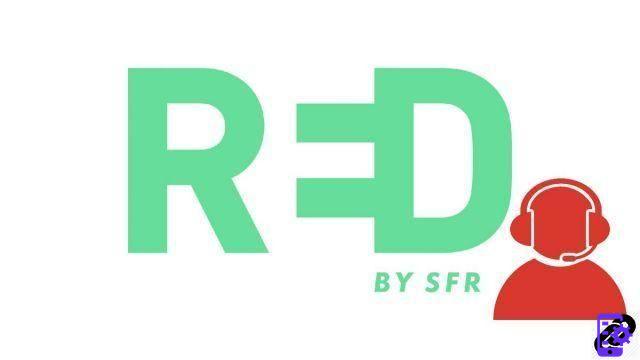 Are you looking to contact the customer service of the operator RED by SFR? We detail the different ways to achieve this.

Network problem, change of package, billing error... there are many reasons for wanting to contact the customer service of your operator. The case of RED, an "online" operator subsidiary of SFR, is particular: there is no physical point where it is possible to ask for help, everything happens remotely (SFR shops only serve customers SFR, not RED). Customer service is not as developed at RED as SFR, which is partly why the first city is able to offer subscription offers at a much better value for money. So let's review the solutions to join RED.


Contact RED customer service by phone
It is not possible to get in touch with a RED adviser by telephone if you only subscribe to a mobile plan. There is only one exception to this rule: you can call 0 809 400 243 only for mobile order tracking. In all other cases, you must opt ​​for one of the solutions described below.
New RED box customers can call 0 801 82 00 36 for assistance setting up a new ADSL or fiber line less than three months old. The call is free from a landline. The line is available from 9 a.m. to 00 p.m. Monday to Saturday. Again, the number listed can only help you in this specific situation. For any other request, you must go through an alternative means.
The 1023 is reserved for SFR customers and does not concern RED subscribers, whether they subscribe to a mobile or box offer.
Contact RED customer service via chat
Log in to your customer area on the red-by-sfr.com site then scroll down to the green banner at the bottom of your screen. In the "Support" section, select "Contact us". You must then select your situation and choose the topic of the question you wish to ask from a selection. You will then have the possibility to open a chat with an advisor. This will answer all your questions, whether you are a mobile customer or an internet box. RED's chat is available Monday through Saturday from 9:00 a.m. to 20:00 p.m. This is the most direct way to communicate with the operator in most situations.

Contact RED customer service through the mobile application
If you are looking to join RED from your smartphone, it is better to go through the RED & Me application than to connect to the customer area via the website. The app is much more convenient to use on this medium. It can be downloaded for free from the Play Store on Android smartphones and from the App Store on iPhones. As on the web, you can send a message to an advisor and converse with him in the form of a chat. To do this, go to the "Help" section to the right of the menu at the bottom of the screen. Press "Contact us" and select the topic of your question. Once you have written your message, remember to activate notifications to be notified as soon as an advisor has replied to you.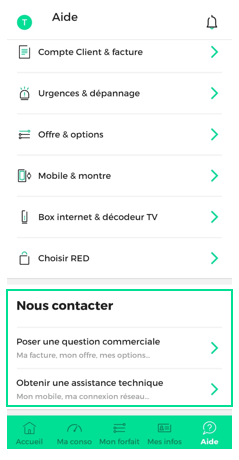 Contact RED customer service through social media
Increasingly, it is becoming possible to get in touch with brands via social networks on which they offer real customer service. This is also the case at RED, present on Facebook and Twitter. In either case, prefer sending a private message rather than a public publication so that your case is processed more quickly. Advisors do not necessarily see public messages and ask anyway to go private for the rest of the conversation, it will save you time to start directly in private.
For Facebook, the page is called RED by SFR. Click the "Send Message" button, which is right next to the "Like" button, to open a Messenger window and type in your query. On Twitter, look for the RED by SFR account then click on the messaging logo (next to the "Follow" button) to send a private message specifying your request.

As with the other solutions, customer service is available on social networks from Monday to Saturday from 9:00 a.m. to 20:00 p.m.
View RED's FAQs
Why wait to speak to an advisor if the answer to your question is already available in the resources made available by the operator? On red-by-sfr.com, type a query in the search bar located at the top or ask your question to the virtual assistant Léo (available at the bottom right of the screen). You will then be redirected to an answer to RED's Frequently Asked Questions. If these solutions are not satisfactory, you can also manually search for your answer in the "Info and questions" section.
Ask for help from the community on the forum
Last option, you can leave a message on a forum topic or create your own topic so that we can help you. Regular users such as customer service people will then be able to answer you. This is a method that may be of interest for obtaining answers that go beyond the official framework of the standard discourses of advisers. Do not hesitate to browse the already existing topics on the forum to discover the feedback of other users, and why not come across the testimony of someone who has been in the same situation as you.
Useful information at RED by SFR:
RED network by SFR mobile: what 4G, 3G and 2G speeds for the telephone operator?
RED network by SFR mobile: what is the RED network coverage worth in Spain?
Expertsconnecting accompanies you during your steps at RED by SFR:
How to cancel your RED by SFR mobile plan?
How to activate your RED by SFR SIM card?
How to retrieve your RIO code from RED by SFR?
RED sponsorship by SFR: how do the advantages of the offer for mobile plans work?
How to connect to your RED by SFR customer area and manage your account?
How to configure your RED by SFR answering machine?
How to configure the APN RED by SFR on your smartphone?
How to unlock a smartphone at RED by SFR?
How to activate Wi-Fi calls at RED by SFR?
How to activate call forwarding at RED by SFR?
How to migrate from SFR to RED by SFR?