How to create a podcast? It's a question we've been hearing a lot lately. Podcasts - these audio files uploaded to the web to be listened to by thousands of people - are now very popular and are well suited to the period we are living in. In a world that forces us to spend several hours a week in cars, trains, buses, planes and subways, it is vital to find a way to pass the time. Yes, that's right, there is radio and there are music streaming services, but the podcast offers something more: the opportunity to learn, broaden one's horizons and understand the world around us, perhaps looking at it from a new point of view. Add to this the greater impact of audio compared to video: the podcast forces us to make an effort, to paint a scene in our head,
But back to the original question: how to create a podcast? In reality, there are few steps to take to bring your content to the web: a good idea, a microphone and an account on Spreaker are all you need.
How to make a podcast: the idea
Podcasts, just like blogs in their era of now, have one big advantage: they are democratic. You do not need large investments of money, you don't have to know the "right people", you don't have to have special technical skills. This obviously doesn't mean anyone should open one. It is not a "I can and I do" as an end in itself. First of all, an idea is needed.
Before embarking on this adventure you must understand what to tell. What can you offer humanity? What topic do you know? Which style do you want to use? Which formula is really suitable?
Remember then that it is not a single content, but a serial one. This means that you must have enough material to cover dozens of episodes, or at least 8/10 episodes. But this is also a choice that you have to make upstream: do you want to do something short and limited, something that necessarily has an end, or do you want to carry on your project for months or even years?
So in summary, here's what you need to define before starting:
what am I talking about?
do I keep it alone? Do I find a partner? Do I interview people?
who do I contact?
how do i title it?
how long does an episode last?
what cadence do I give it?
how many episodes do I want to make?
If you have the answers to these questions, you are well under way and ready for the next step: realization.
The realization: the basic tips
Regardless of the tool you will use to bring your first audio file to life - and then all subsequent ones - remember to consider two basic elements:
the audio quality must be medium-high
the space in which you record must be silent
Nobody likes to listen to a podcast with annoying background noise or, even worse, with indecipherable speech. The voice of the speaker - or of the speakers, if you choose to share the experience with someone - must always be clear and crystalline. ALWAYS. This also applies to those who decide to record an episode on Skype. If this is your case, take the appropriate precautions: a good connection, a backup recording of both and maybe a good software that can reduce that "distance" typical of web calls.
And the room? Of course, you don't have to have your own little recording studio with sound absorbing panels. But try to find a quiet room, unless recording in crowded places, on the street or within a specific location is not part of the initial idea. Example: I want to make a podcast about coffee and decide to keep it in a coffee shop. It is clear that in these cases you will have to make an extra effort to obtain an adequate audio quality.
Create a podcast with your PC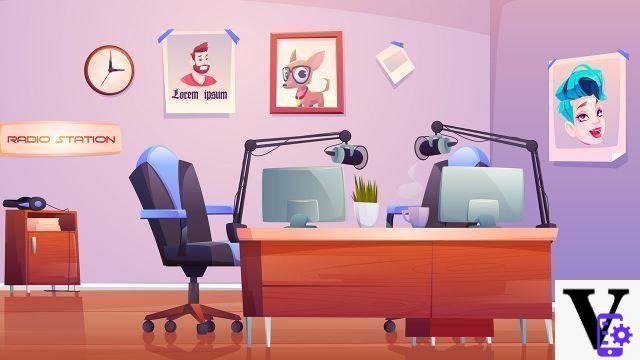 Let's start from the more traditional situation: "I want to record a podcast with the PC". The first problem you will have to face is that of the microphone. Much of the result in fact depends on the instrument used.
Sure, you could settle for the one built into the notebook, but with what results? Is it good enough? Do not let yourself go to various and possible conjectures. Record yourself for 2 minutes, listen to yourselves again and then, in all honesty, answer these questions: is it an audio that I would like to listen to? Does it live up to the podcasts I usually listen to?
If the answer is no - and it is quite probable - you will have to invest some money to purchase a good microphone. How much clearly depends on you, your budget and your approach. You can, for example, start with something basic and then make a second purchase later on.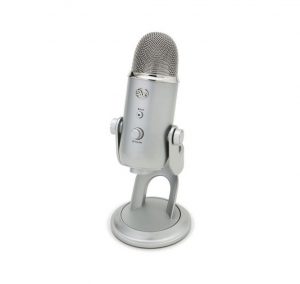 On the contrary, if you are determined, determined and do not want to make a second investment a few weeks later, you can spend a little more and already get a higher quality microphone.
But which? Here are the 5 microphones that we suggest:
Blue Yeti (the one we use);
Rode Podcaster;
Audio-Technica AT2020;
Samson Go Mic.
Discount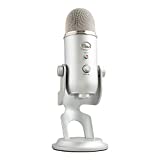 Blue Microphones Yeti Professional Multi-Pattern USB Mic for...
Custom Three-Capsule Matrix: Produces crisp, powerful, professional-quality audio for YouTube, streaming ...
Four sensing modes: cardioid, omnidirectional, bi-directional and stereo modes offer incredible ...
Audio controls on the accessory: Studio controls for headphone volume, mode selection, mute ...
149,99 EUR −7% 139,99 EUR Buy on Amazon Offer

Rode Podcaster USB Dynamic Microphone, White
Broadcast Sound Quality
28mm dynamic capsule
18-bit resolution, 8-48kHz sampling
219,00 EUR −4% 209,25 EUR Buy on Amazon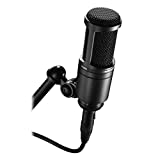 Audio-Technica AT2020, Professional Studio Microphone ...
Fixed charge back plate, permanently polarized capacitor Polar Pattern: Cardioid
Frequency response: 20Hz - 20kHz Sensitivity: 37dB (14.1 mV) re 1V at 1 Pa Impedance: 100 Ohm Maximum level of ...
Dynamic range: 124dB, 1kHz at Max SPL Connector: XLR M 3-Pin Pole mount included
99,00 EUR Buy on Amazon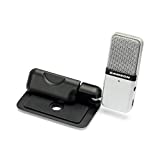 Go Mic - Portable USB Condenser Microphone
Compact and portable USB studio condenser microphone
The unique foldable design with integrated clip makes the microphone extremely portable and ideal for most ...
Dual selectable pickup patterns (cardioid and omnidirectional) make it ideal for recording vocals, ...
67,99 EUR Buy on Amazon
If you are at the beginning and do not want to spend a capital, you will hardly buy it. But, if your podcast grows, you may want to start evaluating the investment. What are we talking about? Of the portable sound absorbing panels. A solution that reduces ambient noise, echo and acoustic interference.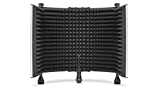 Marantz Professional Sound Shield - Acoustic Screen ...
Lightweight and portable acoustic screen, ideal for studio and live recording, indoors or outdoors
Significantly reduces echo, reflections and environmental noise interference
Made with quality materials: 5 perforated metal panels with sound absorbing surfaces (including two ...
99,00 EUR Buy on Amazon Offer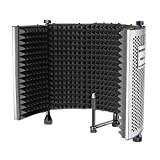 Neewer NW-5 Portable Voice Recording Panel ...
Noise Canceling: Used to reduce ambient noise and create a more vocal or instrumental recording ...
There are a total of 5 panels, 3 central fixed and 2 folding side panels. It is easy to pack and transport.
Sturdy aluminum structure; High density sound absorbing foam; Adjustable knobs to tighten the ...
103,99 EUR −3% 100,99 EUR Buy on Amazon
Once you've found the right hardware, you'll need to think about the software. With what do you want to record and edit (if necessary) your audio file? We offer you three alternatives.
Spreaker Studio (Windows, Mac)
There's a good chance your podcast journey will take you to Spreaker (but we'll tell you why later). So why not embrace it right away? This platform makes available an extremely simple software for recording your tracks. With a few clicks you can capture your voice, add new tracks and use the available sound effects.
Audacity (Windows, Mac, Linux)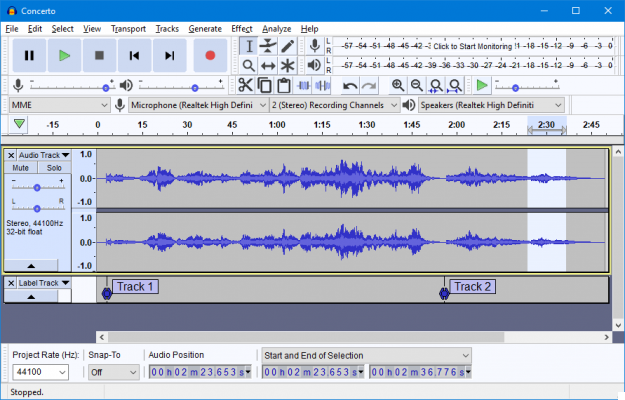 Audacity is the Ferrari of free software. Not only because it allows you to record anything using multiple tracks, but mostly because, once you hit Stop, you can cut mistakes, add pieces, insert sound effects and edit your track to eliminate noise, echo and reverb. In short, here you really have everything you need. Of course, it is more complex than Spreaker Studio, but in reality on the official website you will find the documentation necessary to discover all its features.
Adobe Audition (Windows, Mac)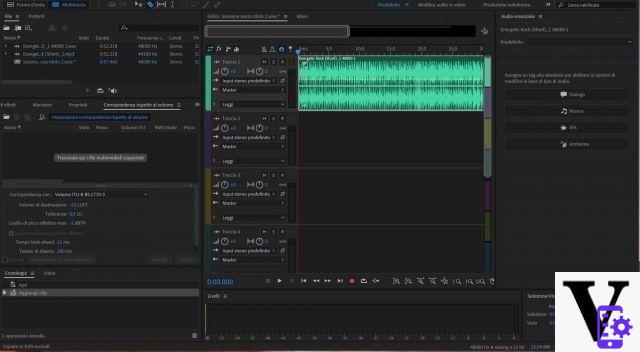 If you are looking for total flexibility, you need to move to a paid program, just like Adobe Audition. It is currently the software we use for editing, it is undoubtedly complex and requires a great desire to learn. Of course, you won't have to study for months before editing a track: at the beginning you can take advantage of the numerous presets that it puts at your disposal, so it will only take you a few minutes to get a really good audio quality.
Those listed are not the only software on the market. With a little sound research, you might find some other alternatives. However, we suggest you try more than one to find the one that best suits your needs and skills.
Create a podcast with your smartphone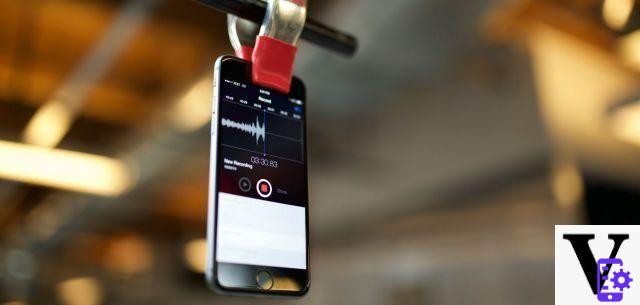 "What if I want to do everything with my smartphone?"
Well, it actually changes relatively little. You always have to find a good microphone - the integrated one will hardly guarantee acceptable quality - and something to record your tracks with.
Obviously in this case you will not have to look for bulky USB microphones to connect to your PC, but something portable and designed to work on the 3,5 mm jack of the smartphone or tablet with which you intend to produce the audio file.
We have selected some suitable for the purpose:
Rode VideoMic Me;
Rode SmartLav+;
BOYA BY-MM1;
Saramonic Mini SmartMic;
Comic CVM-VS08.
Discount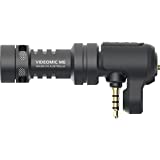 Rode VideoMic Me Compact Directional Microphone for ...
Plug-and-play audio enhancement for iPhone and iPad, pass-through jack for use with headphones. Powered by ...
VideoMic Me includes a deadcat windshield for shooting outdoors and in critical weather conditions
Includes hairy windshield, frequency range 100Hz - 20kHz
69,00 EUR −20% 55,00 EUR Buy on Amazon Offer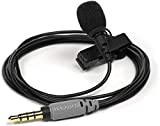 Rode smartLav + Lavalier Microphone with Pop Filter, ...
The included water-resistant pop filter and the mini "dead cat" (plush) for protection from the wind, ensure you ...
The waterproof and shockproof packaging provides adequate protection for the microphone, cable and accessories
Thanks to its pure and crystal clear sound, efficient noise rejection and its robustness, the RØDE Lavalier is ...
69,00 EUR −20% 55,00 EUR Buy on Amazon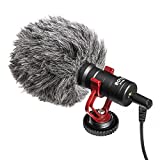 BOYA BY-MM1 Omnidirectional Microphone 3.5mm tie for ...
The BOYA BY-MM1 is a cardioid microphone, which specially design to improve the sound quality of videos on the basis of...
Compatiable with smartphones, DSLR cameras, Consumer Camcorders, PCs etc.
With both TRS cable and TRRS output cable included,it can be used on Smartphones, cameras, camcorders, audio recorders,...
50,75 EUR Buy on Amazon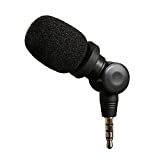 Saramonic Smartmic mini condenser flexible microphone ...
The saramonic smartmic condenser microphone is small and lightweight, making it iPad Mini now and easy to take with ...
The saramonic smartmic uses a directional condenser microphone trrs to collect and record a wide range ...
A head allows you to angle the multidirectional microphone for flexible recording options that are perfect ...
Buy on Amazon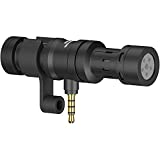 COMICA CVM-VS08 professional cardioid condenser with ...
★ 【Note before use】 To avoid any interference, please make sure your phone's WIFI is off and ...
★ 【"Playback" Audio Monitor】 While plugging the earphones into the microphone monitor connection, ...
★ 【Cardioid Polar Pattern】 The Comica CVM-VS08 microphone comes with cardioid direction which can ...
49,00 EUR Buy on Amazon
And the software? Well, in this case a distinction is needed between recording apps and editing software. For the mere recording part we suggest you use:
Spreaker Studio (iOS, Android);
GarageBand (iOS);
RODE REC, the official Rode application (iOS);
Rev (iOS, Android);
Easy Voice Recorder (iOS, Android).
'Sediting you can certainly find some dedicated apps both on the App Store and on the Google Play Store, but our advice is to do it anyway on PC / Mac. First of all because it is easier to cut micro-errors and hesitations on a larger display and using a mouse and, secondly, because no mobile app guarantees you the same amount of features offered by Audacity or Audition.
Effects yes or effects no? Music yes or music no?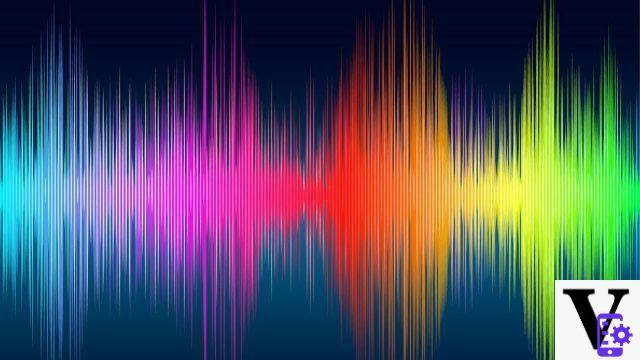 If you have listened to the podcasts that today populate the different streaming platforms, you will surely have noticed that the currents of "thought" in this field are two: there are the naked and raw files, without effects and without music, and those that instead come heavily processed.
"And what do I do? Shall I wear something? Do I leave everything bare? "
Wrong question. The right question is: "Does my audio file need anything else? Could the listener need anything else? "
Our podcast - Fjona Cakalli Talks - today it has no audio effects. And it is a choice. For the kind of experience it offers, we thought it appropriate to leave the file almost in its original version. Very few cuts - the indispensable ones - and just a few corrections to make the track pleasant to listen to.
But you may have high in mind. You might, for example, want a theme song because you want a tune that makes it recognizable. Or, you could opt for more challenging stories, as happens for example in Urban Demons, where the atmosphere is really everything and to create it you need a pushed editing, made of the right noises, of carefully studied soundtracks, of incisive pauses.
If you want something more complex, if you think you need to add something, know that you will need two elements:
patience to see, because editing is not a matter of moments but of hours;
a good library.
They belong to the latter category Audio Jungle, Epidemic Sound, Freesound, Soundsnap and many more.
READ ALSO: Best Italian podcasts: the 22 podcasts you absolutely must listen to
How to Make a Podcast: How Do I Put It on Apple Podcast and Spotify?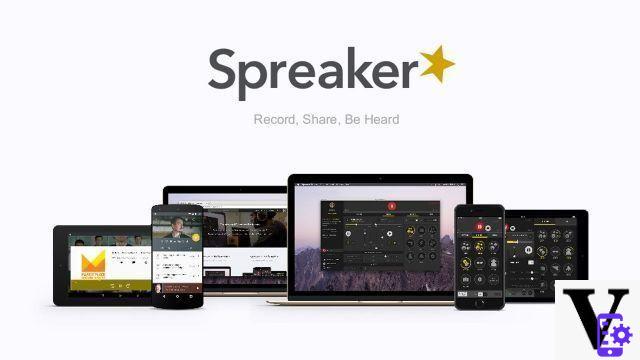 Let's assume at this point that you finally have the first episode of your podcast ready. How to share it with the rest of the world?
The simplest method is undoubtedly upload it to Spreaker. All you need is an account and the free plan to bring your audio broadcast to life. All you have to do is create a new show (complete with logo and description), upload the episode and press the Publish button.
What about other platforms? You absolutely must not go crazy. In fact, inside the Spreaker Control Panel you will find the Distribution tab that allows you to iAlso send the podcast to Apple Podcast, Spotify, iHeartRadio, Google Podcast, Castbox, Deezer, Podcast Addict and Podchaser. All this for free and with just a few clicks.
But what if I decide I don't want Spreaker? Or what if the free space it offers is not enough for me? In the second case you can always upgrade to a paid plan to meet your new needs. If, on the other hand, your problem is dependence on a single platform, know that, if you want, you can upload the different files to a web space of your choice, after which it will be necessary to generate an RSS feed that you will have to manually submit to all platforms. In short, not really a simple thing.
In our opinion Spreaker is, to date, the best solution: is an Italian platform, it's free, it offers you Spreaker Studio at no cost and you can always expand the space and access advanced functions by spending just over 70 euros a year. In addition, it interfaces with all other services, which will make your life much easier.
gopod.me: promote your podcast
You can wait for your podcast to magically go viral or you can decide to step in and do some healthy promotion. Like? Using the good old social networks and gopod.me.
What is gopod.me? It is a platform that allows you to create your personal landing page, containing links to all major listening platforms. What is it for? Simple: to facilitate sharing, both of the entire podcast and of individual episodes.
Imagine you want to urge someone to listen to your creation. Which link do you send him? Apple Podcast only? Spotify only? So you risk selecting a service that your friends, acquaintances or some stranger on the Internet do not actually use. gopod.me instead allows you to have a single reference, then leaving the final choice to users.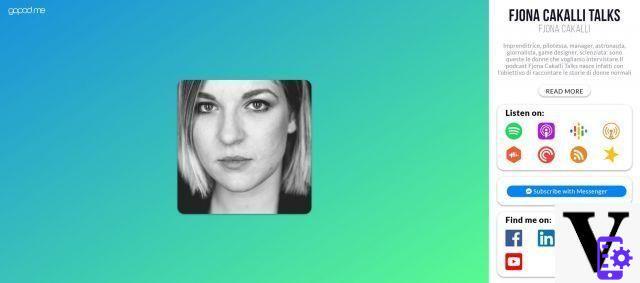 But how to use gopod.me? First of all the platform uses the Apple Podcast database to collect all existing podcasts. This means that once online, you simply need to go to the site and search for yours. Once found you will have to click on "Claim this podcast" to register and start the verification procedure. This allows gopod.me to assign the content only to the legitimate owner. After this preliminary phase, all you have to do is use your new link to spread the word.
Do you want more? There is Pro version! With 4,99 per month you can add the notifications - sent via Facebook Messenger -, the contact collection form - useful for sending a possible newsletter -, tracking with the Facebook Pixel and links to your social networks. In addition, you can add an SEO description to your podcast, add a custom background to your page and define the order of the episodes. A great way to highlight the most interesting episodes.
It goes without saying that we too have chosen gopod.me, which allows us - among other things - to embed every single episode within the relative articles.
Here are some examples:
Interview Misunderstood: I stopped traveling around the world, not by my will. But I fight!
Interview Tatiana Sulejmani: my mother, the prima ballerina of the Hoxha regime
Interview Elena Lavezzi: from startup to startup up to distant India
Interview Monica Secondino: financial consultant, journalist and force of nature
To recap
Ok, that was a lot of information but don't panic. Let's try to make a brief recap to understand what you need to make a podcast:
l'idea: it is fundamental because it often also defines the format, style and tools;
l'hardware: a good microphone helps to have a clean and pleasant sound to listen to;
he software: to record and edit, which does not necessarily mean adding music and sounds, you need a good travel companion;
the platform: start from Spreaker and then reach the streaming services;
the promotion: podcast is meant to be listened to and gopod.me can help you reach more people by making sharing easier.
10 Pro Tips per i podcasters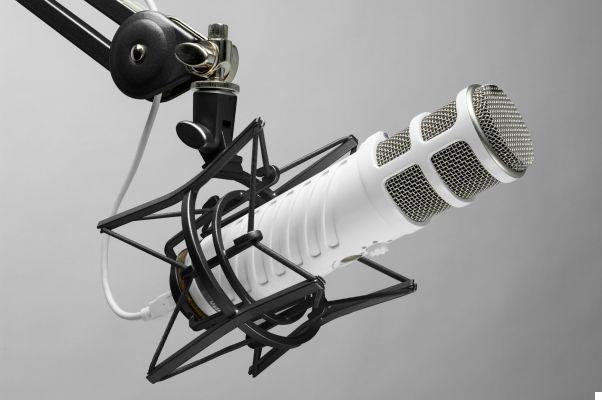 Have you already mastered the basics? Here are 10 tips to further refine the technique.
1 - Pop filter
The pop filter is a small accessory that decreases the energy of some consonants, including P and B. You can find it easily on Amazon and it is easily installed. Pay attention only to the distance: it should be 5-10 cm from the microphone.

Discount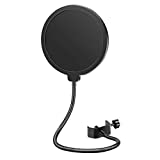 Neewer NW (B-3) 6 "Studio Microphone Pop Filter with ...
DOUBLE LAYER POP FILTER: The first screen blocks air blasts like another pop filter; The intermediate space ...
ADJUSTABLE GOOSENECK: The steel metal gooseneck holder fully supports the weight of the filter and keeps it ...
CLEARER SOUND: The terrible hissing and smoothing sounds that occur when pronouncing the ...
14,99 EUR −47% 8,00 EUR Buy on Amazon
2 - Sound level
"High" and "clear" are not the same thing. Don't make the mistake of digitally turning up the volume of the recording indiscriminately. You only risk compromising the entire file. A lower but clearer audio is better than a croaking file.
3 – Call To Action
The intro of a podcast is important: it can make it recognizable and leave an indelible imprint in the brain of the listener, but the outro is also important. This does not mean that you have to add the initials at the end, but rather insert a Call To Action. In short, ask your listeners something: "Write me on Facebook if you want to talk about this topic", "Follow me on Instagram", "Share the podcast with friends" and so on.
4 - Do not underestimate the graphic aspect
If I'm on Spotify and looking for a new podcast, the first thing that catches your eye is the thumbnail, both of the entire show and of the individual episodes. So take care of the graphic aspect, opting for something that is capable of really attracting attention and that is recognizable everywhere. Not good with Photoshop or Illustrator? You can always search for something on Graphicriver, Freepik, Canva or Hatchful. You can even search for a chart on Fiver.
5 - Punctuality
One of the first metrics that users evaluate when looking for new podcasts is reliability. If you declare a bet every Friday, where to respect this schedule. Be on time and, if for some reason an episode skips, report it promptly, so users will be prepared.
6 – Spotify for Podcasters
Is your podcast also on Spotify? Know that the well-known streaming platform offers you an analysis tool called Spotify for Podcasters. This allows you to access a series of statistics that help you understand which episodes are performing best and what your audience is.
7- Monetization
Again Spreaker comes to your aid. In fact, the platform allows you to monetize thanks to the inclusion of dynamic advertising that adapts to your audience. In short, it's just like AdSense but in the audio field.
8 - Create a website
Listeners must be able to find you easily. Not only on streaming platforms, but also online. If they want to know who you are, what you do and what your podcast is about even before listening to it, you need to give them the chance. Like? By creating a website, even a very basic one. If you have a minimum of skills in the sector, you could consider purchasing a hosting with Wordpress; alternatively you can rely on services such as Wix.com.
9 - Fewer statistics and more communities
Podcasts hardly hit record numbers so don't get stuck on stats. Instead, we recommend that you focus on users: cultivate your community, talk to them, interact.
10 - Do not be discouraged
You've got the right idea, you've studied everything, you've learned the secrets of editing but your podcast doesn't take off. DON'T BE DISCOUNTED. If you have a handful of bets to your credit, it is normal for your stats to be uninspiring. Would you listen to a podcast with only 2 or 3 episodes? Give time to time.
Maaaaaa… can lo conoscete Fjona Cakalli Talks?
Our in-depth study on podcasts ends here. Of course you can contact us on social networks in case of doubts, questions or concerns, or even just to ask us to add something that, in your opinion, could be useful for future podcasters.
In the meantime we remind you that you can listen to our creature - Fjona Cakalli Talks - on all major streaming services. Which? There is gopod.me that can help you discover them all!
Tagscome create a podcast gopod gopodme podcast Spreaker How to create a podcast: complete guide to tools and platforms