Geolocating your phone or tablet remotely can be practical in many situations such as the loss or theft of your device or to monitor the activities of your children.

Here are the different services, software and applications available to geolocate your old or recent device and under many operating systems
Services integrated into operating systems
Under iOS
The location function of an iPhone, iPad or iPod is directly integrated into iOS. However, it is necessary to activate this function beforehand:
Go to the Settings of the device, then in the option iCloud ;
Enable option Localiser mon iPhone.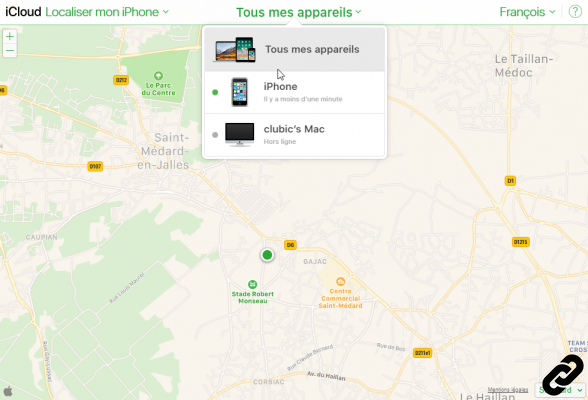 In the event of loss or theft, two solutions are available to the user: install the application called Localiser mon iPhone available on the App Store on another iPhone to find the location of his phone, or go to the iCLoud site. On the home screen, click Locate to view the location of each device in their account on a map.


Android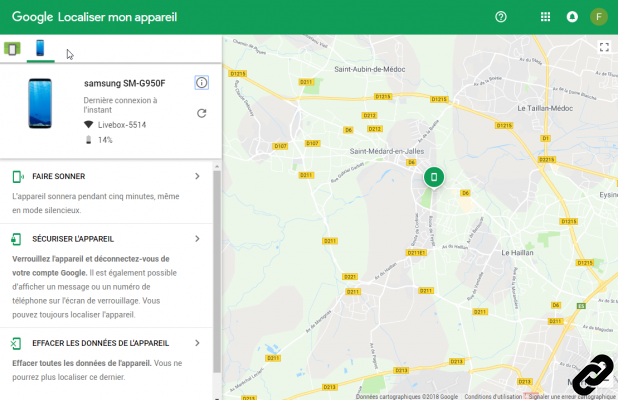 As in iOS, Android offers two methods to find your smartphone or tablet.

Via the Find my device website, where users simply enter their Google credentials to find the location of their device on a map with the option of ringing it, locking it by leaving a message or erasing data remotely.
The user can also install the Find my device application available on the Play Store and which offers the same functions as the dedicated website.
Pour Windows Phone
Windows Phone devices can be found using the following manipulation:
Go to the dedicated Microsoft page and log in with your Microsoft credentials;
Select your device from the list then choose the option Locate my phone ;
The current geolocation is displayed on a map, it is also possible to erase personal data, lock your device and ring it remotely.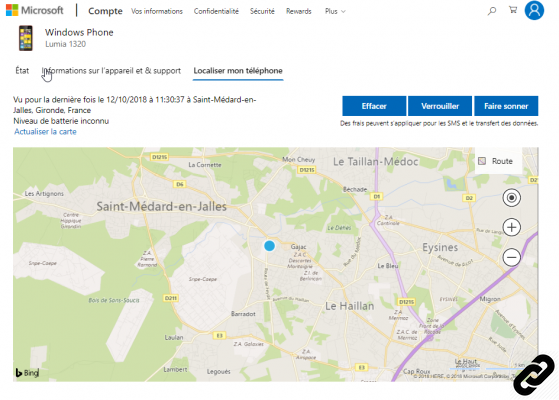 Pour BlackBerry OS
For people with a Blackberry device, there are two methods depending on the version of BlackBerry OS on board:
For BlackBerry OS 10 or higher : the function must be activated beforehand in the device settings via the option BlackBerry Protect. A BlackBerry ID is then required.
For versions prior to 7.1 : it is necessary to install and activate the application BlackBerry Protect available for free on the BlackBerry World store
To geolocate your device in both cases, all you have to do is connect with your credentials to the protect.blackberry.com site.
Pour Firefox OS
Although no longer developed and supported by the Mozilla Foundation since 2015, Firefox OS is embedded on smartphones from many manufacturers.
Version 2.2 offers the functionality
Privacy Panel
which, once activated, allows you to send an SMS to your own number from another telephone containing a phrase to be configured beforehand. In response, the user will have the exact GPS coordinates of their device.
According to the device manufacturer
Samsung
The Samsung brand offers a free tool to geolocate your mobile thanks to the online service
Mobile tracking
. To do this, you have to go to Find My Mobile and then log in with your Samsung credentials to see your connected devices on a map with the possibility of ringing them, locking them or erasing personal data remotely.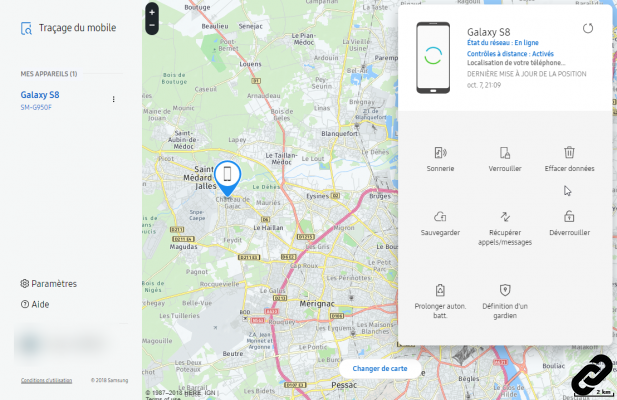 For brand terminals
Apple
et
BlackBerry
, refer to the previous chapter for devices under iOS and BlackBerry OS respectively.
With an iOS or Android app
parental control apps
Geolocation of a mobile device may be necessary to monitor children's activities. With this in mind, several applications dedicated to parental control such as Qustodio,
family time
ou
Norton family
, iOS and Android compatible, track the location of a child's device remotely and in real time. The majority of products offer this parental monitoring as a paid subscription.
Localization applications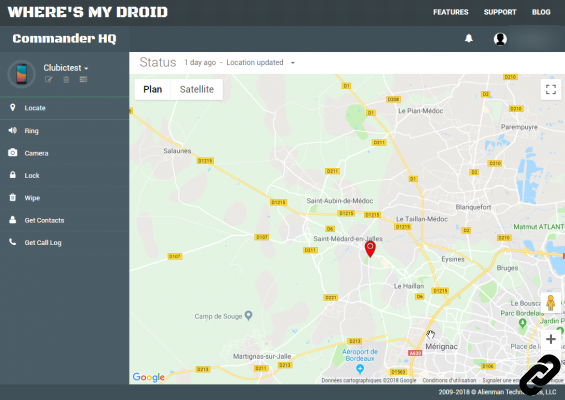 The iOS and Android stores are full of applications to geolocate your device. Some of the most popular and effective include:
Where's My Droid
for Android or
Life360
for iOS and Android to geolocate your phone.
Mobile antivirus
The vast majority of Android and iOS antiviruses offer remote device location in their full version. We find this functionality in particular with the applications F-Secure Anti-Theft, Avast Mobile Security as well as the essential mobile antiviruses
Kaspersky
,
Bitdefender
or even
ESET
.
Services by operator
At SFR
The operator offers all users, subscribers or not, the paid application
SFR Security
allowing in particular to protect his device against online threats, but also to geolocate his device remotely.
Numbers in case of loss or theft
With other French operators, geolocation of the device is not available. In the event of loss or theft, it is recommended to immediately contact the customer service of your mobile operator to suspend your line or declare a claim. Filing a complaint is also ideal in the event of theft.
Here are the numbers to contact for the different operators:
Orange : 3900
SFR : 06 1000 1963
Bouygues Telecom: 1064
Free Mobile : 3244
Depending on the services and applications, locating your devices remotely requires them to be powered on, connected to the mobile network or Wi-Fi or with geolocation activated.
Warning :
If you believe that your device has been stolen and you are able to consult its geolocation using one of its services or an application, it is advisable to contact the competent authorities to recover your device. It is also strongly recommended not to recover your phone or tablet by your own means.