Now our life is contained in our smartphones and privacy is a utopia both online and in everyday life. A nosy "friend" just gets their hands on our phone to get access to a scary number of us personal informations, being able to browse about: who we chatted with and what we said to each other, about our photos, our apps, and even where we were.
How to prevent this? First by setting a Password, and using secure locking methods such as the fingerprint. We do not recommend unlocking with your face, because it is enough to be framed by our smartphone to unlock it (as those who have particularly nosy friends have already learned the hard way).
In this article, we will delve into how to hide apps on Android, so they stay safe from prying eyes. We will refer to a procedure that allows you to have administrator privileges: rooting which is not strictly necessary for the use of the Apps proposed below. For further information, I invite you to read: Why rooting on Android.
The simplest free rootless method: AppHider +
The application is very comfortable and completely free; it works in two thefferent ways based on whether you have root on the device or not. When the app starts, it checks, if it detects the root, it allows you to hide the apps from any launcher, if this does not happen, it invites you to install an add-on, or "DC Launcher".
Installation is simple: just go to the Play Store and download the latest version of AppHider +
To hide the Apps on Android, based on what we said before, if you are not rooted, the add-on thealog box will appear and you will have to press "Install".
2. The Play Store will open automatically and you will need to continue with "Install". Once you have installed the DC launcher (which weighs only 3 MB), you can press back twice and go back to AppHider +.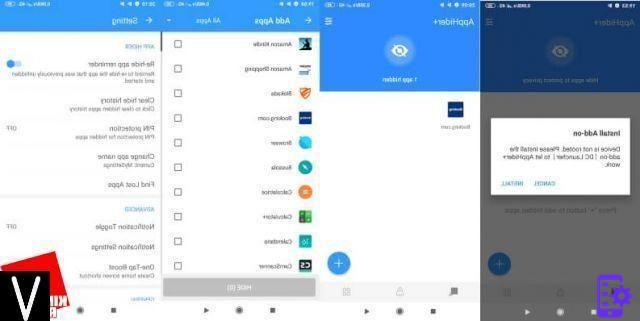 3. Inside AppHider +, you can press the button with the + at the bottom and select the apps to hide and, once selected, you will have to press on HIDE.
4. The first time you will see a thealog box asking you to set DC launcher as default launcher; press on "SET", then choose "DC launcher" and then press back and again on the "HIDE" button.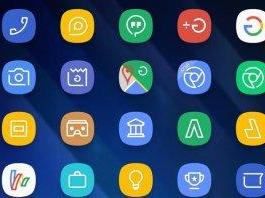 The Best Icon Packs for Android The Best Icon Packs for Android One of the easiest and most impactful graphic customizations to use on Android is the use of icon packs to change the icons of the apps installed on your phone. Even if you are [...] Read on
From the "Settings" menu - which can be easily reached by pressing the icon at the top right of the interface - you can set the PIN protection (recommended), and clicking on "Change app name" you can choose the name behind which to hide your application. Finally, you can choose the behavior of the notifications that the App itself receives.
Through this method the hidden apps will not be cloned and therefore you will not lose your data currently in use.
The free method without root: App Hider
This is an exceptional App in many ways: it takes advantage of the multi-user function of Android, to create one invisible parallel space, And accessible only by PIN.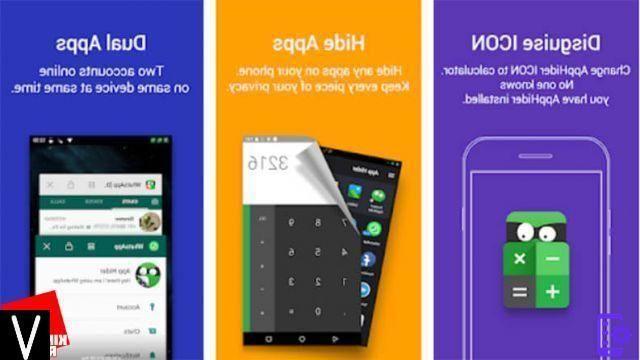 The Apps in the protected space can be run by entering App hider; they are also clones separate from the Apps on the system. For example, in App Hider we can have an App logged in with a thefferent account, compared to our typical account (which can be Facebook, Instagram, etc.).
Hitheng an app with App Hider is simple:
install the app from the Play Store (it's free) and launch it
press on "Add App" and select an App that we want to clone and hide from the rest of the phone
the cloned App will not take all the data of the previous one, but it will be as it was just installed
in the cloned App we will be able to log in with our account
you can then hide the same "App Hider" behind the calculator by pressing on "Protect App Hider" and setting a PIN
done all this, you can delete the app from your phone with a normal uninstall and only the clone in the protected area. Warning: you will lose the data of the initial App!
Once this is done, to enter our protected area, where the clones are present, just press on "Calculator +" and enter the 4-number PIN chosen before therectly on the calculator keyboard.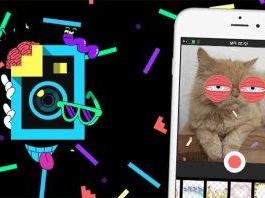 Android app to create GIFs Android app to create GIFs Have you seen all your friends sharing GIFs, that is animated images, on their social profiles or on chats, making you giggle with laughter? You too can create unique GIFs [...] Read on
This solution is really convenient and, if you hide chats, it also allows you to set the behavior of notifications (by pressing the gear icon at the top right of the interface). You can choose whether to receive a notification inthecating only the total number of those received by the cloned apps (using "Total number of notification from hidden apps") or whether to receive every single notification (using "Every notification from hidden apps"), or choose to receive none ("none").
It also allows you to hide your photos, so that they stay away from prying eyes.
The paid method without root: Nova Launcher
This is probably the simplest method ever available on Android if you don't have root.
Nova Launcher, the famous and appreciated alternative launcher, has in its full paid Prime version the function to hide any App.
Nova Launcher Prime, costs € 4.50 (not exactly cheap) but it is a really great launcher. Once purchased and installed you will find the option to hide the Apps therectly in its settings.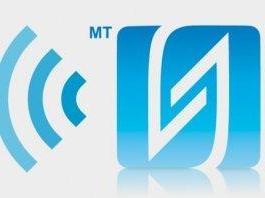 NFC guide: how it works and how to use itNFC guide: how it works and how to use it In recent years we talk more and more often about NFC, but not everyone knows what it is. Find out in this guide everything you need to know, that is what
Getting into Nova's settings is simple. You can do this in several ways: what I personally prefer is to long press on an empty area and then press the "Settings" icon that appears. The option to hide apps is found by first pressing on App menu and then Hide app.
Our in-depth study on how to hide apps on Android has ended, we hope you will be able to protect your privacy.
How to hide apps on Android smartphones