How to install Windows 10 from a bootable USB stick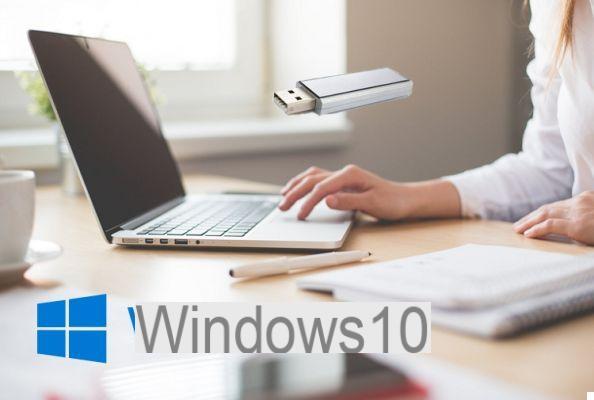 Do you need to install or reinstall Windows? The start of Windows 10 (e Windows 7) from a USB key is immediate. Within minutes, you can have a new version of Windows installed on your PC, notebook or media center.
Here's everything you need to know about installing a fresh copy of Windows 10 from a bootable USB stick.
Why start a Windows installation from USB?
If your PC does not have an optical drive (and more and more do not have one), or if you have run out of DVDs and don't want to buy more, a bootable USB stick remains the best solution.
Do you want to surf without limits at 1 Gigabit with real optical fiber? Check if your area is covered and discover the incredible rate of InformaticsKings UltraInternet Fibra!
It is very light, not cluttered, and is compatible with any desktop or laptop PC. While many PCs do not have a DVD player, they all have at least one USB port.
Installation from a USB port is even faster. A USB reader can be made bootable faster than an optical reader; it also installs the operating system faster.
To install Windows 7 or Windows 10 from a USB stick, you need a device with at least 8 Gb of disk space. Before proceeding make sure that the key has been formatted.
Make sure the USB stick supports UEFI booting
Before downloading a bootable Windows image it is important to know the difference between UEFI and BIOS.
Older PCs were based on the BIOS to start the operating system and to manage the data that passed between the operating system and the devices. In the last decade the UEFI (Unified Extensible Firmware Interface) replaced the BIOS, adding support for devices of the past. UEFI can help diagnose and repair your PC without the need for additional software.
Fortunately, the most common methods of installing Windows 10 from a bootable USB device support both UEFI hardware and hardware that refers to the old BIOS.
So, whichever option you choose should work for the hardware you have available.
How to prepare bootable USB stick with Windows 10
Before starting, insert the formatted key into your PC or laptop. Ready to install Windows 10? Although there are several methods, the easiest is to use the "Installation media creation tool"of Windows 10, downloadable from this address.
Save the tool on your computer (it's only 18 Mb). Once downloaded, run it and click on Accept. Two options will appear: select "Create installation media (USB flash drive, DVD or ISO file) for another PC"and click on NEXT.
Set your preferred language, Edition Windows 10 and the system architecture your PC runs on (usually 64 bit nowadays). Be careful because if these settings cannot be changed you should remove the check mark from the item Use the recommended options for this PC. Press again NEXT.
Select USB flash drive, then Next again and select the key from the list. Click again on NEXT to download the Windows 10 installation files.
Wait for the bootable Windows 10 USB installer to be created. Several gigabytes of data will be installed, so make sure you have a fast connection (such as that that we propose here in InformaticsKings).
Install Windows 10 with a bootable USB stick
With the installation files ready you will be able to install Windows 10. The USB stick is now bootable, so all you have to do is safely delete it from your PC, then insert it into the target device
Turn on the computer on which you are installing Windows 10 and wait for it to detect the key. If this does not happen, reboot, this time by pressing the button to enter UEFI / BIOS (usually it is DEL or F1). Make sure the USB device is detected, then select it as the primary boot device.
The next reboot should detect the Windows 10 installation files. You are now ready to install the operating system. Start by starting the wizard.
What if I want to install Windows 7 from a bootable USB stick?
If you really don't like Windows 10 and you have a valid license for Windows 7 you can also install this operating system from a bootable USB stick.
The process is very similar, and on older PCs you don't even have to worry about UEFI support. Windows 7 is a great choice for recent PCs, as it is very light. It should be noted, however, that support for this operating system ends in January 2020. For this reason you should make sure you switch to a more secure operating system when the time comes.