You have created a document on your PC, you would need to share it publicly online but you don't know how to do it? Have you been asked to edit the contents of a file and insert links in it, but can't find a suitable program or app for the purpose? Don't worry, whatever your link and electronic document needs are, I'm here to help.
In today's guide, in fact, I will explain to you how to link a file both in the sense of sharing it publicly online and in the sense of inserting hyperlinks within it. Don't worry - no matter what file type and device you used to create it (or plan to use now to work with it), you'll be able to do it all in no time.
Courage therefore: take five minutes of free time, carefully read the instructions I am about to give you and try to put them into practice. I am sure that the final result will satisfy you. I wish you a good reading and, above all, a good job!
Index
How to create links to download files

Send Anywhere (Online/Desktop/Mobile)
Smallpdf (Online/Desktop/Mobile)
Cloud storage services

How to create a link in a file

LibreOffice (Windows / macOS / Linux)
Microsoft Word (Mobile)
Xodo PDF Reader and Editor (Android / iOS / iPadOS)
Other solutions to create links in files
How to create links to download files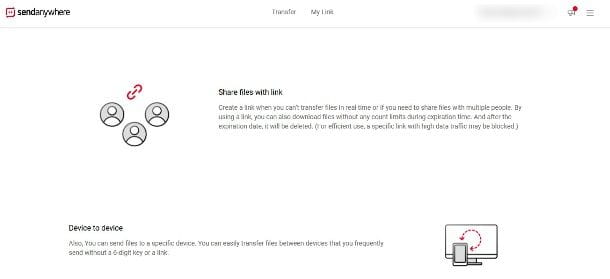 If your need is to share documents online, you can rely on special services that allow you to upload files to the Internet and share them publicly via simple links, often without registration or the need to install software on your PC. If you want to know, in short, how to create links to download files, the online services and apps I'm going to tell you about will allow you to do it in no time.
Send Anywhere (Online/Desktop/Mobile)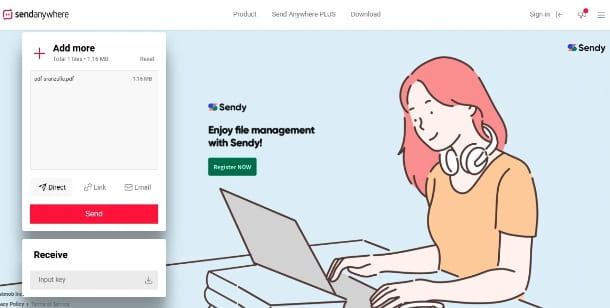 First I advise you to use Send Anywhere, an online service that allows you to share files by creating links. It is also available as an application for computers and mobile devices, however the browser version is enough for your needs.
I tell you right away that to use all the features of the service you must subscribe to it, creating a new profile or through your Facebook or Google profiles; to do this, just click on the wording Sign in that you find at the top right, then on the item Sign Up and fill in the form that is proposed to you with email address e Password; or, as already mentioned, you can authenticate through one of your online profiles.
The operation of Send Anywhere is extremely simple: first connect to the home page of the service and click on the icon + present in the box Send. At this point, select the file whose link you want to share (or simply drag it into the browser window), to bring up a box in which you will be shown the document you have uploaded and some features that you can use to share it.
These functions are, after all, those that offer similar services and applications: click on Direct to send the file using a QR code to be scanned, on Link to get the link of the file and copy it wherever you want, or on Email to send the file by e-mail.
The basic Send Anywhere options are free but if you intend to exploit the full potential of the service you can subscribe to a paid plan: $ 7,99 / month to Sendy Pro e $ 11,99 / month to Sendy Business. The plans differ in the number of users who can access them, in the various services with which to send the link directly (for example with Messenger) and in other features that respond above all to the needs of professionals and companies.
Smallpdf (Online/Desktop/Mobile)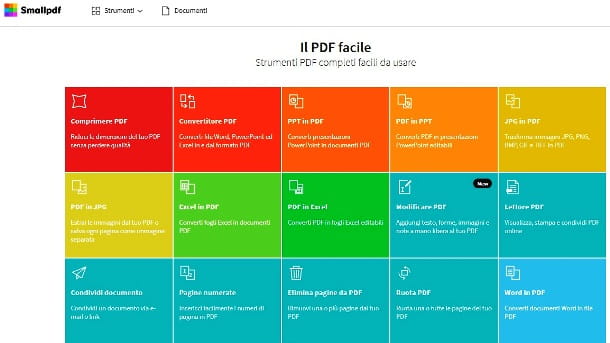 If you are looking for information on how create a link to a PDF file, know that the Web offers as many practical, free and complete solutions. Smallpdf is one of them: it allows you to edit PDFs in various ways, merge them, convert them to and from other formats and much more. It is also available in the form of a desktop application and a mobile app, but for the function you need (sharing a PDF online) you can easily use its online version without installing anything on your devices.
Start, therefore, by connecting to the Smallpdf home page and click on the box Share a document, which allows you to share a document by creating a link or by sending it via e-mail. On the next screen, click on the button Choose file and select il PDF you are interested in obtaining the link (alternatively, drag the document directly into the browser window).
After the file upload phase, a screen will open where you can click on theemail icon (to send the document by e-mail), onlink icon (to share the link obtained with whoever you want) or on the button Share files which allows you to choose whether to send the file via e-mail or copy the link to share it if necessary. To quickly copy the link to share, then click on thelink icon And that's it.
You can use Smallpdf for free but not always: in fact, only two operations per day are allowed; in case you need to do more, you can purchase the unlimited operations package for 90 euro / year o 10 euro / month.
Cloud storage services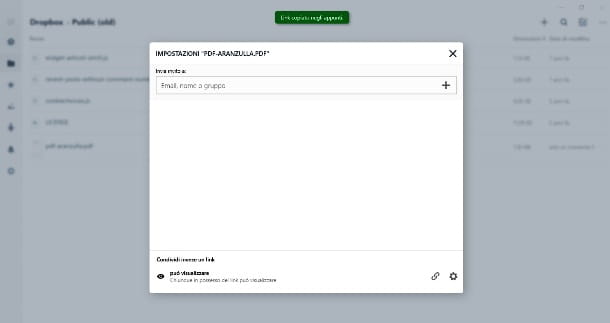 If you are not convinced and are still looking for solutions for creating a link with which to share a file, I remind you that it is also possible to do it with the classics cloud storage service, that is the now widespread services that allow you to keep data online and synchronize them on all your devices.
It was used dropbox, for example, you can share a file through the context menu of your PC with very few steps: select the file you want to get the link for and click with the right mouse button; a menu will open in which you have to select the item Copy link. You will then get the link to the document to share with whoever you want.
Of course, you can create file sharing links using most of the cloud storage services available on the market, so even with Google Drive, OneDrive, iCloud Drive and with the many services that I suggest in my detailed study on how to share files quickly and in various ways. You will see that in all cases you will find the procedure extremely simple!
How to create a link in a file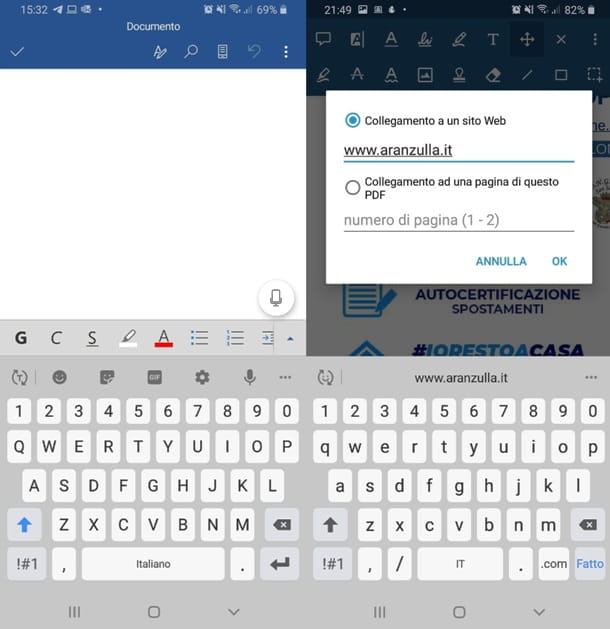 Now I'll explain how to create a link in a file, that is, how to insert a hyperlink in a document. This is one of the basic operations of any word processor (and not only), so I'm sure that even if you don't feel practical, or maybe you are just starting out in the technological world, you will have no problems in achieving your goal.
LibreOffice (Windows / macOS / Linux)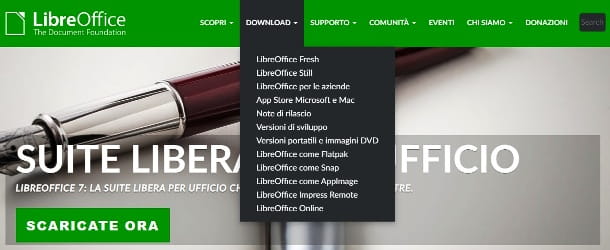 One of the best programs you can use to insert links into documents, be they classic Word or PDF files, is LibreOffice. If you have never heard of it, it is a free and open source productivity suite, compatible with all major operating systems (Windows, macOS and Linux) that allows you to create and edit text files, spreadsheets, presentations , databases and more.
In short, a complete suite that represents the best free alternative to Microsoft Office (among other things, it is perfectly compatible with all files of the Microsoft suite). So let's see how to use it to insert links in Word and PDF files.
Download and install LibreOffice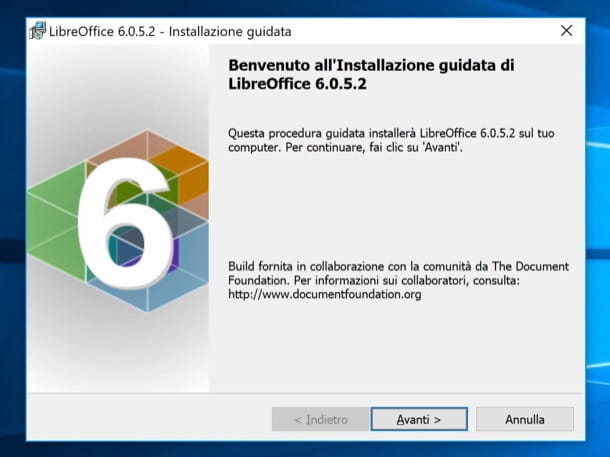 To download LibreOffice, connect to the suite's official website and click on the button Scaricate la versione xxx. Once the download is complete, if you use Windows, start the file .msi obtained and first click on Yes and then NEXT twice in a row, Install e end, but will conclude the setup.
A Mac, however, before proceeding with the installation of the suite you must download the package to translate the suite in 2022no (which is included "as standard" on Windows): to do so, connect to this link and click on the button Translated User Interface.
When the download is complete, open the package .dmg which contains LibreOffice, drag the software icon to the folder Applications of the Mac, right-click on the icon in question and select the item apri from the context menu: this procedure, which must be performed only at the first start, allows you to avoid Apple's restrictions on programs of non-certified developers.
At this point, close LibreOffice completely by pressing cmd + q on the keyboard or by clicking on the item Logout on the menu LibreOffice, top left. Closed the program, open the package.dmg with the translation 2022na, right click on the file LibreOffice Language Pack present inside and select the item apri give the menu answer.
Then click on Open and Install, select the voice /Applications/LibreOffice.app from the next window and click on Install to have the LibreOffice interface translated in 2022no. If a notice regarding permissions appears, click on Yes, identify me, enter the Mac admin password I awarded her OK for two consecutive, to install the language pack correctly.
Insert a link into Word documents
Insert a link with LibreOffice in a Word document (or any other text document) is super simple. First, open the document in LibreOffice (just right click on the file and select LibreOffice from the menu Open with). It will open like this Writer, the word processing software included in the suite.
Select, therefore, the text on which you want to apply the link and click on the icon of chain present in the menu bar at the top. Alternatively, you can get the same result by going to the menu Inserisci, at the top, and selecting the item connection from the latter or, again, by pressing the key combination Ctrl + K (your Windows) or cmd+k (your macOS).
At this point, a window will open in which you can choose various items: Internet to insert a hyperlink to a web page, Mail to redirect the user to an email contact, Document to direct the reader to another existing document or to a part of it, finally New document to link to a document you haven't created yet.
At the moment you are interested in the voice Internet, then click on it and fill in the field URL with the address you want to associate with the word or phrase you have chosen. Simple, right?
Insert links in PDF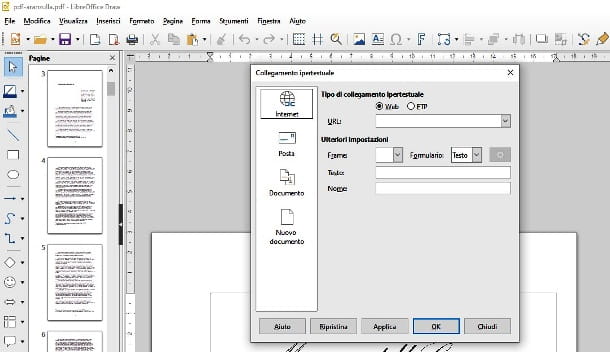 If you are wondering how to insert a link in a PDF file using LibreOffice, know that the insertion procedure is the same; instead, the program in which the file will be opened changes.
Click on Open file and select the PDF you are interested in inserting the link: LibreOffice will open the file with the application Draw which presents, on the left, the thumbnails of the pages that make up the PDF and on the right the selected page. Now you just have to repeat the procedure that I have already explained to you for Writer.
You may be thinking that the file has now become editable and that you still want to save it as a PDF after editing it. No problem - just click on the menu Fillet top left, then on the item Export as ... in the menu that opens and finally on Export directly to PDF to save it with in this format; if you want to change something (for example the page layout) you will have to click on Export to PDF format: a screen will open that will allow you to choose between various options.
Finally, consider that, once the address has been entered, you can still modify the hyperlink by right-clicking on the text and selecting the item Edit hyperlink; if you really intend to remove it, the procedure is the same but you will have to click on the option Remove link.
Microsoft Word (Mobile)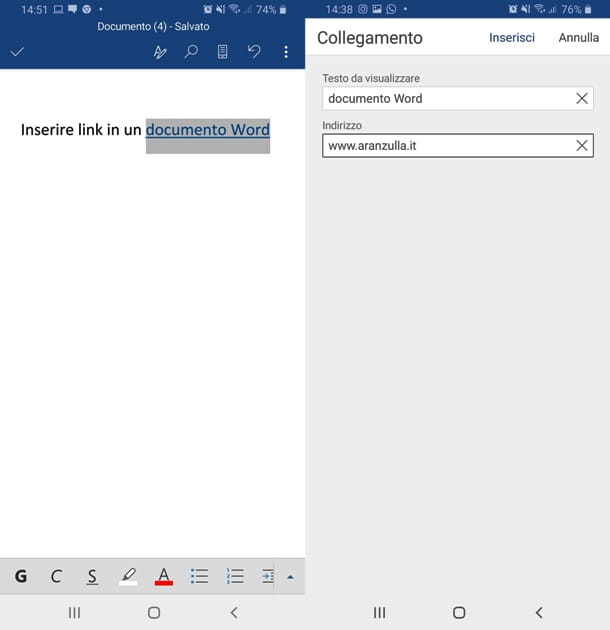 How do you say? You wish you could insert a link into a Word document (or another standard text file) using your own smartphone or yours tablets? In this case you can use the mobile version of Microsoft Word, available for both Android (on the Play Store and on alternative stores) which for iOS / iPadOS is free for all devices with dimensions equal to or less than 10.1 ″ (otherwise it requires the subscription of a plan Microsoft 365, starting from 7 euros / month).
Once the app has been installed and started on your smartphone or tablet, open the document in which you want to insert the link (or create a new one) and go to the section Inserisci of the Word toolbar. If you use a smartphone, you can do this by tapping on the icon consisting of one "A" and a pencil present in the bar at the top, then on the menu Home which appears at the bottom and, finally, on the item Inserisci; on tablet you just need to press on the tab Inserisci you see above (like on PC).
At this point highlight, with a prolonged tap on it and then using i cursors that appear on the screen, the text on which to apply the link, press on the item connection in the Word toolbar, then press Insert link, type the URL you want to associate with the text in the appropriate field and confirm by tapping on Apply.
Then you just have to save the document and that's it. For more information on how to use Word, I invite you to consult my guide dedicated to the application.
Xodo PDF Reader and Editor (Android / iOS / iPadOS)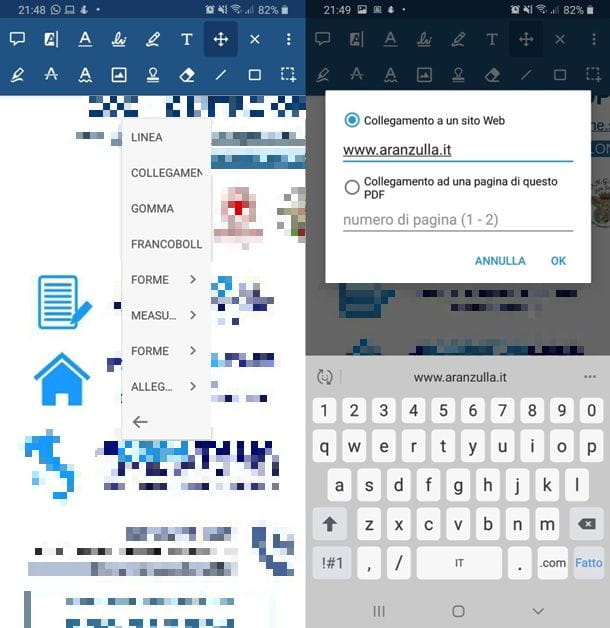 If you are looking for aapp to insert links in PDF files from smartphones and tablets, I recommend instead Xodo PDF Reader and Editor, available for Android (also on alternative stores) and iOS / iPadOS). It is a free PDF reader with very interesting editing functions, including the one that allows you to insert links in documents.
To use it, all you have to do is install and start the app, open the file you are interested in editing and hold down on a point on the display, until you see a menu where you can select the item connection; tap and the system will allow you to draw a rectangle around an area (a word or a phrase, depending on your choice) which will be transformed into a link.
Once the area has been drawn, in the screen that opens, enter theURL of the web page you want to link to and that's it.
Other solutions to create links in files

If you are looking other solutions to create links in a file, let me give you more advice, including online services, desktop applications and mobile apps.
ONLYOFFICE (Windows/macOS/Linux) - it is a productivity suite that allows you to write texts, create worksheets and presentations. The basic version is free, and is what you need for standard operations, while the others are paid and are aimed primarily at companies. A valid alternative to LibreOffice and Microsoft's classic Office.
ApowerPDF (Windows) - is a complete PDF editor with an intuitive interface which, among other things, also allows you to insert links in documents. It is also available in mobile versions for Android and iOS / iPadOS which allow you to edit PDFs but apparently not insert links into them.
Acrobat Pro DC (Windows/macOS) - the official application for viewing and editing PDFs. It has prices starting from 30,49 euros / month with 7 days of free trial. Not to be confused with the simple PDF reader Adobe Acrobat Reader, which does not allow you to edit files.
Foxit PDF Reader Mobile (Android/iOS/iPadOS) - easy-to-operate app that offers a complete experience for anyone who wants to edit a PDF file. The features are many: they range from simple annotation to adding digital signatures, even if the more advanced options, including the insertion of links, are among the in-app purchases.