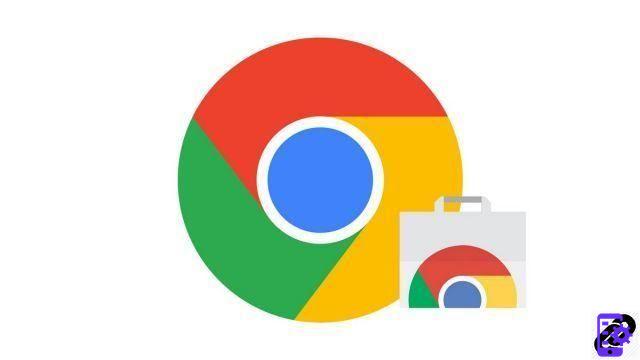 If Google Chrome has become an important web browser, there are many reasons for this success. In addition to the features deployed over the updates, Chrome can boast of being one of the most customizable browsers thanks to its extensions. Indeed, the extension catalog is an integral part of the Chrome ecosystem. Overview of the possibilities offered by Chrome modules.


What is an extension? What's the point ?
Launched to the general public since January 2010 and version 4.0 of Chrome, the extensions, for the most part free, add additional functions to the browser: information, productivity tools, cloud storage, ad blocking and tracking tools. the field of action is as wide as the needs are numerous. Even if the extensions have strong assets, several aspects are to be taken into account to guarantee the stability of Chrome.
First of all, too many extensions can lead to overconsumption of RAM, which especially affects the most modest configurations. We should also mention the low reliability of certain extensions which can get their hands on your personal data, use the browser for malicious or poorly optimized purposes, thus leading to repeated crashes.
It therefore seems necessary to take an overview to properly install, manage and synchronize your Chrome extensions. To go further, we advise you on the elements to take into account to make good use of Google Chrome.
Where to download extensions?
Just like software and applications, Chrome extensions can be infected by malicious people. It therefore seems important to carefully choose sources for downloading trusted extensions to minimize the risks as much as possible. For confidence, we recommend always downloading either via the Chrome Play Store or from the site of a trusted publisher.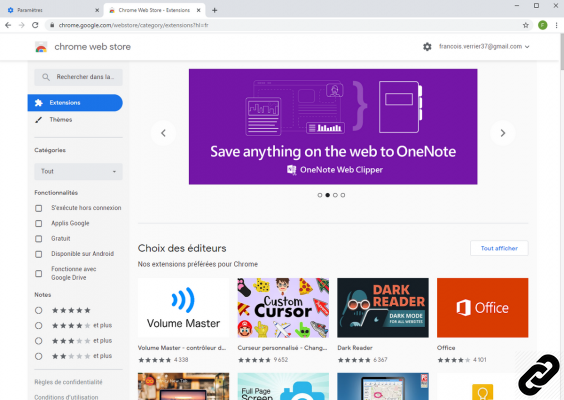 Le catalogue d'extensions Chrome Web Store
Without being alarmist, we want to write these lines to protect users against the potential risks resulting from a risky extension. These include untimely crashes, overconsumption of RAM, tracking and advertising spam, and cryptocurrency mining.

We therefore invite the greatest caution when installing an extension on Chrome, to take care to check the source. Indeed, it is also possible that none of the previously mentioned signs of infection appear, which does not prevent a malicious extension from running in the background. To learn more about Chrome and privacy, we recommend reading our article dedicated to protecting your privacy on Google Chrome.


Organiser ses extensions
On this point, the user must always know the extensions installed on his browser and organize them if necessary. It is possible to remove an extension on Chrome, or simply disable it by going to the browser settings.
It is also worth taking a regular look at the extension management menu to identify those that have become obsolete or useless and therefore potentially reduce Chrome's RAM consumption and possible repeated bugs.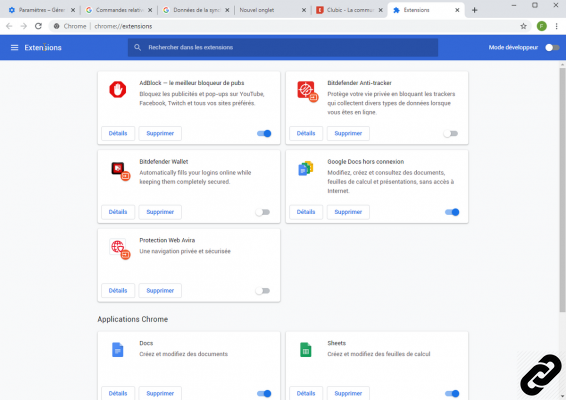 Extension management menu
A well-configured Chrome goes hand in hand with extensions that are regularly maintained and of which the user is aware of their operation, their source and their permissions.
Synchronization of extensions with your Google account
Syncing Chrome with a Google Account makes your browsing data, Chrome settings, and extensions available across multiple devices, including Windows, macOS, and Linux computers as well as Android and iOS mobile devices.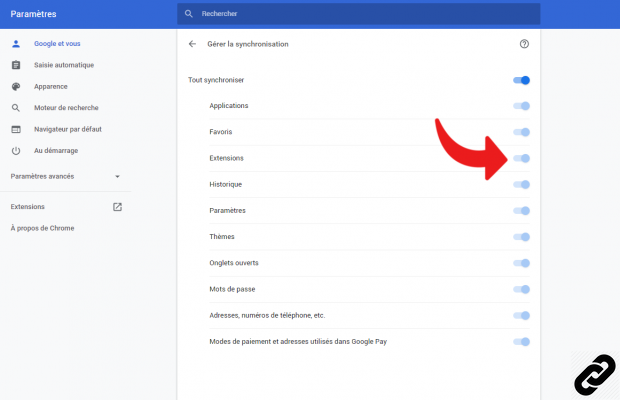 Syncing extensions in Chrome settings
The synchronization of Chrome extensions allows us to share and install our favorite modules on several devices without having to add and configure them manually.
Extensions and Private Browsing
Enabling Chrome Private Browsing disables all extensions installed on the browser by default. Chrome allows you to activate extensions one by one in private browsing by going through the details of each extension. This can be useful in many cases but which can present risks and in particular keep traces of navigation.
To read also:
How to properly configure Google Chrome?
How to Protect Your Privacy on Google Chrome?
How to optimize your navigation on Google Chrome?